How This Pro Chef Made His Job Fit His Passion for Triathlon
Aaron Vinten shows time-crunched triathletes that healthy eating is well within reach.
Heading out the door? Read this article on the new Outside+ app available now on iOS devices for members! Download the app.
Ask Aaron Vinten why he became a chef, and the answer is simple: he was hungry. "Growing up, I was always on the go," recalls the 39-year-old Los Angeles resident. "Because of that, I was always hungry, so I actually cooked a lot when I was young. Nothing fancy, just having fun."
It was during those formative years that he made the connection between what he ate and how he felt. Food was fuel, and he wanted to put the best in his body. This solidified when Vinten began training for marathons and triathlons in his late 20s—the better he ate, the better he performed. After graduating from Le Cordon Bleu College of Culinary Arts, Vinten set out to merge his two passions together.
"I love the intensity of a professional kitchen, but it didn't allow for the lifestyle I wanted outside of the kitchen, where I could have the time and energy to train," says Vinten of the long demanding hours in the restaurant business. Kitchens in upscale eateries can be notoriously high-stress environments, as perfectionist restaurateurs strive to satiate the public's fickle appetite. It's tough to fit tri into these hectic, all-hours settings. "I needed to do something different and cook outside of the box. Creating The Athlete's Table was a perfect way to do it."
The Athlete's Table is Vinten's personal-chef business, where he whips up recipes to fuel an active lifestyle. Vinten mostly cooks for small bespoke training camps, including those offered by training groups like Wattie Ink and Endurance Camps. He shares those athlete-inspired recipes on his website, where he's established a sizable following of individuals who, like Vinten, love to eat just as much as they love to train. He sees his work as an opportunity to show time-crunched triathletes that healthy eating is well within reach. If anyone knows this, it's Vinten—over the course of a day, he is a chef, entrepreneur, father of two young children, husband, and triathlete-in-training.
"The workload remains high, but it's way more fun than working nights, weekends, and holidays in the restaurants," says Vinten. "There isn't a moment I'm not trying to accomplish something. Luckily, I enjoy the process and take great pride in the final product—in both triathlon and the kitchen."
As for his own tri life, Vinten says he prefers Olympic and 70.3 distances. "I was lucky enough to qualify for Ironman 70.3 worlds in 2017 and in turn got dusted by plenty of phenomenal athletes. I'm grateful to have had the experience of racing on such a grand stage, but I really enjoy racing local Olympic races too.
"I've done one full-distance Ironman, and I think in another year or two I'll schedule another, but for now I'm enjoying the grind of becoming a better triathlete," he continues. "It's fast, painful, and hugely beneficial for me going into the future."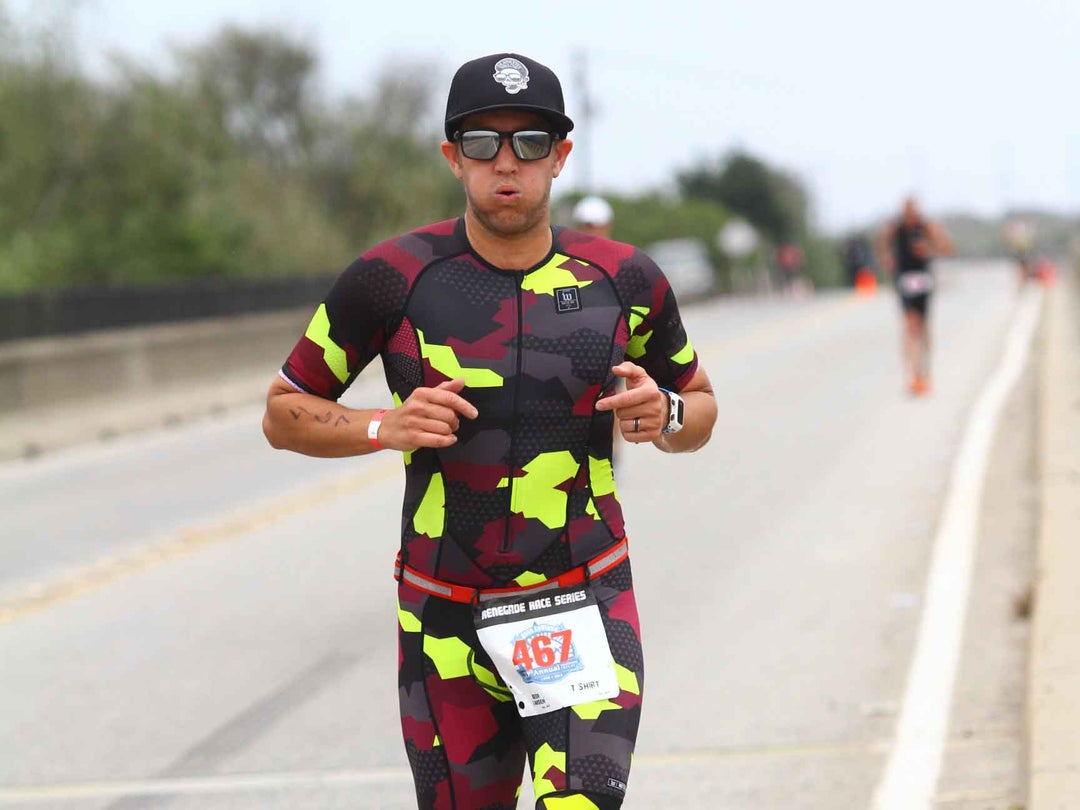 Aaron's Eats
Between work, family, and training, many triathletes struggle to find time to cook healthy foods. Vinten's top tip for making it work: "Keep your fridge and pantry stocked with options that are easy to make from nutrient-dense whole foods."
"They're very basic and nothing special from a culinary perspective," Vinten says, "but they're fast, easy, and I can eat them every day."
Oats
Frozen smoothie mixes
Rice cakes with peanut butter
Eggs with ponzu sauce
Brown rice
Baby spinach salads
Steak