How These Professional Athletes Overcame Lyme Disease
Athletes are at greater risk for tick-borne illness. They're also less likely to recognize the symptoms.
Heading out the door? Read this article on the new Outside+ app available now on iOS devices for members! Download the app.
For XTERRA World Champion Lesley Paterson, it was nausea. For 2015 North American Ironman Champion Angela Naeth, it was unusually intense post-race soreness. Both athletes wrote off their symptoms as byproducts of heavy training and racing—and both only got worse.
"I actually got an MRI because the pain was so intense. I thought I had broken my hip," recalls Naeth. "When it came back clear, I was puzzled." Paterson was perplexed by her worsening symptoms, too— the nausea was soon joined by a relentless eye twitch, then involuntary head tics.
Despite their widely differing symptoms, both Paterson and Naeth were given the same diagnosis: Lyme disease. According to a November 2018 report by the Centers for Disease Control and Prevention, the number of infections carried by ticks has hit a record high in the United States. Nearly 60,000 people diagnosed with a tickborne infection in 2017, and most of those infections are Lyme Disease. Athletes, especially those who train in wooded areas, are at particular risk for exposure. They're also less likely to recognize the symptoms of Lyme, says Dr. Tom Moorcroft.
"The symptoms of Lyme mimic so many other disorders, including overtraining. 'Classic' Lyme is thought of as summer flu: fatigue, joint, and muscle aches and pain, overall malaise or blah feeling. By the time an athlete realizes their symptoms may be something other than overtraining, the bacteria that causes Lyme has often had enough time to move inside of cells and inside the brain and nerve tissue, making it much harder for our immune system to recognize it."
Naeth's experience is a typical case of how athletes typically respond to their symptoms. When her hip MRI came back clear, she resumed training, albeit with some adjustments to her running gait to minimize her pain. Within the next month, she started experiencing headaches. She visited her doctor, but all of her bloodwork—including a test for Lyme—came back clear. She was puzzled, but without a clear reason to stop, Naeth simply pushed through her discomfort.
"Eventually, my symptoms got to a point where I found it very difficult to get out bed," says Naeth. "I also had extreme cold intolerance—pool swimming was unbearable." More symptoms piled on: high anxiety, depression, low energy, burning legs. "We did more bloodwork, and all came back normal. I was the epitome of health on paper. I was told I had a virus, and take two weeks off, but my symptoms got worse during that time. I felt like I was going crazy. I wanted to rip off my body from my head."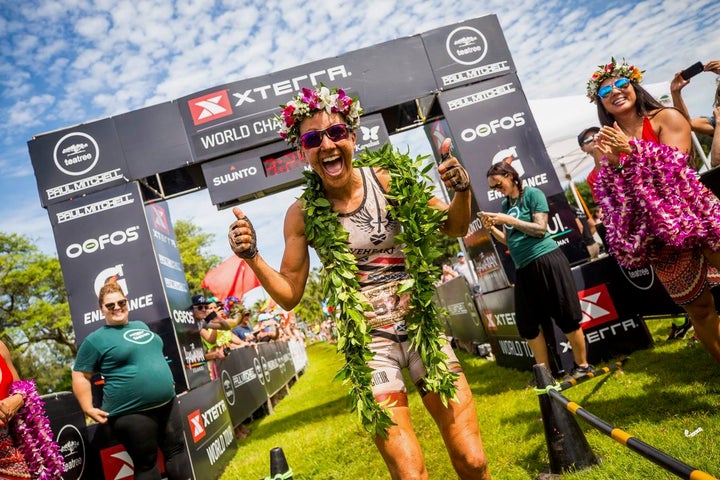 Paterson was lucky—she had a friend who was diagnosed with Lyme disease and pushed her to get tested. On the first test, she came back positive for Lyme and began treatment right away. Naeth had the opposite experience—it took one year, several specialists, and a specialized DNA test before she finally received a correct diagnosis and could begin treatment.
Just like the symptoms of Lyme can vary from person to person, the diagnostic process is not a straightforward one, says Moorcroft. "We primarily rely on finding antibodies made by our immune system to say we have a positive test. In untreated individuals, Lyme antibody levels go up and down over time. Depending upon when you are tested the antibody level may be higher or lower despite the level of infection being the same." This process is even more difficult in endurance athletes, as training taxes the endocrine and immune systems, leading to more difficulty diagnosing and treating infection.
Persistence is the key to getting answers, especially for those who exhibit symptoms of Lyme, says Dr. Christine Green, who serves on the board of directors for Lymedisease.org. In addition to the typical symptoms of Lyme—fatigue, joint ache, neck stiffness, and brain fog—Green says there are some athlete-specific signs that may indicate Lyme:
"You may notice increased recovery time, or more prominent symptoms of delayed onset muscle soreness (DOMS)," says Green. "Random pulled muscles with prolonged healing times are also something that are commonly mistaken as just a regular part of training, but may indicate something else."
In addition to these symptoms, Green says athletes with Lyme also report just feeling slightly off-kilter: "On the bike, they may feel like they need to constantly make micro-corrections to position in order to feel comfortable. This may also happen with running, such as feeling off-balance or the heel strike is just not right." More severe symptoms, such as numbness, tingling, confusion, muscle twitches, heart palpitations, or shortness of breath may indicate the disease has progressed.
Green advises being persistent in advocating for one's health: "Be clear on symptoms and signs that you are experiencing, and do not allow the physician to categorize you into something that doesn't jive with your symptoms." Green also recommends finding a physician or care provider who has treated chronic Lyme disease through the International Lyme and Associated Disease Society.
After receiving a correct diagnosis, both Paterson and Naeth were able to treat their infections, and both have returned to their high-performing ways: in 2018, Naeth took a career-best eighth place at the Ironman World Championship, and Paterson won her third XTERRA World Championship title. They have also become vocal advocates for early detection of Lyme disease, especially in the endurance community.
"If you are an athlete, you know your body well," says Moorcroft. "If something doesn't seem right, check with a doctor. Don't wait for symptoms to become severe. The sooner you get a proper evaluation and treat the underlying issue, the more likely you are to have a speedy recovery. This is particularly critical in tick-borne infections, such as Lyme disease."