How The Iron War Almost Never Happened
The epic battle between Dave Scott and Mark Allen at the 1989 Ironman World Championship is considered one of the greatest races of all time—but both racers had less than ideal preparations going into that race.
Heading out the door? Read this article on the new Outside+ app available now on iOS devices for members! Download the app.
For the first time ever, they reveal why the Iron War almost never happened…
This year's Ironman World Championship will mark the 30th anniversary of the classic battle between Dave Scott and Mark Allen—a battle that gained global media attention and went down in history as one of the greatest races ever. Scott and Allen duked it out shoulder to shoulder for eight hours that day in 1989—and only now are they candidly revealing some of the details that led to that iconic clash. Allen says: "For the first time, Dave and I are talking about events in our lives that in many ways almost derailed our races, even before we got to the start line."
In the excerpt below from their website 1989thestory.com, Scott and Allen talk about the personal struggles that almost thwarted the greatest showdown in Ironman history. In the run-up to Kona, they are posting one story a week on their website.
Dave Scott
"After the birth of my son Ryan, during my two-week hiatus from training, I got a call from my close friend Mike. He knew when I took downtime from training that I had an uncanny ability to overeat and gain weight. Despite my enthusiasm for Ryan, when I replaced my training with long bouts of inactivity, the psychological gnawing left me uneasy, uncomfortable, and insecure. My true peace came while training. As a result, within a 10-14 day period I could easily tack on eight to 10 pounds. Mike had witnessed these weight gains in previous summers when I'd had a lull in my training. He wouldn't allow this to happen this time around—knowing the stakes in Kona.
"Even though I was captivated and enthralled with Ryan, my mindset had always been "all or nothing." When I trained, I was maniacal and when I took breaks there wasn't a compromise of shortened or easier days—I just stopped. Counseling through the first 10 years of my racing career had not resolved this psychological weakness. I called it a weakness because I had 100 percent control over the spiraling cycle. How did I know this? Because it didn't matter if I talked to my wife or a counselor, the trigger to regain my "training order" was always initiated by me.
"By August 20, two weeks past Ryan's birth, I was restless, feeling fat, and out of shape. Mike and my sister Jane almost simultaneously sensed the urgency to kick me in the pants. Despite their prodding, I had to turn on my internal switch.  If I was going to be race ready it was ultimately up to me to get out the door. The race day was coming up quickly."
Mark Allen
"I had heard that Dave Scott was going to be racing Ironman Japan exactly one week before Avignon [ITU Olympic Distance World Championship]. His race would be July 30, which if looked at through the lens of preparing for Kona, was a great time to do a test race in a faraway place to see if you were on track to be in peak shape for Kona in October. At the time, I had been pretty sure Dave would be racing in Japan, but I didn't know with 100 percent certainty. As mentioned, he and I were in Boulder, Colorado, at the same time but our paths rarely crossed. And when they did it was an unspoken pact that neither of us would bring up anything to do with how training was going or what was next on our schedule. Yes, we might acknowledge a recent race one of us had been in, but that was it.
"This shared silence was not something that came out of animosity. It was a dynamic that evolved out of respect. We both knew if October went the way we each wanted that we would be each other's toughest competition. So, instead of getting into verbal sparring matches ahead of time, we went to the neutral zone around each other. Yes, I wanted to win in Kona just as Dave did. But, for me, the rivalry that had grown was fueled by my admiration for what Dave had shown was possible and simply wanting to see if I could match that—or even go one step beyond."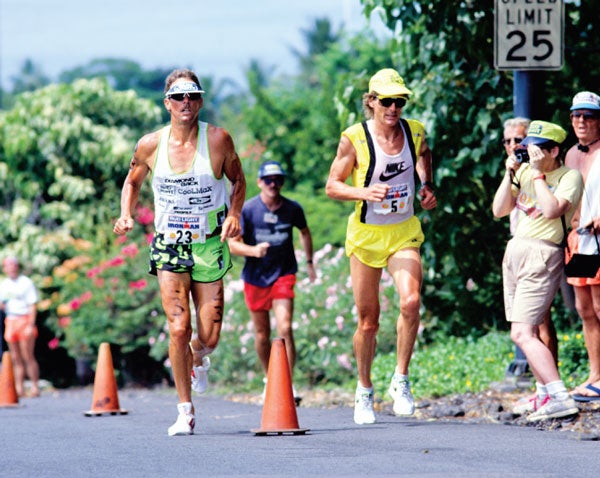 Dave Scott
"August 20 was the initial step to renew my passion and conviction for Ironman. Jane told me she would ride her bike while I ran for the first time in 15 days. Historically, knowing how I would feel, one of the symptoms I anticipated on this run was leg cramping from extra fluid, weight gain, and probably an imbalance in electrolytes. We started out for my 11-mile run and within three miles my legs seized up. I stopped to slowly stretch and try to regain a bit more range of motion. It was an ugly reminder of how I let my body slip out of my supreme form from Japan. Jane wouldn't buy any excuse and in 98-degree heat, I continued to labor through my first run.
"This struggling run—plus a 5,000-yard swim and a two-hour ride—unleashed a wave of panic over my lost fitness but also a resolve to not look back. Regaining and elevating my fitness was now my emotional driver. I could not fail.
"I was back but my confidence had eroded dramatically in those two inactive weeks. Regaining and superseding my pre-Ironman Japan fitness was my renewed goal—one that was unparalleled during my career. The looming motivating factor was Mark. I had no idea what he was doing after his victory in Avignon. Time was clicking by and I had to be ready for Kona and a possible showdown."
Mark Allen
"As the final hours counted down to Avignon, one part of my brain was getting ready to dial into Kona the day after the Olympic Distance World Championship was in the books. I was starting to think maybe I'd slacked off a bit too much from my endurance training in trade for the speed I'd need in Avignon. I hadn't heard a word about how Dave's race had gone in Japan, if indeed he'd even raced at all. I'd likely have to wait until I got back home from Avignon before I could get a pulse on that.
"My focus shifted back to where I was at. It was France. I loved that. It was hot. I loved that, too. The race ended up not going according to plan at all, but the result was what I had dreamed of. I won the first ever ITU Olympic Distance World Championship with a lousy swim, a decent bike, and a run that closed the deal. I was faster than the fastest in the sport. But…"
Dave Scott
"The power of my conviction as an athlete was not a seamless path. I was continually confounded with failure, success, and striving toward nearly unattainable goals. Throughout my life, dating back to my teens, I had a drive that seemed reasonable but it was actually quite destructive. Looking merely at my athletic results has never been a valid indicator of my psychological and emotional makeup. I feel it's important to share this insight.
"I was athletically driven my entire life. From nine years old, I relentlessly pursued my athletic dreams. This quest rolled into hours of solitary practice—practicing basketball (my hidden passion) for hours on end at my home basketball hoop or working on my golf shots. The simplicity of this probably parallels thousands of kids, but my enjoyment was always darkened by not attaining my desired level of success. A level of success that was at times improbable and impossible.
"This attitude paralleled my high school and college swimming and water polo years. Practicing water polo between classes, doing strength training with my teammates until they completely burned out, and driving everyone and myself to a higher goal was always my conviction. And I held myself to a standard that was never gratifying. I reached new levels of satisfaction, but a victory or a new level of fitness was never enough. I was always driven to compulsive behavior. My goal in sharing this is not self diagnosis or feeling sorry for myself. It's merely to point out the potentially reckless behavior I pursued with my pathological conviction for success."
To continue reading the story, head to 1989thestory.com.