How Holly Lawrence Became 70.3's Leading Lady
Reigning 70.3 world-champion Holly Lawrence went from ITU extra to long course superstar—but it didn't happen overnight.
Heading out the door? Read this article on the new Outside+ app available now on iOS devices for members! Download the app.
Reigning 70.3 world-champion Holly Lawrence went from ITU extra to long course superstar—but it didn't happen overnight.
The first thing I notice about 27-year-old Holly Lawrence is her huge, blue-green eyes. I'm sitting in Los Angeles' upscale Cafe Vida surrounded by a hip crowd brunching in the busy weekday sun when she walks in. Then there's her accent, which is both obvious and endearing. She finds it hilarious that Americans say buoy like "boo-wee" and not "boy," like she does.
Lawrence grew up in a rural pocket of southwest England called Somerset—a county roughly the size of Delaware but with half the people. If you were visiting Somerset on vacation, you'd probably go to the Roman baths or see a castle or go on a tour led by someone dressed like Mr. Darcy from Pride and Prejudice who'd likely blush at Lawrence's very un-British candor.
She's not afraid to drop an F-bomb in conversation, and she's willing to offer up hot takes on fellow pros unprompted. At the same time, more goofy than reserved, Lawrence's approachability is a welcome shock to anyone who has seen her in the intimidating all-black kit she loves
to train in. Lawrence also does a great "American-accent" version of her name that sounds preternaturally Midwestern.
Growing up, her parents were firmly working class—her mother had an office job, and her father worked on cars. They married at 19 but struggled to have children until they were 30, when they finally had success with in vitro fertilization. The result was Holly and her fraternal triplet siblings, Abigail and Luke.
Lawrence's parents toiled tirelessly to shuttle them to every activity available. "They didn't have many opportunities when they were both young," she says. "They put us into absolutely everything: music, gymnastics, ballet, swimming and so on." While Holly's sister stuck with gymnastics, both she and her brother, Luke, gravitated toward swimming. Luke was naturally talented—making national finals and Olympic Trials—while Holly says her results never truly mirrored her workouts. Because of this, her parents suggested triathlon: "a way to find a bit of success," as Lawrence puts it. She had already found some success running cross-country in school, but she had hit a plateau in swimming, so it was time to tri.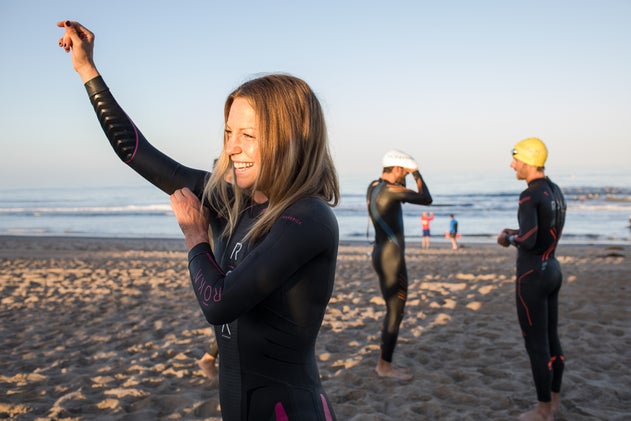 Holly 1.0
Once into triathlon, things moved quickly. Lawrence raced on the British domestic triathlon circuit and eventually caught the eye of British Triathlon. Later, she attended Swansea University—a satellite center for British Triathlon in Wales, less than two hours away from her childhood home. After graduating with a degree in sports science, Lawrence took the natural next step into the world of ITU racing.
Early in her ITU career, Lawrence was known as a strong swimmer and biker, but later as her run improved, British Triathlon still didn't appear to take her seriously. "They wanted me to play more of a domestique role," she says, meaning she'd support the other athletes. Though Lawrence found some success in non-draft racing, finishing 23rd at the Hy-Vee Elite Cup in 2012, then 11th in 2013, she had to stop in 2014 when she was chosen for the Welsh Commonwealth Games team. Much like a Hollywood star's contract might forbid him or her from biking outside, Lawrence, as a part of that team, could not do any non-draft racing that year—a directive aimed at maintaining focus and avoiding injury. So no Hy-Vee.
Though she raced the Commonwealth Games (mostly for her family, she says), the experience of living under federation rules soured her on draft-legal racing. Eager for the freedom to choose her own way, Lawrence made a big geographical and psychic shift: She went out West.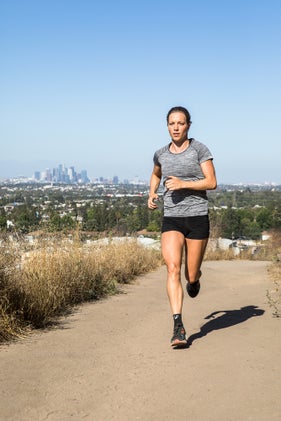 Holly 2.0
Motivated by a boyfriend who had moved to L.A. and also a new coach—San Francisco-based Matt Dixon—Lawrence spent time in both Northern and Southern California through much of 2015. Early that same year, she became a bright blip on the long-course tri radar by grabbing the lead in a stacked Oceanside 70.3 field. Her blacked-out kit and light long-course résumé caused confusion among the course spotters. Though she led for most of the race, Lawrence faded at mile eight of the run—finishing third at the end of the day.
For the rest of the year, Lawrence showed promise (leading Buffalo Springs 70.3 by seven minutes into T2) but kept coming up tragically short (eventually dropping out of the same race due to an IT band injury). She finished a respectable 11th place at the Ironman 70.3 World Championship in Austria, but she was fighting a losing battle behind the scenes.
"When Holly first came onto the 70.3 circuit in the states as a relatively 'unknown' competitor, she was basically gritting out races with an injury," says Meredith Kessler, a close friend and sometimes mentor. Lawrence was coping with overtraining, fatigue and a bad IT band. "This was an injury that was getting worse versus better, and she didn't have the right support network around her at the time to fix the issues." It was time to shift those mental gears again.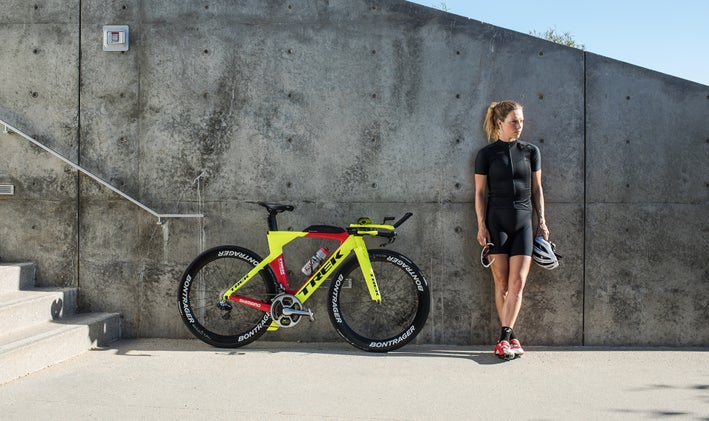 Holly 3.0
In 2016, Lawrence ended the relationship that had been a part of her move to the West Coast; she also stopped working with Dixon and found a permanent home in L.A. "Like everyone who navigates through life, she had to make some necessary and understandable changes around her," Kessler says of Lawrence's relationship and a style of effort-based coaching that she says simply wasn't for her. "This meant decluttering certain things that may have been holding her back from achieving her dreams and goals."
"Meredith Kessler always referred to it as Holly 3.0," Lawrence says of 2016's cerebral garage sale. "Then everything just got better and better. I was racing for prize money and independence, as I now needed to find an apartment, get a car, etc. I was just so hungry because it was either do, or pack my bags for the U.K. It felt great to just be like, '!@#$ it I have nothing to lose.'"
Back with her previous cycling coach from her days in Great Britain, Elliot Lipski of the U.K.-based TrainSharp, Lawrence returned to the number-focused training she was most comfortable with. She also continued to swim with the L.A.-based Tower26 swim group, where she first met ITU pro Sean Jefferson. "We always had a bit of a connection," Lawrence says of her and Jefferson. "But I tried to hide it when I first joined the group. A while after I left my ex-boyfriend, it just kind of happened."
Jefferson is the reserved yin to Lawrence's bright and effusive yang. A Rio hopeful who missed the Olympic team, Jefferson turned toward helping Lawrence reach her goals. Today, the two of them train together for every single session—Jefferson's job is that of a mental and physical pacesetter. This combination of quantifiable training, a full-time training partner to keep her from pushing too much and the consistency of a stable living situation became a perfect storm for Lawrence; she was finally able to pull out of her vicious cycle of fatigue.
And so went Holly 3.0: After getting second place at St. George in May 2016, Lawrence hasn't lost a 70.3 since—including a huge win at the 70.3 world championship in Mooloolaba that shocked anyone who hadn't been paying close attention. That same year, she won Escape from Alcatraz, 70.3 Mont-Tremblant and Beijing International. This year, she's won 70.3 Oceanside, 70.3 St. George, 70.3 Santa Rosa and 70.3 Mont Tremblant (again). She's an obvious favorite at 70.3 worlds in Chattanooga, where she's excited to finally test a fully fit Daniela Ryf. "I feel like I didn't beat Daniela on her best day last year," Lawrence says of Mooloolaba 2016.
As for Holly 4.0? She's not willing to reveal much—though Lawrence is adamant that she has no interest in iron-distance racing. ("I finish a 70.3 and think, 'There's no way I could do that again!'" she says.) For the time being, she's completely focused on dominating the 70.3 distance, and this current version of Lawrence seems to have found the mindset to do so.
"I always hated people who said, 'I'm here to win, I just want to win.'" Lawrence rolls her eyes and says over the din of the thinning L.A. breakfast crowd. "But now I'm like, 'I need to win!' I'm turning into that person!