Here's How to Take Better Triathlon Photos
A cheat sheet for taking better adventure pics. Your Insta following will thank you.
Heading out the door? Read this article on the new Outside+ app available now on iOS devices for members! Download the app.
In those pics of the run leg, were you actually trying to document the state of that athlete's back? And that killer ride through the red rocks—why does it look so non-epic? Where's the grandeur, the agony, the ecstasy?
Clearly, there are some tricks to capturing outdoor adventure that go beyond being outside with a camera.
Hong Kong-based sports and adventure photographer and filmmaker Lloyd Belcher gives this advice:
In a triathlon, get out on the course rather than standing at the start, finish, or checkpoints. If there's an uphill section or a tight turn, consider positioning yourself there because that's where athletes have to dig deeper. There are times when I've visualized a shot and waited for an athlete to appear in that space, and then there are others that were purely reaction shots, but knowing the course and being willing to venture afield will increase your chances of being in the right place at the right time.
Putting yourself below the athlete's eye level will project a more dominant image; positioning the camera above the subject makes them appear meeker, smaller. What do you want to say about the athlete in this shot?
Don't go crazy with Photoshop. I believe in not editing to a degree that makes the images look different from what my eye saw in that moment.
You can take great shots with your iPhone. Download an app that lets you use manual exposure settings, so you choose ISO, shutter speed, etc. This will allow you to use a faster shutter speed (better for action shots), plus you'll get to understand your camera and be in control of it.
Minnesota-based photographers and film-makers Long Nguyen and Michelle Stolz of Fresh Tracks Media agree with Belcher that nabbing great shots requires physical exertion and preparedness for all kinds of weather and terrain. The examples they provided (see below) from their recent work at the Zumbro Endurance Run were taken in the midst of a historic three-day blizzard.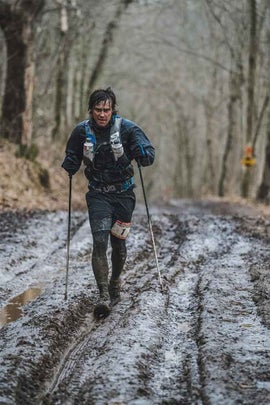 "By blurring the background and using a fast shutter speed, we were able to focus on the runner, how drenched and muddy he was, and his expression of determination. The strong line of the muddy track draws your eye into the photo. We use shutter speed of at least 1/300 when the subject is moving toward or away from you, up to 1/800 if the subject is passing sideways in front of you. Slow shutter speed and long exposure is good for capturing the fluid movement of bike lights or runners' headlamps."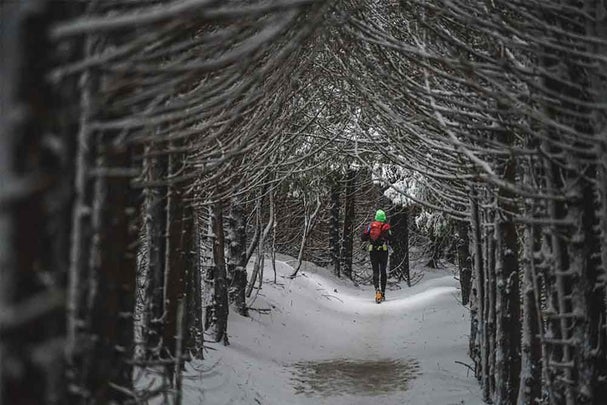 "This one used color and composition to great effect. We used fast shutter speed to freeze the runner and make the color of the hat and backpack sharp and clear. In framing this, we used the rule of thirds—placing the subject off center, about two-thirds to the right in this case. Off center is visually more interesting than a centered subject—an off-center subject also conveys more sense of motion than a centered one. And the tunnel of trees further draws your eye into the photograph."