Gwen Jorgensen on Her Surprising Decision to Leave Triathlon
If she accomplishes her goal, she would become the first woman to win gold in two different summer Olympic sports.
Heading out the door? Read this article on the new Outside+ app available now on iOS devices for members! Download the app.
On Tuesday morning, reigning Olympic triathlon gold medalist Gwen Jorgensen announced via social media that she would be leaving triathlon to go for Olympic marathon gold at the 2020 Olympics in Tokyo. If she accomplishes her goal, she would become the first woman to win gold in two different summer Olympic sports. Jorgensen ran her first marathon in New York City less than three months after Rio 2016, finishing in 2:41:01. The winning women's marathon time in Rio was 2:24:04. We caught up with Jorgensen shortly after she made her announcement to find out what prompted the change and what her plans are for the next three years.
Triathlete.com: How long have you been contemplating going after Olympic marathon gold?
Jorgensen: The first time I mentioned it to [my husband] Patrick was three or four years ago. I've always wanted to compete in the marathon at a world elite level. I didn't really think about it much since then because I was so focused on triathlon. After Rio I wasn't really sure what I wanted to do. They announced that the triathlon relay was going to be added to the Olympics, so that made me want to stay with triathlon, but after having Stanley, I was looking for something to get me motivated again and running has always been my biggest passion of the three sports.
Triathlete.com: Did you give any thought to doing Ironman and going for a win in Kona?
Jorgensen: I didn't. I've just never been motivated by that. I'm very motivated by the Olympics. I've always been driven by giving my best that one day every four years and that continues to motivate me.
Triathlete.com: Have you found a marathon coach yet?
Jorgensen: That's something I'm still deciding on. I know from my triathlon experience that I need a training group. I need that kind of daily environment where I'm training with my direct competitors. That's something I'm still finalizing.
Triathlete.com: What kind of time frame are you looking at? Is it just about getting a spot for Tokyo 2020 and thinking about winning in 2024, or are you all in for gold in 2020?
Jorgensen: I want to do it in Tokyo. I know I'm on a tight schedule. You can't really do more than one or two marathons in a year, so that's going to force me to take some risks over the next two or three years, but I'm excited to do it.
Triathlete.com: Have you decided on where you'll race your second marathon?
Jorgensen: I've been a little slower returning to running than I anticipated after giving birth. I've had to really allow my body to heal and I've spent a lot of time working on my core. Last week I only ran about 30 miles. I'll be trying to work my way up to around 100 miles per week or more. After I get there, I'll figure out what race works best time wise with my new coach.
Triathlete.com: What was the most mileage you did per week back in your collegiate cross-country days?
Jorgensen: The most we ever did in college was about 70 miles per week.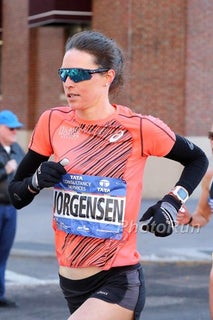 Triathlete.com: What are you most looking forward to about focusing on a single sport again?
Jorgensen: I'm excited about it because running has always been what I've enjoyed doing the most. In the past I would get so excited when we'd have a big run workout or a double run day. That's what my passion is. At the same time, I know there are going to be some challenges figuring out if my body can handle so many miles. I'm going to have to do a lot more pre-hab and rehab to get my body strong enough to handle all the extra miles.
Triathlete.com: What do you think you'll miss most about triathlon?
Jorgensen: The people. The [Wollongong] Wizards are my best friends. Even though they were my competitors, they grew to become my best friends. And I learned so much from my coach, Jamie Turner—not only about triathlon, but about getting the most out of myself and being a good person. I'll miss the people in triathlon, but I still want to be involved in the sport. Pat and I are still doing the [Gwen Jorgensen] scholarship this year and I just did a Q and A at the USAT Junior camp. I still want to help grow the sport as much as possible.
Triathlete.com: Have your sponsors been supportive about this move?
Jorgensen: I've had a lot of support from my sponsors. Obviously a few of them don't really crossover to running, but they've all been super supportive. For the ones that don't crossover, I've talked about staying on as an ambassador, so that's been pretty exciting for me.
Triathlete.com: No woman has ever won Olympic gold in two different summer sports. What makes you believe you can be the first?
Jorgensen: I've set some pretty crazy goals in the past. For me it's just something I've wanted to try since I had the first thoughts about doing it a few years ago. I know I'm going to have to take some big risks, but I really believe I'm capable of doing it. With that being said, I know how difficult it can be to perform for a one-day event when you have years to prepare. A lot can go wrong on that one day and a lot can go wrong in a marathon. I have a huge mountain to climb in front of me, but I also know that I have a great team around me to help me get to the top of that mountain.