Eric's Excellent Adventure: The Business of Being a Professional Triathlete
American Eric Lagerstrom shares how he makes the unconventional life of a professional triathlete work.
Heading out the door? Read this article on the new Outside+ app available now on iOS devices for members! Download the app.
American Eric Lagerstrom shares how he makes the unconventional life of a professional triathlete work. 
First things first: Being a professional triathlete isn't just about holding an elite card.
A professional is someone who makes his or her living from the sport, and it's a very small group. While it's an impossible number to quantify without asking every elite cardholder if they make their living from the sport, a generous estimate is that there are no more than 200 true professional triathletes around the globe. Most pros say there are less.
All of those pros around the world have gone through a similar process of "making it," and it's often a long and arduous climb. Whether an athlete's dream involves progression up the ITU ranks—eventually gunning for a spot on an Olympic team—or accumulating enough WTC qualifying points to make it to either the Ironman or Ironman 70.3 World Championship, it usually involves moving away from home to find a training group or a location more suitable for training and racing. In other words, they have to leave the safe environments that nurtured their athletic talents to embark on a great adventure.
Such was the case for coverman Eric Lagerstrom, who left his hometown of Portland to train with coach Paulo Sousa's "Training Squad" in San Diego, shortly after graduating from Portland's Warner Pacific College—a move he felt necessary to get him closer to his Olympic dreams. But living in Southern California is far from free, so he spent nearly two years slinging bikes at a local shop until he had $10,000 saved up to finally make the move in 2013.
He spent the next two years chasing ITU points everywhere from China to Mexico to Hungary, with plenty of highlights and hard times along the way—from getting swindled by a cab driver in China, to earning the nickname "dribbles" in Barbados for being too dehydrated to produce a urine sample, to forgetting his seatpost before the final Olympic qualification race in Japan. It's been an adventure, for sure, often a rattling one. One bad race could see his fortunes change quickly in the eyes of USAT, one of the main sources of funding for an ITU athlete.
At the time, Lagerstrom was on a funding system with a stipend that was basically a catch-all for promising athletes who hadn't yet qualified for national team funding. That meant his travel costs to races were taken care of, as well as his housing while at official training camps, but he was just breaking even. For an ITU athlete, no more funding would basically mean no more racing.
"At the end of 2014, I had just done a race somewhere in China—it was basically Mongolia—and it didn't go so well. That was the first time I seriously considered quitting," Lagerstrom says. "I was exhausted from all the travel, and then someone at USAT decided I wasn't the best use of their limited funding. It was then that I realized I either had to hang it up or make a big change."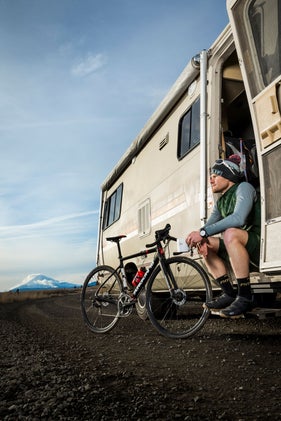 Eric, Inc.
Part of that big change was then-25-year-old Lagerstrom realizing for the first time in his young career that being a professional triathlete means you are your own small business. He had to learn to operate that small business successfully—otherwise he wouldn't be able to eat, and he'd have to move back in with his parents. He returned to training in 2015 with a fierce sense of purpose that he hadn't experienced before. He was no longer Eric Lagerstrom, athlete. He was Eric Lagerstrom, Inc., and he needed to keep his new company in the black. He decided to focus on non-drafting races, like the Life Time Fitness Series and Escape from Alcatraz. And he fixed up a van, which he later upgraded to an RV, to cut down on living costs at training camps. There would be no more chasing points on the Chinese-Mongolian border.
Then, just like that, the Life Time Series eliminated its pro fields, and the small businesses of many pro triathletes were in serious jeopardy of going under. The Life Time Series had paid the bills for dozens of pros for nearly a decade, handing out nearly $1.1 million in prize money in 2013, and now those athletes had some serious soul- searching to do. Many, like Cameron Dye, decided to try their hand at longer events like Ironman 70.3. Ben Collins continued to race but also chose to get his MBA. Lagerstrom opted to return to the ITU ranks—at least part-time—to take a shot at making the 2016 Olympic Team while also finding new ways to make his "company" profitable. The vigor that he'd trained with during the off-season resulted in the best ITU season of his career and also a surprise win at Escape from Alcatraz, which was a huge boon for business. It turns out that attracting sponsors is a whole lot easier after you out-sprint Andy Potts to win one of the biggest races in the world.
Conversations with sponsors became easier. "Usually, an American ITU athlete can't even get a phone call with someone in the marketing department," he says. "By the end of that year, I was able to finally lock in my first bike deal, ask for bigger contracts from my existing partners, and not every conversation had to start with an explanation of who I was. I'd say that was the beginning of being comfortable referring to myself as a 'professional triathlete'."
The Thrill of Exploration, The Agony of Getting There
Pros traveling the globe to compete in exotic destinations often look like they're "living the dream," especially if you scroll through their Instagram posts. But there's a very real cost to spending upward of nine months a year on the road, both fiscally and otherwise.
"I hate travel. I hate airports. I hate airplanes. I hate everything about the process of traveling to a race," Lagerstrom says. "Sure we get to go to some incredible destinations, but we're not there to hang out on the beach. You have to treat every trip as a business trip."
The secret to maintaining sanity while living out of a bike box and spending so many hours breathing re-circulated air in a flying tube is finding pleasure in the little things. For Lagerstrom, and so many other pros, that involves the same two things: coffee and cuisine. If you want to know where to find the best macchiato or pastry in any city around the world, ask a pro triathlete. The first thing Lagerstrom does when he travels to a new place is find the best coffee shop and hopefully the best food. Then he finds a new road to spin out his legs.
But sometimes the most rewarding adventures are the most unexpected. Australian Ironman champion Josh Amberger had one of these unforgettable experiences while competing in an ITU race in Morocco early in his professional career:
"It was like no place I'd ever been. Everything was in shambles," he says. "I got terrible gastro[intestinal] issues. There were uncovered manholes in the middle of the roads we were riding on. I had no idea what anyone was saying to me and I'd get woken up at strange times for calls to prayer. It sounds awful, but at the same time, I was in Morocco to do a triathlon. That's pretty fantastic. There's always a joy in the despair in situations like that, and I wouldn't trade that experience for anything."
Things didn't get any easier—or less adventurous post-race in Morocco. "I went to Tangier for five days because I didn't have any money. I was racing in Madrid the following weekend, and I stayed in Morocco because I couldn't afford to go to Spain— even though Spain is super cheap. The things I got into that week were incredible. I'd get into taxis with strangers and end up nearly 100 kilometers away because no one spoke English. I'd assume I was just going down the road and I'd end up in a rug market in a different city. Everyone was trying to sell me rugs. I had a terrible race in Madrid the following weekend, but I'd had such an incredible experience in Morocco that I didn't care."
The cost of living such an unconventional life can also bleed into other parts of a pro's life. Maintaining a relationship, whether it's back home or with another athlete leading a similar, nomadic lifestyle, can be tough. Kissing a loved one goodbye and telling them you'll see them in 12 weeks is not the recipe for long-term relationship success.
"Of course the lifestyle is stressful on relationships. It played a huge part on me not having a relationship anymore," Lagerstrom says. "That's why most athletes on the ITU scene are single. If they do have a significant other, it's usually another athlete on the circuit. I look at Josh [Amberger] and Ashleigh [Gentle] as this incredible example of two people who just make it work."
Unfortunately Amberger—who races Ironman and 70.3, while his girlfriend, Gentle, thrives in the ITU—can't offer much relationship advice for his friend. "I don't know if there's a real secret," he says. "We just make the most of our time together, and we love what we're doing."
Finding Zen
Both Lagerstrom and Amberger lament that triathlon has become a product—something for big corporations to sell to consumers eager to brag with a finisher's medal or a tattoo. But they still believe that triathlon, at its core, is about the soul-fulfilling, resilience-building practice of experiencing the unknown. For athletes like them, it's all about relishing those moments when the awesome is worth the agony.
"There are some races that are truly different—like Escape from Alcatraz," Amberger says. "It's such an epic race on such a spectacular course. It's about more than competing for money. When all is said and done, you can look back at the suffering and remember how special the experience was. You cross the finish and you're just endlessly satisfied."
For Lagerstrom, making triathlon awesome involves a delicate balance of keeping his small business afloat, finding races and roads that keep him motivated, and satisfying the demands of his stringent coach.
"I feel the pressures of marketing are toward personalities who carve their own path, but excellence is a very ordered pursuit where success is defined in very narrow and absolute terms," says Lagerstrom's coach, Paulo Sousa. "Many times athletes are caught between those two realities."
For pros like Lagerstrom, those realities can be both exhilarating and exhausting, but either way there's bound to be adventure, because Lagerstrom wouldn't have it any other way.
"I get bored easily," he says. "I have a very low tolerance for doing the exact same thing over and over again. To me, an adventure is when we encounter the unknown. There might be a rough plan, but there needs to be the opportunity for the unknown to happen. Then it's all about how you adapt to whatever that is."
A Month on the Road
Traveling isn't easy—or cheap. Here's what Lagerstrom estimates he spends on travel per month during the busiest the busiest time of the season.
Flights: $500-$1,000
Bike box fees: $250 – $500
Other transport (car rentals, gas, etc.): "Around $300, but it totally depends on location. I try to get this as close to zero as possible. I rarely rent a car.
Accommodations: "I spend $800 per month on rent when I'm training in California, but only $350 per month if I'm at an RV park."
Food: "No idea. I buy what I need and don't add it up because it'll make me stress."
Miscellaneous gear (tires, tubes, etc.): $50
Gym/pool fees: $60
Coaching fees: $400
Insurance: $300
Bike mechanic fees: "Free. I do everything myself."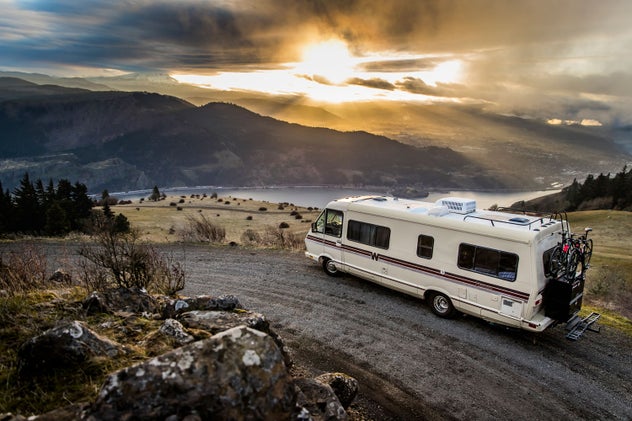 The Ultimate Adventure Machine
Last April, Lagerstrom decided to trade in his old tricked-out van for a motorhome.
What: 1986 Winnebago Elandan with a 50,000-mile Chevy engine
Cost: $4,000 on Craigslist in southern Utah
Work done: Lagerstrom tore out the pink carpet and installed a wood floor; he replaced the floral wallpaper with a wall of reclaimed wood.
Upgrades: Storage boxes, bike and motorcycle rack on back; new sink, lighting, alternator, and a top-of-the-line indoor/outdoor Pioneer sound system (handy sponsorship!)