Dear Taylor Knibb: A Letter from Leanda Cave
Four-time world champion Leanda Cave writes to fast-rising star Taylor Knibb—revealing Cave's own highs and lows and how Knibb (or any triathlete) can learn from her life in tri.
Photo: Triathlete, Kurt Hoy/Triathlete, Patrick McDermott
Heading out the door? Read this article on the new Outside+ app available now on iOS devices for members! Download the app.
Leanda Cave is a British/Australian former pro triathlete who was the draft-legal ITU world champion in 2002, the ITU long-course world champion in 2007, and the 70.3 and Ironman world champion in 2012. With two decades at the top of the sport and big wins at every distance from Olympic to iron, Cave is in the unique position to look back at her illustrious career and reflect upon the (sometimes) hard lessons of life as one of the best women in the sport.
Here, she writes a letter to a similarly talented, and fast-rising pro: 25-year-old Taylor Knibb, who recently made her second U.S. Olympic team and is looking to defend her 70.3 world championship this weekend in Lahti, Finland.
Dear Taylor,
Times have changed a lot since the day I did my first triathlon back in 1994. It was not in the Olympics, and the technology and science was just starting to evolve.
For me, sport in general was my social currency as I was not a very confident kid, and triathlon was the one sport I excelled at more than the others. As a quiet kid, triathlon gave me the opportunity to have a voice and an identity.
The day I realized I had talent was as a 16-year-old when I did a half iron-distance event in Cairns, Australia, where I grew up, and a bunch of pros came to compete. I came in second, beating several pros—something I ended up doing several times as an elite junior. This was all the confidence I needed to pursue the sport more seriously.
In those early years, travel was always an adventure because we didn't have mobile phones or Google Maps. As a result, I learned a few lessons, some small, some big. The small: Spend the extra dollars on a nice hotel close to the race venue, research pools and good restaurants for meals. The big: I would reach out to local tri clubs for help, and as a result always took the time to connect with fans of the sport at the finish line. This may mean sticking around for an extra hour after a race, but it means a lot to fans and a lot to sponsors. In those days I loved racing and connecting with fans added to the enjoyment. This is also where a few of my biggest sponsors came from.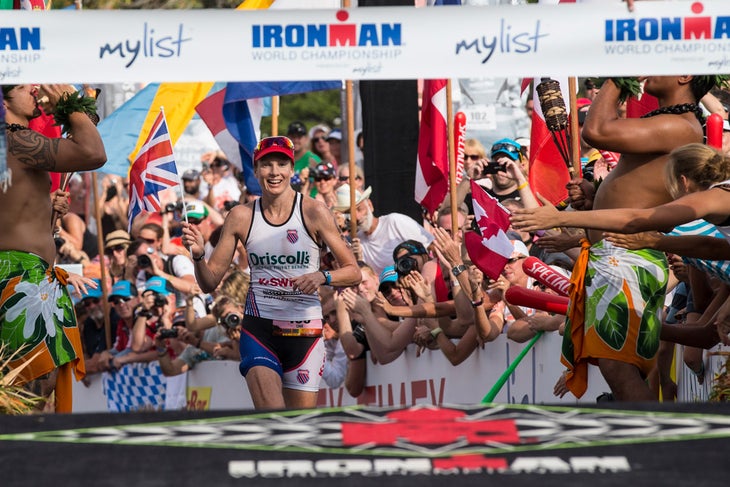 Later, when I started to really achieve success with consistent podiums and ultimately my big wins at world championship events, the attention became very distracting. My body was also very fragile at these times after pushing myself to the edge in an effort to achieve greatness.
Injuries always set me back, and if I could go back in time, I would have stopped to take care of myself better. Recovery was one thing that I did not do well in general: In my 20s, I would only get a massage; in my 30s, I added in some deliberate cold exposure; in my 40s, I stretched more.
If I could go back in time, I would have stopped to take care of myself better.
However, I did do a good job of nutrition before, during, and after workouts. There were no CGM's (continuous glucose monitoring systems) or sodium sensors back then, so it was a matter of having an educated guess and consuming calories and electrolytes accordingly. To this end,I found a nutritionist who helped and stuck to the plan as much as I could. I now know that recovery and diet is the best way to get the most out of racing and training—I did half of that right!
Sometimes I fell off that edge and ended up with injuries that needed to be addressed immediately. But with sponsor and appearance obligations lined up for months ahead of time, I found myself neglecting the injury.
Twice I won a world championship event and ended up badly injured. In both of these cases I was just whizzing around the world to be where my sponsors wanted me to be, but when I couldn't come back with a good result because of the injury, sponsors dropped me. That said, the media was very respectful. In fact, I loved seeing photographers throughout my career—they were always there—and many are still friends today.
But still, as a shy, self-conscious person—something that dates back to school—friendships were never easy. This improved a lot throughout my career, as my success increased my popularity, forcing me to be more outgoing and social, which I really ended up enjoying.
Having a balance between training and some fun on the side was important and helped my longevity in the sport. But relationships were still always hard for me. Focusing so much on myself to achieve success did not set me up to meet the needs of a significant other. Now I find myself in a place where I am too old to have kids because I didn't find and nurture a good relationship when I was young enough.
During my career, I felt that money follows success, so that's what I focused on. It was simple. In my earlier days of racing I slept on floors, took lengthy bus or train rides to races instead of flying, and used old or borrowed equipment. That experience helped me appreciate what I had worked so hard for in later years.
It's hard to know exactly when to retire. I was entertaining the idea back in 2015, but then I crashed out in Kona and felt that I had unfinished business. Looking back, part of me wishes I did stop then—mentally and physically the sport had taken its toll on me. My "used by" date was pretty much up, as I was not performing consistently well in races, and although I was training as hard as I ever did, the numbers were slowly declining.
Instead of chasing an elusive swan song to exit the sport, I finally committed to retirement at the end of 2017, no matter what. I was 39 years old, and I had an exit strategy in place. That was one of the best things I did: I'd started my coaching business back in 2015, and although it did not match what I was earning as a professional athlete, it gave me direction and purpose when I no longer had a reason to wake up every day to work out.
Now I run a recovery business for athletes and active individuals called Innovative Alternative Clinic—a place I wish I had access to when I was racing. I was also smart with my money throughout my career and made good investments along the way.
So my big words of advice to anyone reading this: Say "no" more often.
For me, I should have said no to more sponsorship and race commitments. By saying no, you'll have more time to recover and attend to your body – after all, this is your vehicle to success. It's hard to say no when sponsors do so much to help, especially with financial support. But the best way to honor sponsors is with top results, not by doing photo shoots that last several hours and traveling long distances to make a VIP dinner.
If I'd said no more often, I probably would have sorted my injury out after I won the 2012 Ironman World Champs in Kona, and realistically been able to defend my title. I could have gone to the Olympics after I won the 2002 ITU World Champs in Cancun, instead of being sidelined for over a year. And I would have had the opportunity to enjoy the little (but important) things in life after the year has ended—like nurturing a relationship and spending time with friends and family.
After big races, I didn't take time to celebrate the win, instead putting my head back into training hard. I wouldn't enjoy an off season—I only cared about not losing fitness, because the first race was right around the corner.
Also, take a minute to reflect on how bloody awesome you actually are. When I retired, I ended up getting super out of shape, and then I would think about the pace, power, and splits I once held easily in training, and it blew my mind. If I'd recognized that at the time I would have had way more self confidence overall!
And finally, I wish I'd spent more time seeing the sights of the amazing places I visited around the world. I no longer have the time or the resources to travel so freely, and there was so much I wanted to see that I never did. That said, I am grateful for all the places I visited and the people I met throughout my career as an athlete, and also the way it shaped me into a good human being.
It's been a pleasure to watch your success, and there is nothing that makes me happier than seeing such a good, kind, respectful young athlete like yourself excel and be a wonderful role model to so many young girls who wish to follow in your footsteps.
Best,
Leanda