Chrissie Wellington & Craig Alexander – The Veteran Champions
With five Kona wins between them, Wellington and Alexander chat about the pressures, pleasures and pursuit of perfection at triathlon's top level.
Heading out the door? Read this article on the new Outside+ app available now on iOS devices for members! Download the app.
With five Kona wins between them, Wellington and Alexander chat about the pressures, pleasures and pursuit of perfection at triathlon's top level.
Click here to read other Kona Confidential transcripts.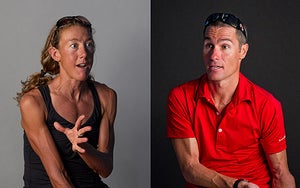 CA: Congratulations on Roth, another awesome, career defining and sport defining performance. Tell me about it. How was your day?
CW: I was so proud of my performance in Roth. I guess not just because of the performance and because of the time, but because the preparation going in wasn't perfect. I did the best with Roth with the preparation that I'd had. And also with the pressure. The pressure in Roth I think is comparable, if not more, than in Kona for me. Because I haven't just got to win. People expect me to win and they also expect me to break a record. If I had a dollar for every time I was told I was going to break the record – not even asked, but told – I was gong to break the record beforehand, I'd be a very rich person! But it was a great race. It's nice to improve year on year, that's why I love going back to that race. And I think I just finally had the run that I've wanted in an ironman, that I've always known is in me. So it was really good to get the run I knew I had, or that I knew I was capable of. It was a great race, and it was great sharing the stage with Andy [Andreas Raelert] as well. It was altogether a great weekend. And how do you feel about Coeur D'Alene?
CA: I was happy. I was happy to punch my ticket to Kona. Obviously that wasn't on the schedule at the start of the year, but like you say, things don't always go exactly to plan. I picked up the virus, but I'm not going to whinge about it. I haven't been sick in almost a decade of racing, so I've had a pretty good run. But you know when you have kids, you have a lot of sponsor commitments, you're coming into contact with people all the time – particularly when you're training hard – I guess your immune system is a little depleted. You're always at risk of getting something. I guess the main disappointment to me was not getting to race Ironman Australia. I don't get the opportunity to race that much at home anymore. I've done the Australian 70.3 the last couple of years but it would have been nice to do the ironman there. And also to validate my Kona spot earlier in the season. But yeah, I got sick. It took me a good seven or eight weeks to shake the virus, and because I coughed so much I damaged a rib. I cracked a rib. Similar to an injury you had except you crashed your bike – I just coughed! I wish I could tell people I crashed my bike. "How'd you crack your rib?" I just coughed. So when we arrived here I still didn't know what race I was going to do. I sort of had Coeur D'Alene penciled in but I also had Frankfurt. With the rib thing I thought I might need an extra four weeks of training and just time to let it heal. As you know those things don't heal very quickly. I tested the water at Alcatraz and that was a disaster – I ended up having to walk in the run. But you know I didn't get too despondent – I felt my fitness was good, I just wasn't healthy. Once I could get healthy I'd be able to go and knock the qualification over. The rib did seem to respond well to some good treatment so I just decided to go to Coeur D'Alene the Monday before. Nothing like last minute planning! But it worked well. I did a good time I thought, on that course, and it was a beautiful race. I hadn't done an Ironman outside of Kona for four years, so it was a different experience, but a good one.
CW: My question is what lessons did you take from getting sick and not racing Australia, and was there less pressure for you going into Coeur D'Alene or more because you felt you had to race to get to Kona?
CA: I think there's always pressure. As you would understand and appreciate, whenever we race there's a certain level of expectation. It's a funny thing, I guess it's all semantics, but we don't race to validate – we race to win. But I didn't know if I was healthy enough to win. I went there with a different mindset for the first time in a long time, where if the wheels came off, I knew I just had to finish and then concentrate on getting healthy. For me the disappointment in not racing Australia was that my family didn't get to see me race back home. It was kind of like a family atmosphere for us though because my sister-in-law, Neri's younger sister Jules, did her first half ironman. I didn't get to race so I played supporter for the weekend, which is a different role – I can't say I enjoy that one at all! But I think what I've learned from the whole experience – and experience in general – is you've just got to be patient. It's not a lost cause. I'd done a good three to four months of training before I got sick and I knew that was all there. And like I said, it was not that I was unfit, I was just unhealthy. There's a big difference. And it's a long season, you know? I mean last year it was a completely different season. Last year when I went into Kona, I think it was my tenth race of the year and I won seven of them. This year's a lot different – not better, not worse, just different. It's a different set of challenges. I like to race a lot and I haven't been able to do that, but I'm just trying to see that as a positive. I might have a lot more gas left in the tank for later in the year. But yeah, Coeur D'Alene was good. It worked out well. I think just to get through that distance and to validate and take that pressure off was good, and now I can concentrate and prepare for October.
CW: I think it also shows us all that you don't have to have that perfect preparation. We all want our preparation just to go so smoothly and I think we're so controlling and anal about it, that sometimes – at least speaking for myself – I get all flustered when it doesn't go according to plan. And I think both Kansas and then Roth showed me that I can perform, even if my preparation isn't exactly as I would have planned.
CA: I think that's a great experience to have to go through. Whatever level of athlete you are – I mean I think we're all perfectionists, but even a perfect preparation is never perfect – there's always something. But it's good to perform well in something that you feel is way less than perfect. It gives you confidence that with all the training that you've done over the years, your body doesn't forget. I just think it's a type A personality – you want all your ducks in a row and everything has to be absolutely 100%, but it doesn't have to be to still perform to that level. That's comforting. So what have you got planned from now until October?
CW: I'd love to be able to race more than I do. I'd race every weekend different distances if I could. But I can't. I can't just go to a race and race anonymously, and that travel, the media, the sponsors and then the race – I think that takes a toll. So I race a lot less than most people. I'm just going to do Timberman 70.3 on August 31st, same as I've done every year, and then have September with no racing. I might try to find a 10k or a half marathon just to test my run speed, but if I don't do that I won't be worried. I'm not going to race Vegas [70.3 World Championship]. Well, I didn't get enough points anyway, but that wasn't an aim of the season!
CA: That's classic, that is!
CW: I want to mentally focus 100% on Kona and know that that's my goal for the rest of the season – or for the whole season. I'll fly to Kona 10 or 11 days before the race. You know I just think I learned so many lessons from not racing last year – about how to recover from Roth much better, how to keep myself healthy, the need for me to take a few more rest days. And I think the accident pre-Roth showed me that as well, because I did have a few more rest days than I would have ordinarily had. So I think those things – getting sick, not being able to fulfill your objectives – it's so frustrating and disappointing, but I really think that there can be huge positives.
CA: Well I think you need a few experiences like that to learn. I guess there's always the temptation when you're winning and doing well not to change anything. And that doesn't mean your performance is perfect, it just means it's worked in the past. I thought a lot about that last year after Kona, to be honest. People were telling me I should change strategy or wear an aero helmet or do this or do that. I just kind of felt I'd had a second and two wins, so it was a risk/reward thing. I felt comfortable sticking with a system and recipe that had worked, and I guess sometimes we're resistant to change. But sometimes it takes getting beaten or not having a good performance to make the changes that you need to make. Like you said, not recovering well from Roth last year and then having that impact you later in the year – those are the experiences that make you a better athlete in the long term.
CW: Definitely.
CA: As they say, it's not always the wins that are the most valuable. I think that's true, because when you're winning that can gloss over a lot of the inadequacies or the things in your performance that you aren't good at. They get glossed over because you've won. It's like a big wart or a pimple – it's not until it's exposed that you want to deal with it.
CW: It's definitely true! So what's your plan now?
CA: My plan is to race Vegas and then Kona. I always do a 70.3 four weeks out – it's been Muskoka the last three years. And to be honest that's been my best race the last three years. I come off my Kona buildup and then come from altitude, and Muskoka is a hilly hard bike and a hilly hard run, similar to what I think Vegas will be, so I guess that's perfect ironman prep. I'm excited! I feel that's my best distance, to be honest, the 70.3 half ironman distance.
CW: Even though you've won Kona twice and now Coeur D'Alene?
CA: Yeah, absolutely. I think I perform better at that half ironman distance, absolutely. I feel I still have a lot to learn in the ironman. Even in Coeur D'Alene, I was absolutely over the moon with the performance, but still I learned so much. I learned more about nutrition and pacing through a different climate. But I think the 70.3's are my best distance. That was my first world title and then I never really contested it after that because the race always fell just after Kona. I feel I haven't raced much so I'm looking forward to the last half of the season. You have gas left in the tank for the later part of the year.
CW: It makes you hungrier. It gives you fire. It gives you huge fire.
CA: Absolutely. Which is just what you need going into your buildup, your big push phase. And it's true what you said, too – there are no races we can do under the radar. I don't think people appreciate that sometimes. Even if you are just going to validate, which in our minds means we're going to try to win anyway, you just kind of want to head out, but people expect you to win or break records. The sport's getting so competitive, I think you do just have to keep the big picture in mind sometimes.
CW: You do. I mean definitely. I was forced through Kona last year to totally reevaluate my outlook and try to keep everything much more in perspective. And I think it's really helped me.
CA: Did you watch the race last year?
CW: While it was on?
CA: Yeah.
CW: No. I followed it a little bit online, but it was too painful for me. I stayed at home. I wasn't really well enough, but even if I had been I wouldn't have gone outside. The next day I didn't go out either, because it wasn't my stage. So no, I didn't watch, I didn't go to the awards party – it was Rinny's stage, she was the champion. She is the champion and I don't ever want to detract from that.
CA: Well that's a classy move. But it must have been hard when you devote so much of yourself to something just to sit and watch.
CW: It's hard, but I guess as with you in Australia, you're not prepared to race if you're not physically able to challenge for the win. I don't race for tenth, I race to try and win. And I'm not prepared to compromise my long-term health, not for any race however important it is.
CA: I think that's it, too. It's not about winning, it's about the level of performance that you know you're capable of.
CW: You've got to be able to fight for that victory. Whether you win or not's another matter, but you just want to be able to give everything. I knew my body wouldn't have let me – it wouldn't let me. I think the hardest thing post-Kona last year – I mean it was disappointing of course, it was incredibly disappointing and I was distraught for a good few days afterward – but the rumors compounded that. And that's something that we all struggle with – I mean not just me and not just the people that have won Kona. But the rumors and accusations and innuendos. I just thought: Am I really that non-credible as an athlete that people would believe those things?
CA: Well, people say that you shouldn't take it personally but it's hard not to take it personally when people are actually having a crack at your character or your integrity. And you're only human – as much as you try to ignore what the so-called experts say, everyone's going to have their opinion. Like they say, opinions are like backsides – everybody's got one and they want to let you know about it. Yeah, I imagine that would have been hard to deal with, because it is an attack on your character. You obviously aren't scared to race, you've shown that, you've won three in a row. To me it seems quite obvious that you actually were not able to race. But I heard the rumors. It must have felt good to get back on the horse in Arizona.
CW: It was. It wasn't Kona, and it wasn't my Kona, but it was the performance I would have wanted. I mean how do you feel, looking back now at your race in Kona last year?
CA: I have no regrets. I mean I've said it a lot of times, but I feel my preparation was probably my best preparation. I'd had a great season leading into it, I feel like my form had been great all year, and I hadn't pushed things. It had just come naturally. I'd had seven wins and two third's leading into Kona, so I felt my form was very good. Obviously, going in last year I'd had a second and two wins, and I was one of the favorites. There had been a lot of talk. As you mention, the men's race is a lot different to the women's race. I'd heard all about the allegiances that were forming – that wasn't news to me. In '09 when I won my second title a couple of guys in the top ten were saying, "You know, the boys are already planning for next year." I think you probably have to deal with that as well.
CW: It's something I don't hear about. I m sure it is happening, but I don't hear it.
CA: The girls have a lot more class than the guys, that's why!
CW: I don't know – maybe it is a different race strategically. Particularly on the bike, you just do not get that.
CA: I think the difference is we had 25 guys come out of the water together. I mean after 35 miles there are probably only 15 of you, and that slowly dwindles, but there's a pack mentality there. I give a lot of respect to the competition. I'd heard what had been going on and people had been asking me about it. But the thing is, you never know who the dangers are. I mean you've got [Eneko] Llanos who's had a couple of top five's, Faris [Al-Sultan] – past winner, Normann [Stadler] – past winner, Marino [Vanhoenacker] who set the world afire in Austria last year, Andy [Raelert] was there, Timo [Bracht]. A lot of those guys, when they made breaks, either on their own or altogether, I had to cover the break. I felt it was almost my responsibility to do it. But I don't have any regrets.
CW: You wouldn't change anything?
CA: It's easy in hindsight to say I should have done this and I could have done that, but I'd won two races being in the first five-seven out of the water, covering what I thought were the dangerous moves on the bike and then running a good marathon. I didn't see any real reason to change that strategy. Even getting off the bike seven or eight minutes down, I felt like I could have run a 2:36 and possibly won. It wouldn't have been enough still at the end of the day, but you know, hindsight's a wonderful thing. I mean who are the people you watch? I watched everyone. I respected everyone. Obviously Andy, that's a no-brainer. And there were people in that front group who people were saying weren't going to win the race, but were still going to impact the outcome. Like Normann for instance, with his bike strength, and Faris for example. So yeah, it's an interesting dynamic. But I don't have any regrets. I'm not going to lie – sometimes I think back at how it unfolded and it hurts a little bit, but that's racing.
CW: Would you change anything going in this year?
CA: I think the main thing is just to get in great physical condition and be mentally motivated and fired up to go and put a great performance in. I mean even the years I won the race I still changed things – I mean I always change things, just to keep it interesting. That challenge is against yourself – you want to improve. You want to win obviously, but you want to improve. And I think there's a lot of room for improvement, at least I hope there is! To me that's what's motivating. So I'm always changing things somewhat – changing the training. I mean I don't overhaul things, but I change things a little bit here and there. This year I was forced into change, and sometimes it's hard to make those changes proactively, so when I got sick I saw it as a massive positive. OK, I'm going to race a lot less, so I'm going to be a lot fresher for my Kona prep in august.
CW: Do you coach yourself?
CA: Yeah. I write the program and then I get a lot of advice from people. I've got to admit it's hard for me to let go. Not because I don't trust people. I mean Mat Steinmetz has been a huge help to me. Obviously first and foremost with my position on the bike, but just with a lot of things. He's a smart guy, he's done a lot of reading, and he's like a sponge for information. Any new improvements in equipment or training techniques and nutrition, he lets me know about them. So he's a good source of information for me, and I use Dave [Scott] a lot. He always glances an eye at my program and helps me with my strength and conditioning. At the end of the day though, it's my career I guess, and I want to take ownership of it.
CW: You've got so much experience Crowie, you've been in this sport for such a long time, and you know yourself better than anyone else.
CA: Well I think we all know our bodies better than anyone else. That being said it is good to get an unbiased, unemotional outside opinion every now and again. So who do you use?
CW: I'm coached by Dave. Obviously I was with Brett [Sutton] for two years, and then briefly with Simon [Lessing], and then I was kind of coaching myself for six months. Then prior to Kona '09 I started working with Dave. We do his swim sessions of course, and then he was helping me with strength and conditioning, and then just prior to Kona he said he'd work together with me on my program. We didn't overhaul anything but we had a few tweaks. So he was kind of like an advisor or mentor going into '09, and then throughout last year and this year he's been my coach.
CA: I think a coach is good to have – someone who communicates well with you and who knows you and knows how to motivate you and that kind of thing. The thing for me was that when I started I had no coach and I was just getting programs out of magazines and watching what other athletes did. You get to a certain level of fending for yourself and it's hard to hand the reins over to someone else. So I never really had a coach. But I was on the Australian team when Brett was the coach and he influenced my thinking. I did a stint with Miles Stewart and his dad Col up on the Gold Coast, and I've trained with a lot of the great athletes, so I think you just kind of get a feel that there no real secrets – it's a lot of hard work. Obviously you can tweak things here and there. But those are some of the guys that influenced me early on in my career.
CW: For Kona this year do you feel more pressure or less?
CA: It's funny, I feel less, to be honest. I felt pressure the first year because I was the reigning 70.3 world champion. And I don't think it was external pressure the first year, it was more me. As you know, the common school of thought is that you don't have success immediately. I wanted success immediately, so there was a lot of internal pressure that year. I'm guessing it's similar for you, because you won your first year, I got second. So then you come back the next year and there's a whole world of pressure. I guess at least you'd already won, at that point I'd only had a second so I felt there was nowhere else to go. If I wanted to improve there was only one more step on the podium. Then after winning that first time, I didn't feel a lot of pressure to defend. Even though people kept reminding me only three other males had been able to do it, I remember '09 being a fun year. I remember you saying the crown was not a burden; it was uplifting. That's how I felt. It was an absolute honor to have won that race once. Then when I defended and came back to go for a three-peat, I felt a lot of pressure. I think it was just a very busy year with a lot of media and a lot of sponsorship. I felt like I was doing the rounds with the media every other week, and I got a little tired to be honest. The fun came out of it a little bit. Even though I tend to enjoy that side of the sport – the business side and the promotions. I remember getting to September last year and racing Muskoka four weeks out. I was able to win but I just felt like I had to win and win big, otherwise I was going to get raked across the hot coals. I just felt it the last four weeks, I'm not going to lie. It was a lot of commitments and a lot of media and a lot of talk. I mean what's it like going in as a three-time winner? I imagine it only gets worse exponentially. Because it's almost – you have nowhere to go.
CW: I have to say my proudest year was my win in 08, because I wanted to prove to myself that 07 wasn't a fluke. Wanting to prove to me and to the world that I was a force to be reckoned with at ironman and at Kona. And then with the flat tire, that's the race result I'm most proud of. I did feel the pressure that year. As with you, '09 was a joy. It was an absolute pleasure. But it was a really hard fought win because I wasn't going in 100% healthy in terms of my fitness. I had an injury, so my run particularly for me was a struggle. And last year, contrary to the rumor that I had a nervous breakdown, I really didn't feel that much pressure! The dynamic of Julie [Dibens], Caroline Steffen, obviously Rinny [Carfrae] upping her game – you know, it excited me rather than gave me pressure. Because I just want to fight. I want a good hard race. And they were going to offer me that. So I didn't necessarily feel that much pressure. I think going in this year I feel the least pressure, and that's largely because of the result I had at Roth – it's given me a huge confidence boost. Particularly on the run, because I know now that my body's where I want it to be and I can have a good if not great run at Kona. So that's given me a lot of confidence and I think confidence in your own preparation without being arrogant takes some of the weight off your shoulders. But talking about the need to juggle all these balls – I don't know how you manage it. I've had to learn to lean heavily on my manager. My manager has become almost my wingman, you know? Also learning to say no. And that's hard. It's really hard. And it's something that I've hated to do, because I want to please everyone all the time. I want to be liked by everybody, I want to please everybody, and you can't. It's hard. I have had to say, "No, I'm sorry I cant do that interview. Sorry, I can't do that sponsor commitment, I can't fly here." Sometimes Ben [Mansford, Wellington's manager] is that middleman, and that's great.
CA: You need someone to run interference.
CW: I think a really important aspect for me of easing the pressure is easing the time commitments I have externally. I mean they're never going to go away – you manage them the best you can.
CA: I think balance is the key, isn't it? You need good people around, and it is hard, because I mean what's the point if you can't use whatever notoriety or whatever it is you have to help other people as well. And there are so many worthy charities and causes out there, it's hard to support them all. It is hard to say no, but you do have to learn to say no occasionally because you've got your job to do and you've also got your private life to attend to as well. That being said, you try and do what you can to help wherever you can. You need to have good people around, and a good manager who can be an asshole sometimes, so you don't have to be!
CW: And sponsors understand – I feel really fortunate in that I've got a great family of sponsors that understand how draining photo shoots and interviews and things like that can be if they pile up week on week on week. So I think it's nice to have sponsors that don't place too many demands, whilst appreciating that they enable me to live the life I do.
CA: Absolutely, it's a two way street. I'm lucky, I've been with most of my sponsors a long time, and they're more than sponsors now – a lot of them are personal friends. It's a give and take thing, because you want to be a good brand ambassador and spokesperson. And part of that is performing well. Part of that is also making yourself available for photo shoots and appearances, so it is a two way street. I think a lot of the companies in our industry are like that though – they understand the demands of the training. And its not just the training, it's the recovery between the training. That's what you miss out on when you're doing all this other stuff and it just accumulates on you after a month or two and you find yourself in a bit of a hole that you cant get out of. But yeah, it's a two way street, and the sponsors are the ones that enable us to do what we do best.
CW: So with a wife and two kids, how do you do it? Prior to meeting Tom [Lowe], I couldn't imagine even having a boyfriend and being able to hold down a functional relationship. Now I can't imagine being able to do what I do with children. I don't know how you and the others do it.
CA: Well, I think it evolves. Neri and I have been together since before I was a triathlete. I don't know what it's like to be on my own in the sport. I think it evolves. We just keep adding people to the party, I guess! My wife is Superwoman I guess! Logistically there are so many things that have to be attended to when you live abroad for six months. And most of them I don't even know about. Neri's vey organized, and she's just passionate, she wants to support me. I mean she put her own career on hold to support me and my endeavors in my career. We've been doing it as a family – well Lucy's six now. I remember when Lucy was born in '05, we flew to the U.S. four weeks later, once we got the all clear from the doctor that her little ears were OK to fly. In her passport photo she was 10 days old. We had to poke her to keep her awake so her eyes were open! I think it's uplifting. Whatever perceived disadvantages there are, the advantages swamp them and overwhelm them. I come home from training absolutely beat, and I see the kids and I get more energy. I don't know where I get it!
CW: I don't know where you get it from either! I mean that's what I can't imagine, coming home from your five-hour ride on the weekend and all you want to do is sleep.
CA: Yeah, and you still need that, but that's where Neri's awesome. We used to always plan it that I'd get up really early to ride and then get back in time to have lunch with the kids and then we'd all get in bed, so I'd sleep when they would sleep. You have to be very organized. When Lucy was born, I was so worried about the lack of sleep. You know, you have your routine and you think you know the minimum you need to function. But I was so full of adrenaline for weeks and weeks. I won Lifetime in '05 when she was eight weeks old, and that was one of the best races of my career I think. Emotionally, that time was one of the best of our lives because we were new parents. And it was the same when Austin was born – he was three, three and a half weeks when we flew to the U.S. I can't remember what it was like before. It's always very busy, but it's fun. And Lucy's at an age now that when I do my easy run she rides alongside on her bike. And even before Austin came along, when I was training for Ironman that first year in '07, I think Lucy was about 18 months old, I'd go on my long runs and we mounted a special seat on the back of the mountain bike so Neri and Lucy would come on my long runs with me around Cronulla. Neri's always been good about getting the family involved.
CW: That's the key I think. I look at Andy Potts and he kind of does the same.
CA: It is key. Matt Reed, he does the same. And you know, it's uplifting I think when you have kids. There's more pressure and less pressure. There's more pressure because you've got more mouths to feed, but less pressure in that – it's a cliché, but these people love you, whatever your faults. You can have a dog of a training day or a bad race, and they don't care. As long as you're going to sit down and do a jigsaw puzzle or watch Tom & Jerry or whatever. I think that side of it, that mental side way outweighs anything else. Whatever lack of sleep or whatever the other perceived disadvantages are. That being said, you need a super capable and organized spouse who pretty much picks up most of the slack. My day is always the same – I train and then I'm Dad. All the other stuff that makes the household function – that's Neri. I mean we'll be driving to the airport and Neri will just hand me an itinerary – the rental car, the accommodation, that's all been taken care of. I don't deal with any of that.
CW: It's a team effort, really.
CA: Yeah, absolutely. I mean I think as in anything – triathlon is seen as an individual sport, but you don't get to the start line on your own.
CW: That's what I said in my speech after Roth – I just talked the importance of family. And not just my blood family, but also everyone that's helped me. And I think you've got to keep that kind of small and close knit, because otherwise everybody just wants in and I get information overload. So kind of keep it small, but then appreciate that you need those people around. I can't imagine doing it now without Tom.
CA: Oh yeah, just the emotional support, the companionship. The training. It's crucial.
CW: I lean from him every single day. How to be calm, how to be methodical, how not to get stressed. From a selfish perspective it's helped me to no end – hopefully I've helped him some little way! Now I can't imagine him not being there, whereas three years ago I couldn't have imagined this.
CA: So has it been fun to watch? I mean he's blossomed into a world class athlete, he's getting podiums in big races and regularly has the quickest bike split and one of the quickest runs. He got third in Arizona last year. That must have been fun to watch.
CW: That was such a special day, sharing that race with him. I was more excited about his race than I was about mine, because he surpassed even his expectations. He hadn't done any marathon training. He only decided when I didn't race Kona and then two weeks after that I thought: What race am I going to do? I'll do Arizona. He said, "Well I'll do it as well." I said, "Really? You haven't really done any marathon specific training." And he said, "I don't care." That's the way he looks at it. He's just such a go-getter. So he went in just determined to do as well as he could with what he had and it was a phenomenal result. And there's just so much room for improvement – that's what's exciting. His swim's improving. He's never going to be a front pack swimmer, but he's such a phenomenal biker that I believe he can bike his way into contention. And he's a good runner. You know he's done a 30-minute 10k in the past and he's shown that he can do sub-2:50, which is where you need to be at the very least. So yeah, I think it's exciting. I'm just hoping he has enough points in the bag now to get into Kona – it's a bit touch and go but we'll find out at the end of July. It would be wonderful to race, together – I don't think there are too many couples that have raced Kona. Rinny and T.O. will be there this year.
CA: They should start a category, combined times. Win a weekend in a honeymoon suite in Maui!
CW: Yeah, lets get on that! But really, it's great – it's great to share the training with him and just to have someone to share this whole crazy life with. Because there are not too many people that can understand what we do and empathize and support what I want to do and likewise I can support him. So I feel pretty fortunate.
CA: So tell me about the British strength in triathlon?
CW: The Aussies have done well, too!
CA: Yeah, I think both our nationalities have done pretty well!
CW: You're a bigger island though, you've got more to choose from – a bigger pot!
CA: Yeah, we've got a big deserted island! But at the moment you've got you and Julie going well and obviously Helen Jenkins and the Brownlee boys are tearing it up.
CW: I don't know what it is. I mean last year at Kona we had Julie and Rachel Joyce. Leanda's doing really well at 70.3's this year, she's won a handful. And yeah, on the ITU side what the Brownlees are doing is phenomenal for the sport and their profile is increasing week on week in the UK, which is great for our sport, even though they're focused on Olympic distance. It's snowballing and I'm starting to get more mainstream interviews because of that. I don't know why Britain is having so much success. I think it is a snowball effect, where people have national champions and they realize that it might be possible for them too to achieve those goals. There's a great club structure in the UK, though I don't think that's unique to the UK, but there are 200-300 clubs on a very small island with a great support network. There are races every single weekend. But again I don't think that's unique – so I'm not entirely sure what you can attribute it to. But hopefully what myself and Rachel and Leanda and Julie and the Brownlees are doing will again bring more talent out.
CA: I think that's the way it works, really. I know certainly in Australia on the men's side we had Greg Welch, Brad Beven and Miles Stewart and on the women's side we had Michellie Jones, Emma Carney and Jackie Gallagher – and they were all world champions and Olympians and what not. So I think it's sort of incentive for the next generation coming through that it can be done. You know I think when the first batch breaks through it opens the door for everyone else to follow. It just creates a nice culture within the country, trying to emulate what the people before you have done.
CW: It does surprise me that countries like the U.S. don't have as many champions.
CA: I think they have a huge talent pool, I think there are just so many other sports that the talented athletes get sucked away to. I mean you're like me, you're a bit of a late starter – I started in my early 20's and I think you were a little bit later than that. But I know in Australia now a lot of the talented kids are getting scouted at 10 or 11 years of age.
CW: What do you think about that, though?
CA: Well, I think the main thing is it has to be fun. I mean an endurance sport, you're not going to blossom until you're in your 20's or even 30's, so I think its important that – maybe ITU's a little different, and maybe guys to girls a little different as well, but it's the kind of sport where I think it's perfect to go and get a Uni education while you're training, while you're learning the fundamentals of technique. That's where I think great coaching and mentoring comes into it. You're not going to win world titles in your teens, and at best I guess if you are a freak like Alistair [Brownlee}, you might only be earning them in your early 20's, like [Simon] Lessing did as well, or Spencer Smith. I think history shows that in the Olympic distance you can win in your early 20's, in half ironman or ironman it comes later than that. So the main thing is to still love it and be involved at that point and not be burned out on it.
CW: That's what I worry about. I get emails all the time from kids – and parents of kids – asking: What training should my six year old be doing? Or: My 11 year old is about to do her first Olympic distance race. And I don't know how to respond because you want to encourage children to do sport and it's a great sport and it's a healthy sport, and I think it's wonderful to have the variety that swimming and biking and running brings, rather than just doing the one sport, but then again I just want them to take their time. I have seen teenagers in the UK who, now that they've reached their 20's, they're done. They're super talented, but they're done physically and mentally, because there was too much pressure too soon.
CA: I think it's just got to be fun. And the best thing anyone – a coach or anyone – can do is give you the fundamentals and building blocks. Learning great technique, core strength, biomechanics – that sort of thing. And that appreciation that you're going to be around for a while, so have fun. Maybe travel a little bit, get a taste for it, but also maybe get a Uni education or learn a trade or get a job. And maybe in your early 20's get a little more serious about it. The good foundation, especially with swimming, technique is key. That's what you need to teach kids when they're young. But even more important than that is to just have fun. There's no point in doing it if you're just dragging by the head at the pool every day.
CW: So what do you see yourself doing afterwards?
CA: Good question. I take things one year at a time, though I do think that once you have kids you have to think a little further afield than that.
CW: You're a physio right?
CA: I am, I'm a qualified physio. I was 12 months into my physio degree when I did my first triathlon. And I still had four years of that to do – so I have that, and it's certainly helped me in triathlon as well because I learned a lot about the body and anatomy, and the basics of endurance training and physiology. I'd like to stay involved somehow – maybe working with my sponsors in some way. I don't know that I'd like to be a coach as such. Maybe on a limited level. But I think anyone who's been in the sport a long time and has raced at the highest level has a lot to give back in terms of teaching young athletes how to look after themselves, how to be professional, how to attract sponsors, how to keep sponsors, how to deal with the media, how to train properly, how to travel. I'd like to stay involved with my sponsors as well, maybe on the R&D side. I think when you've been around the block a few times you have a lot of good feedback to give in terms of product development, and I think a lot of the companies are eager to use that feedback as well. We're kind of like lab rats, I guess! I'd like to stay involved. I think even after I've finished with Kona I'll still go and watch the race.
CW: It's a hard decision to make, I think, when to leave the sport.
CA: Really hard, yeah.
CW: Because you always think, oh there's more, there's more. I once had a conversation with Torbjorn [Sindballe], and I asked, "If you hadn't had the problem with your heart, when would you have chosen to retire?" He said, "When I had the perfect race." I said, "Do you really think the perfect race is possible?"
CA: Is that not a fairy tale?
CW: Yeah, because every time I finish a race – even Roth – I think it was perfect because I managed to overcome imperfections. There are areas where I think, well it was fantastic, but I can improve. I just don't know if there is ever that perfect race. So I just wonder when we all make that decision. I don't want it forced upon me.
CA: Yeah, you want to make it yourself and on your own terms. It's funny, when you get to my grand old age – I just turned 38 – people ask you that all the time! To be honest, I'm still improving, physically, especially at the longer races. But there are other things obviously, aside from your physical preparation. Other things in your life. How motivated are you, are you still prepared to do the things you did five years ago to prepare, and if not, why not? Is it because there are other things in your life that are maybe now more important? I just think I'll know. Neri and I talk about it a bit . I think I'll know. I don't think anyone will have to get the big shepherd's crook out and get me to exit stage left. I think I'll know. Part of the fun is that I just love this sport. I think it's in my blood. Part of it is, like you mentioned before, that you're always chasing the perfect race. As competitors – I'm sure you're the same way – even when we've won in Kona, you think: That was great, I beat everyone today, but I can still do better. And that's where the fun and the challenge comes. And when that's still there, I don't see any reason to stop. I can still do it physically, I'm still enjoying it, and most importantly I have the support of my wife and my family. We take it a year at a time, and it is getting harder. Lucy's in school now, she's in first class. Like I said there are a few outside things that are very important. I don't want anyone in my family to suffer because of my career, whether it be their education or whatever. But once again that always comes back to having good people around you. You can always make it work. I think I'll know. I think when the enjoyment factor starts to drop out a little. I mean even this year, I found that preparing for Ironman Australia, some of the long rides I didn't want to do because I wanted to watch Lucy play soccer. She played soccer this year for the first time. So normally I'd be up at 6:00am and go knock it out by lunchtime, but I just rearranged things. I would sleep in and go watch her play soccer, because I wasn't prepared to miss that. But I was still able to go out and do my long ride afterward, and then a run off the bike. So you just need to be flexible. I'd always have the mind to get up early and knock the training out and be done with it, but it was her first year playing and I wasn't prepared to miss her games. It's just a constant evolution – you just make it work. It's a jigsaw puzzle and as you get older I guess you've got to be a little more flexible with it.
CW: For me, the more years I'm in the sport the less training I think I need to actually do. That's what Dave's trying to teach me. The volume of my running has reduced significantly. And the improvements have been huge. I was talking to Conrad Stoltz and he said, "I do as much as I can with as little training as I can." He's doing 2k swim sets. That was great, because I think part of the problem for me is my mental attitude. I think it's not worth getting in the pool for 2k – I might as well just have a shower! But I think that kind of maturity – physical and mental maturity – means that you probably could do much more with less.
CA: I agree. I think it's a matter of the mind catching up with the body. When you have those years of base miles you have the physical maturity, but it's a matter of being flexible enough and I guess disciplined enough. It is a bit of a risk, because you don't want to change a recipe that's worked, but that being said it's well documented that as you get older you don't recover as well, but you don't have to train as much either. You can do the hard sessions, you just don't have to go as hard as often. I agree.
CW: And you still cracked out a 2:40-ish marathon in Coeur D'Alene on the back of training that might not have been ideal.
CA: It was the first marathon I'd done in nice cool conditions – it was 80's, not 90's or 100 – so that makes a bit of a difference. I also think it makes a difference – that race in Kona is different because of the people you race. You don't face those people at that distance at any other time of the year. And not disrespecting any other athlete, but at any other ironman you might have one or two or three people in contention. You can tend to do your own race more. And when you do your own race and stay to your own threshold limits I think you tend to have a good performance and recover from it a lot better as well. I guess that's just one of the idiosyncrasies about ironman racing, as opposed to ITU. Those guys compete four to five times a year. It's a much shorter race, and at any of those races the top 20 in the world are at all of them. In long course racing we really only come up against that strength of field once a year.
Well, good luck this year. It's been fun to chat. Hopefully you'll let me catch up in Kona – you've got three wins and I've got two. I'd like to even the ledger this year, but I'm sure you're keen to improve on your tally as well! Good luck the rest of the year.
CW: Thank you, and you too. I look forward to seeing you on the Big Island and watching you regain the crown, because we know you can.
CA: I'll do my best!