Beginner's Luck: My First Triathlon
"Beginner's Luck" author Meredith Atwood shares the story of her first triathlon.
Heading out the door? Read this article on the new Outside+ app available now on iOS devices for members! Download the app.
"You can do a triathlon," this guy named Gerry Halphen said to me. I looked at him with crazy eyes. It was 2010, and I was huge and even more clumsy than I am today. Gerry was the Spinning instructor who would later become my triathlon coach; I had been hiding on the back row of his class for over a year. Something about what he said, even though it was insane to me, stuck and resonated and would not leave my head. With those words, Gerry gave me a sort of permission to step out and try something as hard as triathlon. Because I also didn't want to waste any opportunities, I signed up for my first triathlon a mere few weeks later. (Note: the swim was in a pool, so that made it a tad better).
My first triathlon was a reverse triathlon—so the order was run, bike and then swim in the pool. I woke up at the crack of dawn and did all the things you do before a race. Then it was go time—the race announcer gave us the rules and a summary of the course.  He warned us about the bike course being "quite challenging." Oh my.
Before I knew it, the race started, and I was jogging at a snail's pace, but breathing hard. At mile one, I looked behind me and there were only about 15 people back. Which meant about 200 were in front of me. And at that moment, I tripped on a root and nearly lost my footing. I finished the run with my 5K time around 38 minutes.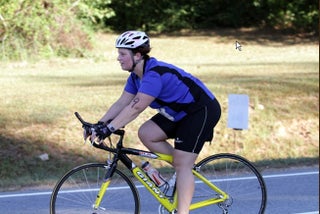 Out on the bike, the massive hill that welcomed me was brutal. I was sucking wind hard enough that people in front of me would hear me coming and look behind glaring, perhaps thinking a train was on their heels. Choo choo, I'm suffocating here, people.  Choo choo, better watch out. My bike and I were suffering in the granny gear, and squeaking like rusty wheels, but I was not getting off that bike. I was travelling at the speedy pace of 6 mph on the hill.  I saw a small, yellow snake slither along parallel with me, and thought, I have got to pick up the pace.
The bike was over, and I felt exhausted but thrilled. Then I saw one of the race volunteers waving his arms and screaming, "Dismount your bike! Dismount here! Dismount here!" I panicked. I clipped out my right foot and my left foot was stuck. And down she went. I hit the pavement.
The crowd kind of went "gasp!" and then "ooooooh!" and then when I stood up, they let out a big "ahhhhh" of relief, and clapped.  The same volunteer who scared me, had rushed over and tried to pick me up under my armpits when I fell. He was about 120 pounds, and I kept telling him "No no no no, I've got it," and I wanted to scream, If you try and pick me up, I am SO going to unintentionally bring you down with me… so that was awkward.
But finally, I was on my feet. I felt like a clown, especially at the sports photographer who managed to continue taking pictures of me. But all was okay. (Actual injuries = 0, Pride injuries = 1).
I still had a swim to do. I unbuckled and unlatched everything and ran to the pool. This volunteer was screaming "No diving! No diving!" Yeah, I got that under control. The swim took place in the pool, alternating lanes, and before I knew it, a 13-year-old boy helped wrench me out of the pool, and I was finished. And elated!
I recognized the things I was not on that day:  fast, coordinated, smooth looking. But I also knew the things that I was: calm, focused and a triathlete—even a baby one. And I knew I would never be the same.
We want to hear YOUR first triathlon story! Tweet us at @Triathletemag and @Swimbikemom.