Andy Potts: Making The Most Of Yourself
Heading out the door? Read this article on the new Outside+ app available now on iOS devices for members! Download the app.
Andy Potts talks about the day he decided to quit his job and become a professional triathlete… even before he had even completed a race.
Written by: Andy Potts
The word "risk" comes in two different parts of speech. As a noun, risk can be defined as a possibility for loss. Loss in this sense could mean anything from financial loss to emotional loss to physical loss and everything in between. As a verb, it can mean to expose oneself to danger. In my case, when I am swimming in hazardous water conditions or riding at extreme speeds or pounding my joints with mile after mile of running, I expose myself to danger. However, both functions of the word risk are part of the territory when talking about triathlon.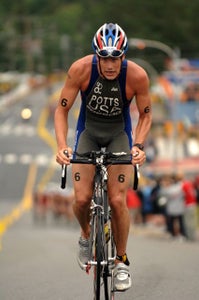 When the topic of triathlon comes up, risk isn't something that is naturally a part of the conversation. Most people talk about risk when they talk about their investment portfolio or their job prospects. Well, triathlon is a lot of things, including a job for some as well as an investment for most. Risk fits the bill on both ends.
Pessimists would look at the loss only when calculating risk. Optimists choose to look at the other side of the equation and see the potential gains. I look at risk like a professional gambler and understand that I am willing to lose some to gain even more. The optimist in me says that if you always play it safe, you will never win big. By the same token, you will also never end up too far on the negative side if you play it safe. Anyone who has ended up on the extreme positive or negative side of the ledger, I would assert, has also risked the most.
The biggest risk I ever took in my life was taking up triathlon. I was 25 years old and was working as a sales rep when I got the itch. At that point in my life I had a steady paycheck but I was looking for my next passion in life. Instead of logically testing the waters and trying a few triathlon races before fully committing myself to an unknown endeavor, I went all in. The gambler in me thought that I was a pretty good swimmer and I had the skill set to excel as a triathlete. However the conservative in me said that lots of swimmers take up triathlon without making it their profession.
The gambler won out; before I even did my first race I quit my job and moved out of my apartment in Chicago to move back in with my parents. If you think I was a bit crazy you would have loved the conversation I had with my mom the day I quit my job.

"What are you going to do now?" my mom asked.
"I'm going to move in with you and Dad," I casually replied.
My mom tried again. "I mean, what are you going to do about making a living?"
"I'm going to be a professional triathlete," I said matter-of-factly.
"But you've never even done a triathlon," my mom said in her attempt at reason.
"I'm going to make it work," I told her.
"Are you willing to start over? Start from nothing?"
"I'm not starting from nothing, but I will be starting from scratch. That could be a good thing; this way I don't have any bad habits.".
"And you think that you can just move back in with us?" It was more a statement than a question.
I hesitated, then said, "Well, it's only temporary."
What parent welcoming a child back to the nest hasn't heard that line before? I could feel her trepidation about my quest over the phone. However, if anybody believed I could pull it off, it was my mom (and dad). They understood the risk involved but also realized that if I were to succeed, I would have a new path in life that could lead to happiness. Plus, they also knew that my risks were reduced because of my swimming background as well as my willingness to work hard.
Risk certainly was involved with my leaving the business world to try my hand in the sports world. However, my overwhelming feeling while making these rash but crucial decisions was that the potential for loss was worth the risk. I was miserable in my job and it was affecting my drive and desire in life. I think this is the definition of a quarter-life crisis. Since the upside to making the physical as well as figurative move was so big, I was willing to go without a paycheck for the foreseeable future.
Maybe I wouldn't appreciate triathlon as much if I had gone straight from my college swimming days to being a triathlete. If anything, the risk I took in leaving my job and taking up triathlon showed that I was willing to commit myself to something despite the inherent potential for loss. That was a powerful first step and would set the stage for many more risks down the road. I knew that I had found my new passion and I was willing to fight to make the most of it.
Whether you talk about risk as a verb or a noun, it is all about perspective. Even though there is the potential for loss and the exposure to danger, I choose to see risk as the possibility to gain. My biggest successes are when I take the chance to go out in a blaze of glory. I will either go down in flames or I walk across the finish line in victory. In my mind it has always been that the bigger the risk, the bigger the success.
I'm not saying that you should quit your job and become a full-time triathlete. Rather, I'm asking about risk. How do you look at the decisions you make in life? There is always some level of risk involved, calculated or not.
I'd like to leave you with a quote from one of my favorite authors, Ralph Waldo Emerson: "Make the most of yourself, for that is all there is of you."