Photo: Photo by: Matt Harbicht
Heading out the door? Read this article on the new Outside+ app available now on iOS devices for members! Download the app.
America Ferrera accessorized a pre-Emmy's party dress with the number from her first-ever triathlon last fall. The image bounced around the world, notching more than 21,300 likes on Insta and coverage in news outlets from ESPN to the Daily Mail. It was a chic nod to the sport that the Emmy Award-winning Superstore actor calls healing. Here, she opens up about her triathlon journey and the positive impact it's had on every part of her life—including her relationship with herself.

Photographs by Matt Harbicht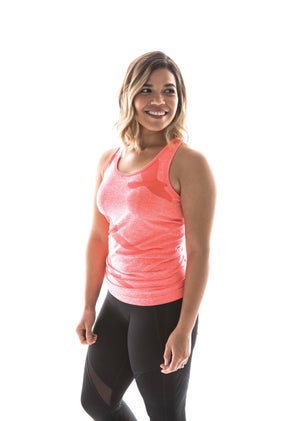 America Ferrera's eyes smile when she talks triathlon. The 33-year-old Superstore superstar casts a combo of excitement and serenity that would be tough for anyone but an Emmy winner like herself to replicate. But if you were going to try, you'd best make like America does when preparing for her lauded film and TV roles and start with a character study. Your initial notes might look something like this: Born and raised in Los Angeles, youngest of six kids, Honduran parents; Grew up playing sports: baseball, basketball, shot put, didn't see self as an athlete; Breakout movie: Real Women Have Curves, 2002; Breakout TV role: Ugly Betty, 2006–2010, won Emmy, SAG, Golden Globe …
Stop right there. Simmer in those points for a second. You've got Los Angeles, the capital of image obsession, and a young woman cast in roles that emphasized her appearance. It's clear enough that her relationship with her body might have, as it does for so many women in their teens and 20s, gotten off to a rocky start.
America and I settled into the corner of a laid-back Hollywood café after an eight-hour photo shoot (that only a true endurance athlete could handle with such grace) to talk about how a year of triathlon training and a handful of races have helped lead her to this place of tranquility borne from newfound self-compassion.
America: This relationship of being disappointed in our bodies is a relationship that I started at a very young age, whether that's because of the culture around me or the points of views that I was exposed to. I didn't see a lot of examples—or nobody taught me to appreciate and love my body for what it's capable of. It was always about what it wasn't and couldn't do, and what it could be.
America's triathlon adventure started after a dear friend lost her mother to lymphoma, and another friend joined Team in Training to raise money for the Leukemia and Lymphoma Society.
America: I remember watching her journey firsthand and just kind of being terrified by it, thinking all the same things everyone does: I can't believe you're swimming the water, I can't believe you're doing this crazy thing, why would you do this? And watching her with equal parts intrigue and fear. And when she did it, I was just so inspired by her.
America's husband, multi-hyphenate actor-producer-director-writer Ryan Piers Williams, was the first to say he'd sign up for Team in Training to raise money while training for a tri. America wasn't about to let him show her up.
America: I think my competitive nature kicked in, but along with that competitive nature was a real fear of "Oh my gosh, am I that person. Could I actually do a triathlon?" Even though I was athletic and did sports here and there, I was never a great athlete. For a big part of my childhood, I was overweight and never thought of myself as really physically in touch with my body. I'd worked out to feel healthy or get fit but I'd never really loved it. It was definitely a mix of intrigue and fear, and I think recently in the past few years of my life I've started noticing a pattern of when something scares me, that's an indication that I should do it.
She announced her triathletic intentions on social media last May to let the world know it was game on, and she couldn't back out.
America: There were absolutely times where I doubted whether I could do it. When we started, I was not a swimmer at all and I remember one night at swim practice where I was just literally weeping in the pool. I just started crying because I had to swim 600 meters in a row, and for someone who started like, "I don't even know if I can do a 50! How am I gonna do this?" I was not even halfway through the 600 meters and I was so tired, and it was mental more than anything, and I remember just the very weird physical experience of being in a pool and being submerged in water and crying: I can't feel my tears but I know they're there.
I just love that I could have that moment of fear and doubt and still keep going, and have a team that carried me past that moment.
And there I was on race day, swimming in the ocean for a whole mile. That is a transformative experience to go from being the person who can't to the person who does. It changes you.
On Sept. 18, 2016, America and Ryan raced the Olympic-distance Nautica Malibu Triathlon. After several #fitspo posts on Instagram documenting the journey—the early-morning ocean swims, the post-training naps—she put up the victory shot: a video of her finishing in 3:42. Then a photo from the run, captioned, "Can't talk, trying to slay this triathlon right here. #focused." Then a split image of Ryan and her holding up their finisher's medals on the left, and the two of them at a pre-Emmy's party. "left my Tri numbers on cuz I earned that shit!" she wrote of the bold black 256 written down her left arm while she posed in her black strapless party dress.
Major news outlets picked up the post, zapping America's accomplishment across the Internet. ESPN, the Daily Mail, Marie Claire, the Today show, Entertainment Tonight, Fox News, Vulture. She talked triathlon and sharks with Stephen Colbert. America Ferrera instantly, perhaps unwittingly, became triathlon's greatest megaphone, blasting the sport out of its endurance niche into the mainstream world.
But the Insta-prompted news cycle is brief and superficial. Yes, the news outlets hit the main points: America raced a tri. She raised money for charity. She is awesome. But they didn't address the experience itself—the why. What might drive a woman to tackle this challenge? To document her journey with such pride and excitement? America solved the info- gap herself, penning an op-ed that ran in The New York Times at the end of November, titled "How a Triathlon Helped America Ferrera Defy Her Inner Critic."
She wrote how, even after all of her successes, she'd been plagued with self- doubt, cutting herself down instead of being her own greatest cheerleader. Triathlon, she told me, helps her flip that inner dialogue.
America: What I love so much about triathlon is that anybody can do it and everybody does do this. At Lavaman [her second Olympic-distance race] there was a man who was 79 doing it, and a man who did the entire run with a cane. That, for me, was the beauty of my triathlon experience. Because it isn't about being first. I know I'm never going to be the best, I'm never coming in first place, I'm never going to be on the podium. And I'm OK with that. And having to constantly accept exactly who I am and where I am in my journey, and enjoying it and celebrating it and being proud of where I am and what my body is doing for me—it's been healing.
I remember a very distinct moment in the Malibu race when I got into the water. It's that moment when you go in heats and everyone has your color swim cap on. And all of a sudden the wave that went behind you—you start seeing their green swim caps, and you're like, "Oh, I guess I'm falling behind." And then there are yellow swim caps. I remember for a moment my heart sank and I thought, "Oh I'm losing!" whatever that means—I'm not doing good enough, I'm falling behind, everyone's faster than me. And I had to stop myself. I literally stopped myself and said to myself in my head, "You are racing in a triathlon. You are in the ocean swimming a mile! Stop thinking about what you're not doing; think about what you are doing and how far you've come and how hard you've worked to be in this moment. Don't take it away from yourself."
Triathlon gives you the opportunity to get to that place where the way you think about yourself comes up. And you have to realize: This is the way I talk to myself, and why am I talking to myself this way? Why am I taking this moment away from myself? Why am I comparing myself to other people? There are many ways to get to that threshold, but for me, triathlon has provided that, and in a really fun way.
---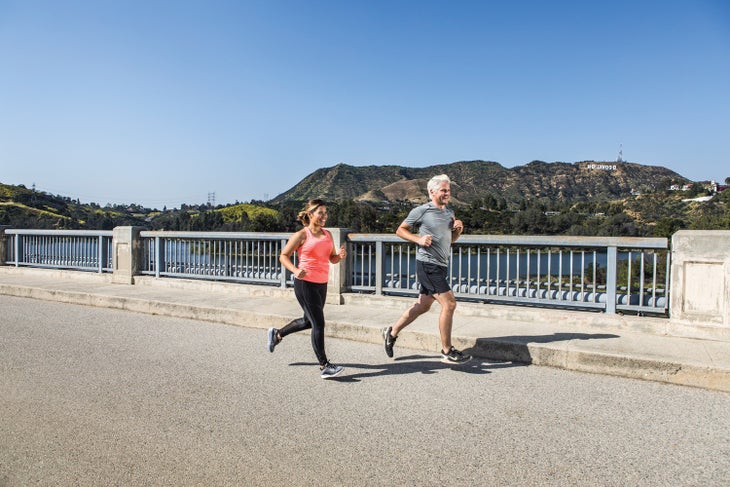 America danced, skipped, jumped, joked and laughed on the set of her Triathlete photo shoot. First in a Hollywood studio where we recreated the post-race party look we like to call Glam Triathlete, then at the Hollywood Reservoir, a hidden gem of an outdoor escape in the hills just below the Hollywood sign, where she and Ryan (#TeamFerrilliams) often train.
Ryan met us at the reservoir. His bleach blond hair was hard to miss, dyed from his natural brown, America proudly points out, because they reached $10,000 in fundraising for the Leukemia and Lymphoma Society.
America: It was great because he's so much stronger than me in basically all three of the sports that if it was just the two of us, we'd never go out for a bike ride—he'd be miles ahead of me and I'd be frustrated, and it wouldn't be like something we were doing together. But because we trained on a team together, it was so wonderful to share the excitement, be there to support one another, watch each other grow, share our victories.
I haven't generally had a lot of extracurricular activities. I work a lot and I love my work, but I didn't have a lot of things outside of my work that were just for me. And he also is deeply ingrained in his work, so for the both of us, it gave us something that wasn't attached to our careers, wasn't attached to achievement—something we did outside for us. It's kind of one of the first hobbies I had as an adult outside of my career. And that was really nice because it forces me to disconnect from work and from the world and get in the water for an hour. You can't check your emails in the water—go on a run, get on a bike, come back later and everything is still there.
When America answered my questions, she took time to think before she spoke. She'd pause for a moment, then start up again with a level of introspection and clarity few people possess when reflecting on their own motivation and feelings.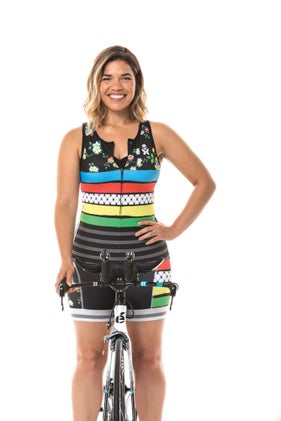 America: I'm an actor and spend a lot of time dissecting character and motivation—maybe to a fault. And I've been in therapy for a long time, so my growing and the person I am and the things that I'm proud of—I've had to be very deliberate about choosing to notice how am I doing things, and how do I change that if I want to?
Our little bodies—the small little space that we inhabit for the entirety of our lives— everything we feel, everything we experience, everything we do is contained inside of our bodies. And to be challenged physically is to have to meet all of your experiences. If you want to meet your limitations, do a plank for two minutes and see if how you feel about yourself and how you're operating in the world doesn't come up in 35 seconds! That's why, personally, working out has always been an emotional experience for me.
When I first decided to do a triathlon, the scariest thing for me was that I wasn't going to be good at it. As a child you're not good at anything, so you're willing to be humbled and learn and grow and get good. As adults, we have control over our lives—or we think we do—and we do the things we're good at. We've achieved stature and status and we like to feel in control. So as an adult, to be humbled by a new beginning and to say, "I'm probably not going to be good at this. I'll probably fall off of my bike like a kid. I might get so scared in the water that I'll have to stop and get out, or I might have to stop and walk"—our egos don't want to be humbled by the challenges. And I'll speak from a place of personal experience: I think when it comes to new challenges, it's my own ego that I'm fighting most of the time.
Why I think triathlons have changed my relationship to myself is because the whole sport is about going further than you think you can go, living at the threshold and pushing yourself to the place where you feel like, "I never thought I could be here and I certainly thought I couldn't go further." It's at that threshold that you have the opportunity to choose something new which could just be to be nice to yourself in that moment, to acknowledge yourself in that moment. For me, just getting into the open water, getting into the ocean was huge. Most people I tell I'm doing a triathlon, the first question they ask is, "You swim in the ocean?"
I ask America if she considers herself an athlete now. She takes a second to think about it, then her face lights up with a big, warm smile.
America: I am a triathlete! Yeah! I guess I am an athlete. It's really exciting!