Behind The Bike Fit: Callum Millward
Expert bike fitter Mat Steinmetz walks us through the bike fit of Ironman 70.3 Boulder champion Callum Millward of New Zealand, who is preparing to take on the Ironman World Championship for the first time this fall.

Written by Mat Steinmetz
Photography by Korupt Vision
I've been working with Callum Millward on his bike position for the last two seasons. The goal of this session was to improve two fit-related items. The first item was to re-evualute a functional leg length discrepancy (LLD) that originates at the pelvis. A functional LLD means that the bones in the legs are the same length, but because of some sort of pelvic obliquity, the legs appear to be different lengths. Typically, functional LLDs are caused by trauma or a muscular imbalance/tension in the hip flexor complex, low back and/or gluteal region.
Mild asymptomatic LLDs are very common and don't require treatment. However, when there is a significant LLD you can often stand behind a cyclist and easily observe the compensation patterns. In Callum's case, his saddle was too high and he'd shift over towards his dominant right leg to ensure proper knee extension, while the shorter left leg tagged along for the ride.
Lowering the saddle made it so Callum did not have to shift on the bike to protect his dominant leg. Rather than his right leg being within normative biomechanical range and his left being out, now, both legs are within this range. Making this change has seen continued improvement with initial right/left power imbalances that Callum was experiencing on the bike.
As a fitter, it's my job to make sure that I've got his saddle positioned to minimize the effects of this imbalance. I then refer to the proper professionals to diagnose and treat the issue.
Treatment starts with identifying where and why there is an imbalance. Once identified, it's common to have several manual adjustments to align the pelvis or spine. Then movements/exercises are prescribed to reinforce that alignment. Initial exercises are focused on being able to functionally recruit and use the weak muscle, which is often the central issue to begin with. Once the movement pattern is corrected, strength exercises are incorporated.
That is the process that I believe in when dealing with a cyclist who has an issue that is outside my scope of practice. I'm not going slap a band-aid on the real issue by making any sort of offsetting cleat adjustments or a temporary lift in the shoe to make things seemed balanced. By doing so, I'm only making matters worse in this particular situation.
The next item was overall aerodynamics of the position. I have enough experience working with athletes in the wind tunnel to make an educated guess in regards to rider positioning. Typically, what I've worked through in the fit studio and on the road has been the most aerodynamic position for the athlete without sacrificing biomechanics or the ability to power the bike.
The biggest limiter to a good time trial position is the saddle. If you have this piece of the puzzle solved, the bar position and rider posture is where you'll get the biggest gains in comfort and aerodynamics.
I like a rider to have his elbows on the pad and his hands on the shifters. This promotes skeletal support and relaxation. In this particular case, I extended Callum's front end out 30 mm to relax his shoulders and provide room for him to drop his back and head, reducing frontal surface area. The goal is speed, which is a blend between comfort, power and aerodynamics.
I typically use video while making these postural changes to allow the athlete to see how significant these small adjustments have on his bike position.
In the picture above, the "before" position is what we came up with in 2014 and what he's successfully ridden most of this year. The 'after' is Callum's new position, which he will need to continually focus on holding until it becomes habit.
A good time trial position is something that most athletes need to work on and does not come naturally. The good news is that the TT position is very adaptable. Anyone who has taken an extended break from his or her TT bike will have experienced this first hand. The same position that you were comfortable on the previous year(s) is now causing you discomfort. It's not that you've changed or you need to make a fit adjustment, you just need to put in the time and adapt to your position again.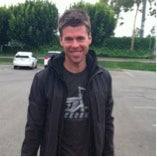 Mat Steinmetz is the founder of www.51-SPEEDSHOP.com, where he and his team of experts help athletes of all abilities in the areas of bike fit, equipment optimization, health analysis, and coaching.
51 SPEEDSHOP & GURU Cycling will will be teaching a TT specific fit course in Denver, Colo. on November 10 & 11. To sign up visit www.gurucycling.com.