How Lucy Byram Won Back-to-Back Weekends (and Rocketed up the PTO Rankings)
Lucy Byram is making a name for herself in 2023. We talk to the young pro about how she pulled off wins at Clash Miami and Challenge Puerto Varas just one week apart, plus the workouts that helped her get there.
Heading out the door? Read this article on the new Outside+ app available now on iOS devices for members! Download the app.
You may not know the name Lucy Byram (yet), but she is the triathlete of the season so far. Over the longer distances, at least. Back-to-back wins in Florida and Chile earlier this month have marked the British athlete as a contender for the bigger prizes to come. But though she may seem like an overnight success story to you, to find out Byram's true substance we should wind the clock back to June last year.
Specifically, we must return to Challenge Wales, where an all-British pro women's field represented a realistic first chance of topping the podium since the then 22-year-old had decided to turn pro. Byram was flying through the rugged countryside leading the women's race as the rain fell and the roads became greasy, when she spotted a bike "leaning precariously on the banking."
"I looked further and there was a man face down in some brambles," Byram recalls. "I stopped and checked on him. He had blood in his mouth and wasn't responding. We were in the middle of nowhere, so I ran up this really steep hill in my bike shoes and knocked on a few doors, but there was no answer. Cyclists kept going past, so I shouted to one to ride on and get help."
A few, frantic minutes later, the emergency services were on their way and once content the situation was under control, Byram was back in the saddle.
The athlete in question was Josh Holman, a 70.3 age-group champion, who had been traveling at high speed on the bike and went headfirst into a telephone pole, fracturing his jaw, vertebrae and skull. Thankfully, he has since made a full recovery.
As he was taken to the local hospital, Byram pedaled her way back to the front and took her first pro victory. If there is such a thing as "good race karma," Byram certainly makes a compelling case for kindness on the course.
RELATED: What's the Nicest Thing Someone Has Done for You During a Race?
On those back-to-back wins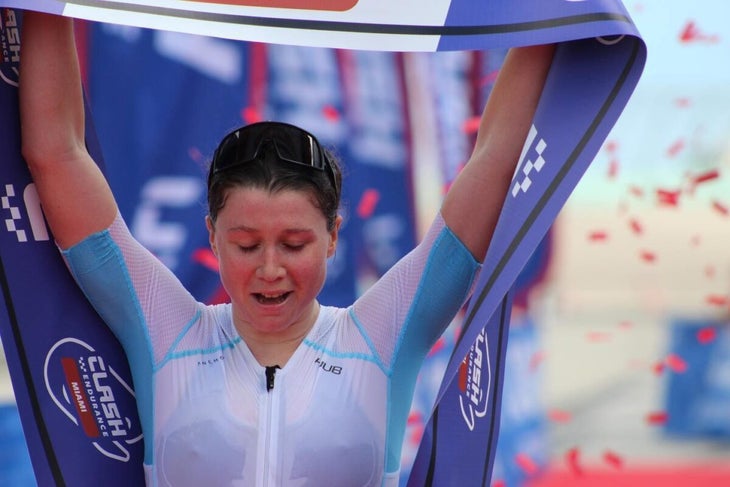 Caring nature aside, scanning the results of Clash Miami and then Challenge Puerto Varas also tells us that we've a young athlete who excels in all three disciplines and who is likely to get familiar with podium celebrations in the coming years. Right now, Byram is arguably the most promising newcomer in this side of the sport.
First up in her 2023 season was Challenge Miami in Florida. Over the middle-distance race, Byram had shared the lead with Denmark's Sif Bendix Madsen coming into T2 on the Homestead Miami Speedway, with pre-race favorites Spain's Sara Perez Sala and Brazil's Pamella Oliveira laying chase.
"There was a massive screen, and on each lap you could see where everyone else was and their splits," Byram remembers. "That was quite useful, because I knew whether they were catching or not." As it transpired, they weren't. At least, not quickly enough as the Brit took the win by 77 seconds from Madsen.
The following weekend was Challenge Puerto Varas in Chile. "I went really wrong on the swim," Byram says. "It was a big triangle with about 700 meters between buoys and I couldn't see the next buoy. A kayak had to push me back on course, so I lost about a minute, which was really annoying."
Having caught USA's Haley Chura for the lead on the bike leg, Byram extended it on the half-marathon, clocking the day's fastest bike and run splits to win by almost four minutes. Did she expect it?
"No," she says. "But I did tell myself I had a chance."
RELATED: Keep Positive Self-Talk in Your Mental Toolbox During Training and Races
Surrounded by greatness
If Byram remains unassuming, we don't have to dig too deep to realize the success shouldn't come as a surprise. The latest product of a Leeds system that has produced many of GB's best triathletes, she trained with the elite squads while at university, but by the time she graduated was "done with short course."
Having completed her studies, she moved on to the exclusive senior squad that includes the Brownlees, Lucy's own triathlon hero and namesake, Lucy Buckingham, Ruth Astle, and Beth Potter – who won the season-opening World Triathlon Championship Series race in Abu Dhabi.
"She's really nice, very quiet, but she's a really solid athlete," Potter says of her training partner. "Her swim has improved loads, and she's really strong on the bike – but she always was! Her run is getting better and she'll be one to watch in the future. I also think it's a good thing that she's doing the longer stuff from a younger age because she'll learn how to race that distance really well."
What does Byram get out of the training squad? "They always turn up. They always go for a run after swimming. You've always got someone to train with. The consistency is always there."
Climbing the (PTO) ranks
Byram's race craft seems to be coming quickly too. Victories in Miami and Chile built on her success last year in Wales and Ironman 70.3 Jesolo in Italy, and have pushed her PTO ranking up from 56th place in 2022 to 29th (as of press time). The top 26 qualify automatically for the PTO European Open in Ibiza in May – the first big-money race of the year – and she's hopeful of receiving a roll-down spot or one of the four wildcard berths.
Even if that doesn't come to fruition, everything still looks positive. In fact, the only twinge of disappointment for Byram is that her twin sister, Erica – a 2019 national triathlon champion – is now favoring trail running.
"Through uni, we trained, studied alongside each other and did everything together, Byram explains. "When she didn't want to do it any more and got a job I felt quite lonely." Erica now works for Yorkshire-based sports nutrition brand OTE, and has swapped competing with Lucy to fueling her on the course instead.
Byram's plans for the rest of the season are quite fluid. A return to the Challenge Championship in Samorin is on the cards where she seems certain to better last season's ninth-place finish, although the Ironman 70.3 World Championship in Finland will be skipped because ("annoyingly," she says) it's her brother's wedding.
The caliber of the opposition is bound to improve, but whoever Byram faces, while there might be nerves, the fear factor is fast dissipating. "Going into Miami, I didn't think I'd beat the people ranked above me, but I did. So just because they are ranked higher, doesn't mean I won't be able to it again."
Lucy Byram's "above race-pace" bike and run sessions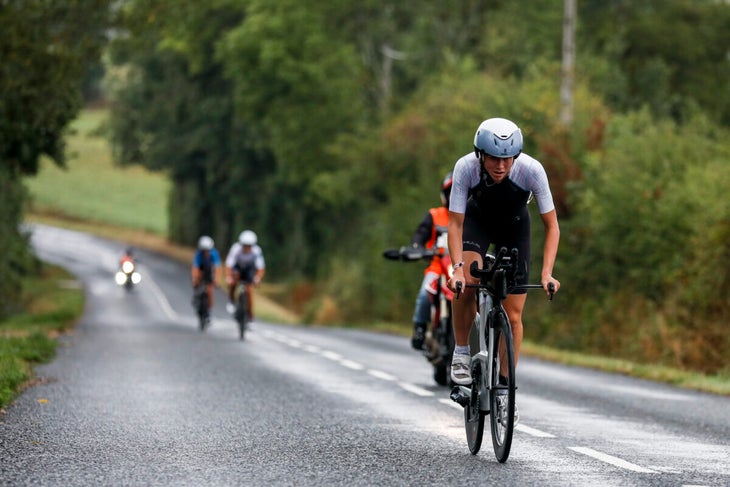 Lucy provides us with bike and run sessions that are about getting comfortable at feeling uncomfortable, with both training sets containing sustained chunks of efforts above race-pace.
Bike session
This 2 ½ hour ride, including 5 x 6 minutes of focused effort, with a 5 minute rest between each interval, was a key part of Byram's prep for her back-to-back weekends. "This was a tough session I did two weeks before Miami," Byram says. "The aim is that it makes race-pace feel nice on the day. I hit 270 watts for the efforts and I race at about 230 watts. We use the old A1, a road which runs next to the motorway for a safe place to do the speedwork."
Run session
Byram also credits a key run to her ability to hold on in tough race efforts: a 12K session, including 2K warm-up and 2K cooldown. The 8K is run alternating between 1K over race pace and 1K just under race pace.
"I run 1K at 4:10 per kilometer pace and then 1K at 3:40 per kilometer pace," Byram says. "The idea is to make it feel comfortable when running faster and the slower pace feels like jogging. We do these sessions along the canal towpath."