Frodeno Sets World Record At Challenge Roth
It was a history-making day in Germany as Frodeno annihilated the world record for fastest iron-distance triathlon.
Heading out the door? Read this article on the new Outside+ app available now on iOS devices for members! Download the app.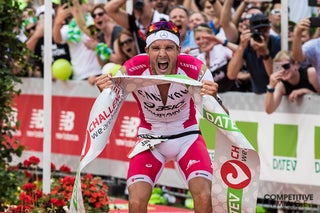 It was a history-making day in Germany at Challenge Roth 2016 as Jan Frodeno of Germany annihilated the world record for the fastest iron-distance triathlon. In the women's race, Daniela Ryf delivered a strong performance to take the win.
Men's Race
Prior to the race, Frodeno declared his sights were set on breaking 7:41:33, the world record set by Andreas Raelert at Challenge Roth in 2011. The caveat for the German athlete would be the weather. On race morning, cool temperatures and an absence of wind set the perfect stage for Frodeno's world record.
From starting gun to finish-line tape, Frodeno dominated, clocking a 45:22 swim, 4:09:22 bike, and 2:40:35 run to set a new world record of 7:35:39 for 140.6 miles. Frodeno's accomplishment is an impressive feather in a cap that already includes an Olympic gold medal and Ironman World Championship title.
"I understand why this is the greatest race," Frodeno effused at the finish line, gesturing to the crowd. More than 260,000 spectators had lined the course to support Frodeno, buoying him to the finish.
Behind Frodeno, Joe Skipper of Great Britain was working on a success story of his own. After exiting the swim 27th place with a time of 52:36, Skipper worked his way to 7th place in the men's field with a 4:21:12 bike split. From there, he dropped the hammer, running his a day-best 2:38:52 to clinch the second-place spot on the podium with an overall time of 7:56:23.
2015 winner Nils Frommhold blasted through the course in 7:57:49 to take third place, rounding out a rare podium of sub-8 hour finishers.
Women's Race
Though many speculated current Ironman World Champion Daniela Ryf would shatter Chrissie Wellington's 8:18:13 world record at Roth, the Swiss athlete did not set out with the same intentions as Frodeno. Ryf, who entered the competition at the last minute, came to Roth simply to shake off a disappointing DNF at Ironman Frankfurt two weeks prior.
And shake it off she did: Leading the race from start to finish, Ryf unleashed a 49:10 swim, 4:31:29 bike, and 2:57:40 run for an overall time of 8:22:04.
"I'm just a girl who likes to swim, bike, and run. That's what I did today," a smiling Ryf said at the finish line.
Though Ryf was untouchable the entire day, a skirmish for the remaining podium spots ensued in the stacked women's field. Exiting the water 3 minutes down from Ryf was a chase pack containing Italian Michela Menegon, Australian Carrie Lester and German Anja Beranek. Six minutes down, a larger pack, including Michelle Vesterby of Denmark, Jenny Fletcher of Canada, and 2015 Roth champion Yvonne Van Vlerken (NED) gave chase.
The field was relentless on the bike, with Lester, Beranek, and Van Vlerken leapfrogging for the second-place spot. Though multiple attempts were made to shake the competition, the three entered T2 simultaneously, setting up a thrilling footrace for the podium.
Van Vlerken made the first surge on the run, putting a gap of more than 1 minute on Lester and Beranek within the first 10 miles. The effort became too much for Van Vlerken to sustain, however, and by mile 13 her pace slowed significantly. Lester, who had been running consistent 7-minute/mile splits, overtook Van Vlerken and never looked back. Lester secured her second-place finish with a 3:03 marathon and 8:42:13 overall time.
Despite a late-race threat from Beranek, Van Vlerken held on to third place, finishing in 8:49:35.
Results
2016 DATEV Challenge Roth
July 17, 2016
Roth, Germany
MEN'S RACE
1          Jan Frodeno               GER     7:35:39
2          Joe Skipper                GBR     7:56:23
3          Nils Frommhold         GER     7:57:49
4          Cyril Viennot              FRA     8:02:44
5          Nick Kastelein            AUS     8:05:03
WOMEN'S RACE
1          Daniela Ryf                SUI      8:22:04
2          Carrie Lester              AUS     8:42:13
3          Yvonne Van Vlerken NED    8:49:35
4          Laura Siddall             GBR     8:51:59
5          Anja Beranek             GER     9:04:32
For full results, visit the Challenge Roth website.