Sullivan Middaugh is Blazing His Own Trail
Fifteen-time US XTERRA champion Josiah Middaugh is a bona fide legend of off-road racing. His teenage son, Sullivan, has now decided it's time to grab the torch - no matter how hot it is.
Photo: Carel du Plessis/XTERRA
Heading out the door? Read this article on the new Outside+ app available now on iOS devices for members! Download the app.
Parent-versus-child rivalries in triathlon are not that unusual: A mother and daughter making a bet on who will finish first at Ironman, or dad teaching his teenage son a lesson at standard distance makes for lively family dinner table discussion and a lot of fun.
In the Middaugh household, however, they've taken this competition to the next level.
Fifteen-time US XTERRA champion Josiah Middaugh is a bona fide legend of off-road racing. His teenage son, Sullivan, has now decided it's time to grab the torch—no matter how hot it is.
Sullivan, who turned 19 earlier this month, remembers the first time he beat his dad in a 'proper race'—a snowshoe contest early last year. Though technically, it's not off-road triathlon, it's still a point of pride, as his father is also a six-time US national snowshoe champion.
"I think in sophomore year in high school, I could've beaten him in a 400 meter dash, but I wasn't competitive with him until I turned 17 or 18," Sullivan says. "And the first time we ever really went toe-to-toe and I beat him at something was that snowshoe race."
The race that really caught everyone's eye, however, was last year's United States XTERRA championship in the family's hometown of Beaver Creek, Colorado. In an eventful race, the younger Middaugh was ahead out of the water, but suffered a puncture on the bike leg, riding it out into T2 at about 5 PSI—almost on the rim. Any advantage Sullivan had over Josiah eroded as they arrived in transition together.
If words were exchanged, they were kept to a minimum. "It was a cool interaction to be there at the same time," Sullivan recalls. "Then I just took off on the run." In the end, it was Sullivan who broke the finish line tape. Dad finished second, one minute and 43 seconds behind, with a proud smile on his face.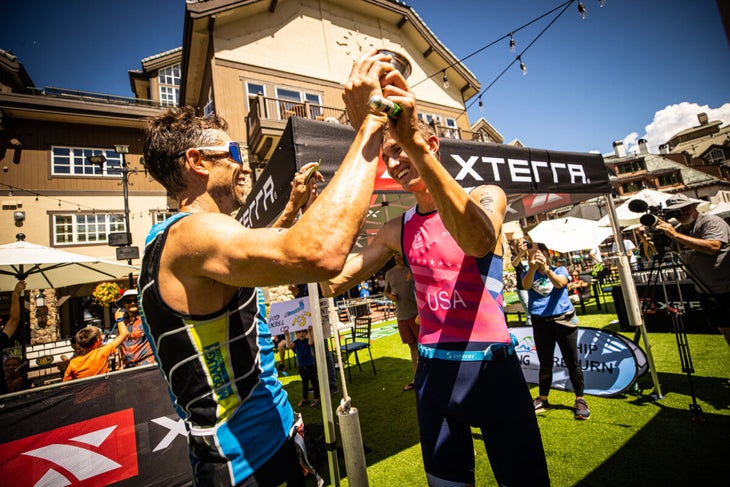 One U.S. championship down, only 14 to go
Josiah did get a revenge of sorts in the 2022 XTERRA World Championship, which took place in the shadows of the Dolomites in Molveno in Italy for the first time, as he finished 12th to Sullivan's 14th.
The event had moved from its longstanding home in Maui, Hawaii, where in 2015 Josiah finally claimed a much-cherished world title on the 15th attempt, despite crashing twice on the bike. In doing so he became the first American since 2000 to win the world title, and there hasn't been a winner from the United States since.
In Sullivan's first outing on the world stage, Maui's dusty singletrack trails were replaced by an Italian mud bath. "Conditions were pretty wild," Sullivan remembers. "It rained a bunch the night before, and it was sloppy muddy! I went down quite a few times as the bike kept sliding out. My dad and I rode quite a bit of the bike together and he kept reminding me: 'Don't give up, there's a lot of racing to go.' We seemed to spend half of it trekking, as our bikes were so caked up. It got worse as the day wore on."
Not dissuaded, the younger Middaugh has signed up for more off-road adventures in 2023. Sullivan is planning on racing five events in the XTERRA World Tour series, culminating with a return to Italy for the World Championship. It'll give him more opportunity to travel and race against Josiah.
RELATED: The 2023 (Must-Watch) Pro Triathlon Calendar
The path ahead for Sullivan Middaugh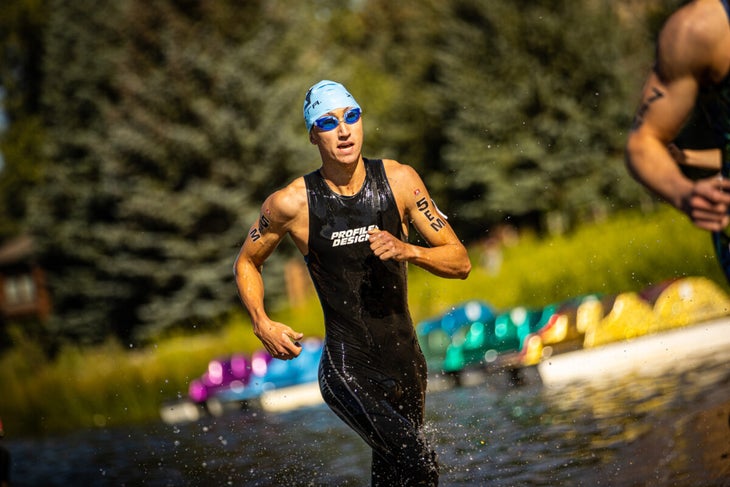 "Last year was a learning year for me," Sullivan says. "And I'm excited to take what I learned into this season." Those learnings include the flip side of Sullivan's triathlon education: draft-legal racing, a route that might eventually lead to the top tier World Triathlon Championship Series and ultimately the Olympic Games.
"I'd never done it before last year," he says. "I struggle in the swim so I have to work hard on the bike and run to make my way back [into the race] without over exerting myself."
His potential has already been recognized. As part of the USAT's Project Podium squad, he is based in Tempe, Arizona and will decamp to Park City in Utah for the summer. The ambition for triathlon to be a professional career has been underscored by choosing to go part-time with his biomedical science studies ("With training and traveling, it became a little stressful," he says) and his goal for 2023 is to represent the United States in the Junior World Championship in Hamburg in July.
Early results are promising. A recent podium in Sarasota over the sprint distance could prove helpful in earning a spot on the plane to Europe, but what he'll find there is a little unknown. "I've raced quite a bit in South and North America, but I haven't raced [draft-legal races] in Europe or elsewhere. It will be interesting to see."
A family affair
Despite being the son of a father steeped in endurance sport—Josiah is also a four-time Fat Bike world champion—Sullivan's full focus wasn't on triathlon growing up.
"The first tri I did was a sprint XTERRA when I was 12, which was our home town course in Beaver Creek, Colorado. I pretty much only did that race each year until I decided to go full-on in triathlon last year."
His father's passion for being active did rub off though. "It was pretty normal, because that's all I ever knew. I was into watching and cheering and knowing how he did. It was always pretty motivating. I did my first mountain bike race aged six. Then I ran quite a bit of high school cross-country and track, and was part of a low key swim team throughout elementary and middle school. So it's all kind of been there."
Beaver Creek will again be a welcome part of this summer's XTERRA series, and while off-road triathlon may not be as popular as its road equivalent, it's always going to hold a special place in the heart of the Middaughs.
"It's what I grew up with," Sullivan explains. "I was drawn to it from knowing the culture of XTERRA from a very young age when I traveled to races with my dad."
The family rivalry doesn't end with Josiah and Sullivan. There is also Porter, 18 months younger than Sullivan, and already an accomplished runner, who may yet step into the multisport fray. "I was always training with my brother. Even in the turkey trot we'd be talking strategy," Sullivan adds.
Then there is younger sister Larsen, named after the late Steve Larsen, a world-class mountain biker, road cyclist, triathlete and friend of Josiah's, who died suddenly aged 39 during a training session in 2009. And not forgetting mother Ingrid, now the "family cheerleader", who met Josiah in college where they both ran cross-country and track.
"I think the dynamic in our family is cool," Sullivan says. "It's competitive but not cutthroat and it's super awesome to race against dad. We aren't going to let up for each other, so it's full gas from the get-go."