Recalled: The Athletes Who Put the "Multi" in Multisport
Hockey, rowing, and...water polo? These triathlon pros dominated other sports for years before turning to swim-bike-run.
Photo: San Diego Athletics, Robert Laberge/Getty Images, Courtesy Heather Jackson
Heading out the door? Read this article on the new Outside+ app available now on iOS devices for members! Download the app.
2016 Olympic gold medalist Gwen Jorgensen recently generated big-time buzz with her dazzling return to triathlon, placing 3rd at the Oceania World Cup in Taupo, New Zealand. The feat comes after a seven-year break from triathlon, during which she focused on professional running. Her one-time Nike Bowerman Club teammate, Colleen Quigley, has joined her in the swim-bike-run fun, making her triathlon debut last month with a win and a pro card (read our post-race Q+A with Quigley here).
Jorgensen (who had a swimming and running background as a kid and in college before being recruited into triathlon) and Quigley (an Olympian steeplechaser) aren't the only athletes who have crossed over into triathlon from another sport. Here's a roundup of other athletes through the years who competed at an elite level elsewhere before shining in swim/bike/run.
Alex Yee, Great Britain, 2-Time Olympic Medalist
Former sport: Track
The transition into triathlon: The athletic Yee, who grew up in London, shined on the track before he took on triathlon. At just 17 years old, he posted an impressive 14:09.18 5,000m time, then the next year in 2018, he went on to become the senior British 10,000m champion, also joining Team GB at the European Championships, placing 14th in the 10K event. By 2019, Yee had made his move into draft-legal racing, using his foot-speed to  propel him to the top of the world rankings in draft-legal racing, eventually winning silver in the men's race in his very first Olympics, in Tokyo. Five days later, Yee anchored Team GB to a mixed relay team gold, and in 2022, he continued his hot streak, highlighted by a win at the Commonwealth Games in July, where he posted the fastest 5K run split by 15 seconds.
Other track stars turned triathletes: Beth Potter (Great Britain), Chelsea Sodaro, Morgan Pearson, Alan Webb
RELATED: Brownlees Step Aside, Alex Yee is The New Heir to The British Tri Throne
Heather Jackson, U.S., 4-time top-five Hawaii Ironman World Championship finishes
Former sport: Hockey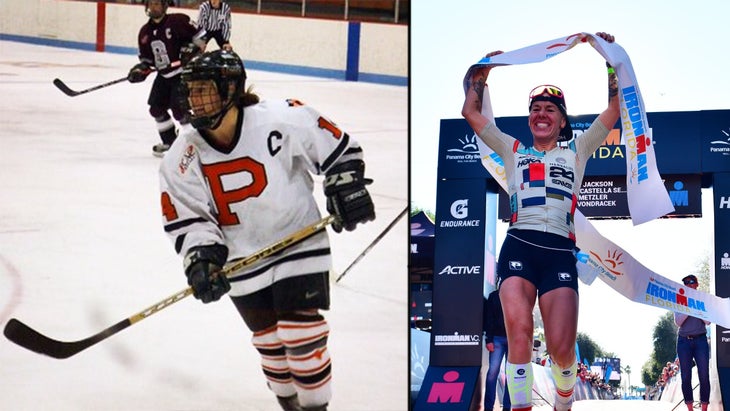 The transition into triathlon: The highly-decorated American pro grew up playing hockey on the rinks near her hometown of Exeter, New Hampshire. Her skills took her all the way to Princeton, where she played four years for the NCAA DI program (serving as captain for two seasons), graduating with 89 points on 30 goals and 59 assists in 126 games. After missing the cut for the 2006 Olympic hockey squad, Jackson began dabbling in triathlon and showed instant potential, particularly on the bike—crediting her leg strength to her time on the ice.  She turned pro after a few races as an age-grouper, sparking a stellar career that led to four top-five finishes in Kona. Now she's made another career pivot – this time, to gravel cycling and ultrarunning, where she's already making waves.
Other hockey stars turned triathletes: Tyler Mislawchuk (Canada), Camilla Pedersen (Denmark)
Andy Potts, U.S., 2004 Olympian, multiple Ironman and 70.3 champion
Former sport: Swimming
Back in the day, I was young, not a kid any more, but some days I wish I was a kid again.#ahmad CEEPO Triathlon Bikes ISM SEAT Altra Running Wattie Ink. Infinit Nutrition CEP Compression USA CEP Sports Vision

Posted by Andy Potts on Monday, February 17, 2020
The transition into triathlon: A star swimmer growing up in New Jersey, Potts began competing internationally as a teen and went on to become a standout at the University of Michigan, narrowly missing an Olympic berth in 1996. Upon graduating in 2000, he had racked up several accolades, including a national championship in the 800-meter freestyle for the Wolverines.  "I always thought I would make the Olympics in swimming, but I never did," Potts said. "I just wasn't quite good enough, and that's OK. I watched the triathlon debut in 2000 and thought to myself 'That's my way in. That's how I'm going to make the Olympics. I'm going to be a triathlete.'" Potts earned his Olympic berth in 2004, placing 22nd. Today, at 46, he continues to race professionally—and is still one of the fastest out of the water in long-distance racing.
Other swim stars turned triathletes: Lauren Brandon, Lucy Charles-Barclay (Great Britain), Haley Chura,  Rachel Zilinskas
RELATED: The Triathlete Hour Podcast: Andy Potts Remembers When It All Came Into Focus
Julie Swail Ertel, U.S., 2008 Olympian
Former sport: Water Polo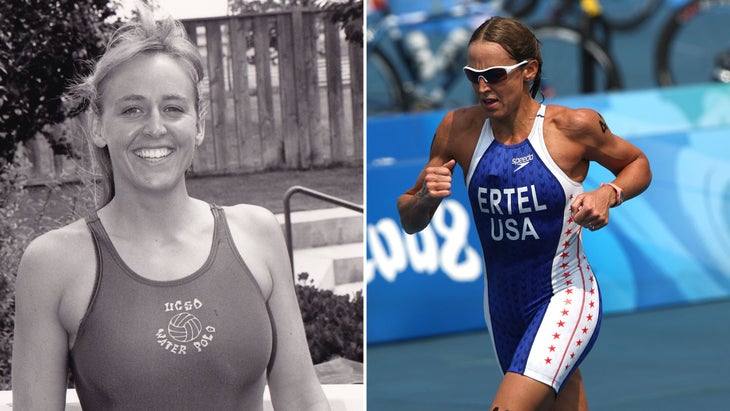 The transition into triathlon: Growing up as a swimmer led to a natural progression to water polo for the California native, who was on the two-time national championship team at the University of California, San Diego. She went on to be selected for the U.S. water polo team, which earned a silver medal at the 2000 Olympics in Sydney, Australia. Swail Ertel's strength in the water (and strength in general) played into her second career as a pro triathlete, and she ultimately went on to earn a spot on the 2008 Olympic team in Beijing. Swail Ertel is one of just a handful of U.S. athletes who have competed at the Olympics in multiple sports; fellow triathlete Sheila Taormina—who competed in swimming, triathlon, and Modern Pentathlon—is another.
Other water polo players turned triathletes:  Jamie Riddle (South Africa)
RELATED: The 16 Greatest Triathletes of All Time
Cameron Wurf, Australia, multiple Ironman champ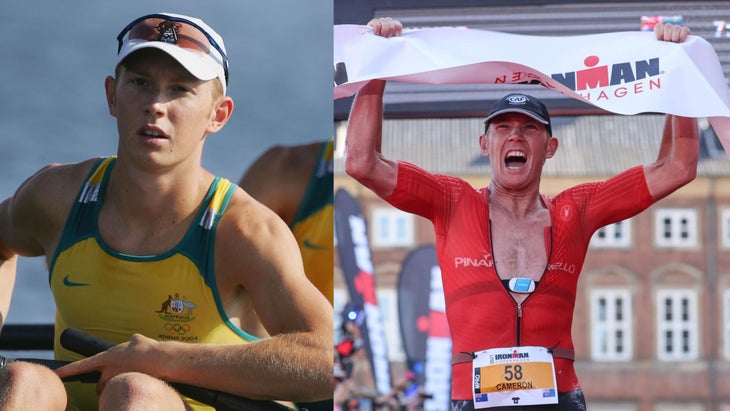 The transition into iriathlon: The exceptionally athletic Wurf is best known for his role as the Bo Jackson of the triathlon and cycling world, continuing to compete as a professional in both sports (he's even taken gravel cycling for a spin). But the 38-year-old Aussie has an equally impressive pedigree in rowing, having competed at the Athens Olympics in 2004 in the lightweight double scull event, also winning a U23 world championship title after starting the sport at age 15. A wrist injury ended Wurf's rowing career, leading him to professional cycling, and, later to triathlon, where he has set multiple bike course records, including in Kona. As a cyclist, Wurf recently competed in the UAE Tour with his team INEOS Grenadiers, then shuttled over Nelson Mandela Bay to place fifth at Ironman South Africa.
Other rowers turned triathletes:  Jack Nunn, Paul Ruttman (Austria), Nikki Bartlett (Great Britain), Jordan Rapp, Lars Wichert
RELATED: How Does A Triathlete "Go Pro?"