Tri Race Results: Nothing "Tou-Louse" at Super League
Plus, Gwen Jorgensen is back on top with a win at World Triathlon Cup Valencia, big wins from Nikki Bartlett and Frederic Funk, and more from the weekend of triathlon action.
Photo: Super League Triathlon
Heading out the door? Read this article on the new Outside+ app available now on iOS devices for members! Download the app.
Following on from last weekend's breathtaking action of the 70.3 World Championships, won by the unstoppable Taylor Knibb and the previously-unknown Rico Bogen, this weekend featured no shortage of races for professional athletes to pull up those elastic laces. From Super League's dramatic race in Toulouse, to an Ironman triple-header of races (including one of the toughest), and a win seven years in the making for gold medalist, Gwen Jorgensen, let's recap what went down in professional triathlon over the weekend.
Nothing "Tou-Louse" at Super League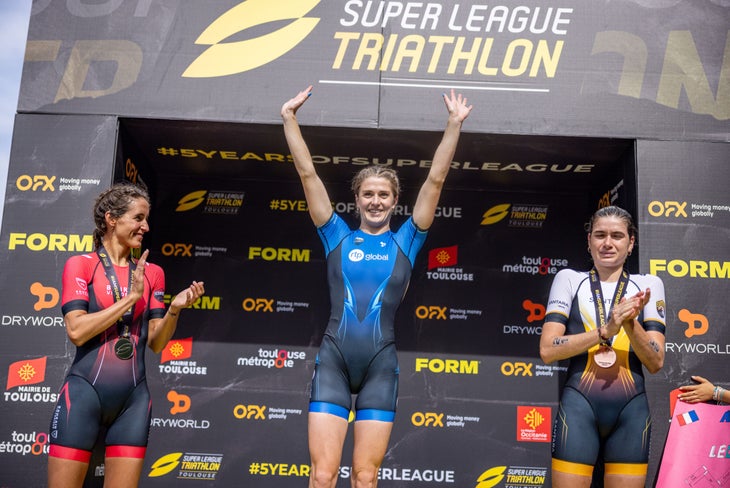 After last weekend's upset in London, Jeanne Lehair is no longer able to fly under the radar. That's a good and bad thing – as it turns out, having more people pay attention to your every move means you can't get away with little mistakes that might otherwise go unnoticed. That's what happened in the women's race at Super League Tolouse, when Lehair was leading the race once more, only to be booted by the refs for a brief blunder when trying to buckle her helmet on her way out of T2. When her buckle unclasped as she was running alongside her bike, a penalty was given for "not securing her helmet in transition." It was a devastating DNF for Lehair, who was hoping to take her second win in front of her hometown crowd. The reaction from fans was swift and furious across social media, calling for a change of rules, as the penalty was far too severe for the infraction.
That wasn't the only in-race drama, because this is Super League and when isn't there drama in Super League? In this stage of the 2023 championship series, athletes took on the the triple-mix format, where – terrifyingly – the triathlon disciplines are shuffled over three stages. An unfortunate injury for American Taylor Spivey and a terrible crash for Nicole Van Der Kaay (NLD), caused by her Scorpion teammate, created some gaps in the field.
https://twitter.com/SuperLeagueTri/status/1698310051235004834
In the end, it was Britian's Kate Waugh who took the win – in her first time racing the format for the Sharks. Leonie Periault pushed her way to second place, with Emma Lombardi in third. The vast majority of the women's field was eliminated by Super League's 90-second rule, which eliminates any athlete more than 90 seconds behind the race leader after any lap.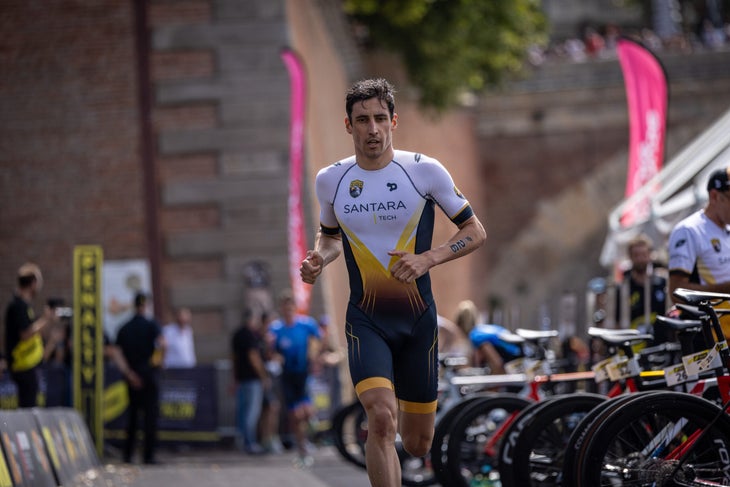 "Surely there was less drama in the men's race?" you ask. Absolutely not. Hayden Wilde was putting on his usual display—leading the third stage with Leo Bergere next to him on the bike when, all of a sudden, it all quickly fell apart for the Kiwi. He misunderstood which lap of the bike they were on – apparently due to hearing the last-lap bell on multiple laps – and rode over the mount line to begin another lap. Thankfully, he turned around and racked his bike to head out for the swim, but by then it was far too late. He was swallowed up by most of the chasers while also incurring a five-second penalty for his actions, losing his shot at the win.
There was even more penalty controversy for Super League in the men's race, as Bergere had also crossed the mount line coming into transition, clearly confused over Wilde's actions. Yet Bergere never received the same five-second penalty Wilde did, and went on to win the race ahead of Jonathan Brownlee and Henri Schoeman. An appeal was lodged against his win, but a statement released by Super League said "an officiating error meant he was not given a five second penalty by the race referees. As he did not have a five second penalty to serve, there is no cause to disqualify him from the race."
More anxiety-inducing, hopefully non-controversial action will return when Super League heads stateside for its next edition in Malibu on September 30. The unpredictable ocean swim will only add to the drama but hopefully, it won't leave any competitors as salty as a few were this weekend.
2024 world champs secured at 70.3 Zell am See, 70.3 Poznan, and Ironman Wales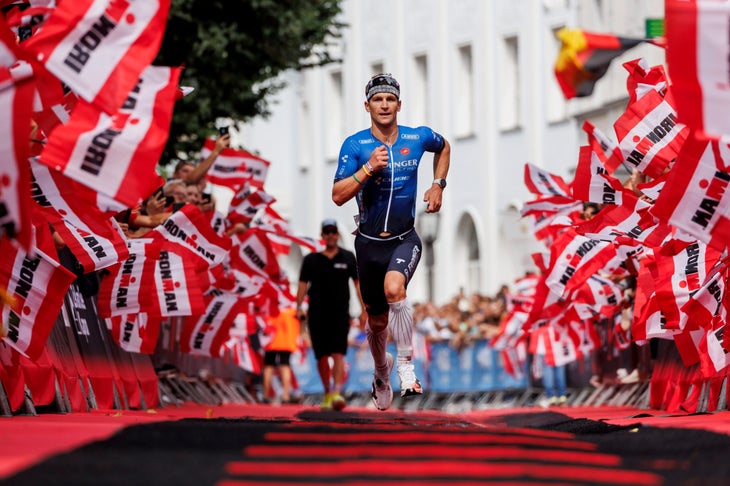 We'll start off the triplet of Ironman races in Europe in one of Ironman's showcase events – Zell am See, Austria. This small town that could make any novice photographer world famous is a favorite for Frederic Funk, who took his second-place momentum from 70.3 Worlds in Finland and blew away his competition by defending his 2022 Austrian title. The 26-year-old phenom continues to impress on the bike, outriding the field by four minutes including previous Zell Am See winner and third-place finisher at 70.3 Worlds, Jan Stratmann. This allowed Funk to soak in the familiar vivacious cheers of the crowd in Austria.
Daniela Bleymehl similarly rode away with the win on the women's side, despite a last-minute campaign from countrywoman Daniela Kleiser, who outran Bleymehl by quite a margin but agonizingly ran out of real estate to claim the win.
Moving further east to Poznan, Poland, for another middle-distance race, this city is known as the birthplace of Poland and also for its world-famous croissants (which is all the information I need to sign up). The race had something sweet in store for Wilhelm Hirsch and Leonie Konczalla both picking up two brilliant, yet very different victories. Hirsch was first out of the water and never looked back, finishing four minutes ahead of the rest of the field. Konczalla had a harder route to her win, coming out of the water last, but amazingly managing to reel in everyone on the bike and run. Could this be one of the best comeback stories of the year?
And finally, there was the monumental Ironman Wales race, which is known for its grueling climbs and tough conditions. The women-only field was headlined by Nikki Bartlett, who was looking for a W after a frustrating summer of illness and injury. That comeback, with the added motivation of Wales being one of the first races to qualify for the women's World Championships in Nice in 2024, fueled Bartlett to a dominant victory, 23 minutes clear of the rest of the field.
Jorgensen back on top at World Triathlon Cup Valencia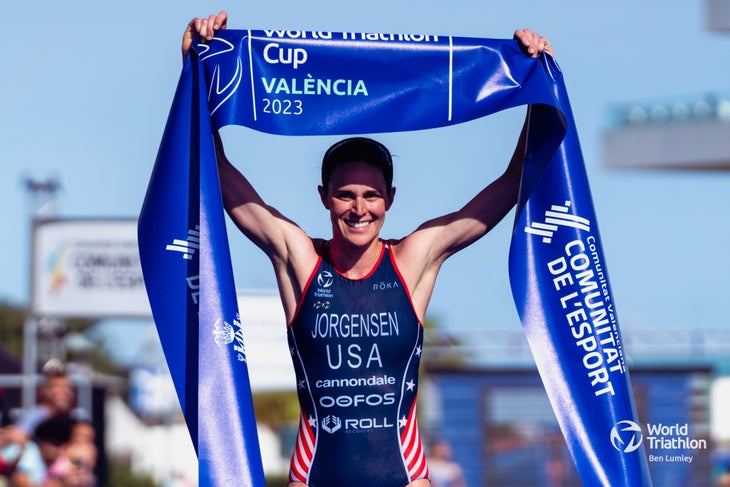 It had been 2,569 days since Gwen Jorgensen last graced the top spot of a triathlon podium, but you'd never know it if you were watching last weekend's race at the World Triathlon Cup Valencia. After winning a gold medal at the 2016 Olympic Games in Rio, the American was the queen of triathlon before leaving the sport to become a mother of two and briefly try her hand at professional running. Since returning this year, it has been nothing short of a rollercoaster ride for Gwen in her triathlon 2.0 journey, but one thing is for certain: She's definitely on her way back.
Nothing shows progress like outracing two women who placed in the top ten at the Paris Test Event—Lisa Tersch and Nina Eim of Germany. Jorgensen was able to swim within seven seconds of the leader, which set her up for her famous (or infamous, depending on what side of the race you're on) bike-run combo. She stuck with the pack of 22 women at the front of the race, and when she set off on the run, it was the Jorgensen of old. She clocked the fastest 10K run by 22 seconds over Eim, and in a mixture of tears and joy, grabbed the finisher's tape. Jorgensen summed up her attitude toward her exciting journey back to the Olympics on Instagram: "Name of the game: improvement. I've come far in this Gwen 2.0 journey but most look forward to continued betterment."
Speaking to World Triathlon after the race, Jorgensen showed her optimism and positivity about qualifying for the Olympics by saying, "Only one (U.S.) person qualified in the Paris Test Event, and there's another qualifying event in Pontevedra, but I am not on the start list, I am here, and I just know that every race I get into, I am going to show up and give my best." We will be glued to following her comeback as the Olympics inches closer (less than 330 days to go – not that we're counting or anything).
On Deck
You might think we're running out of racing by this point, but that is not the case. This weekend is the first of two Ironman World Championships—starting with the men's race in Nice, France. We have an entire team on the ground, bringing you all the action from Nice – check it out here:
The whole season culminates here for all of those who've managed to qualify, but for one athlete, it's the culmination of more than just the season. Jan Frodeno, the GOAT of triathlon to many, will be racing his final World Championship as a pro. The good thing for us is that his final stage couldn't be any more dramatic, the course more challenging, and the competitors stronger. It will be unmissable, unpredictable, and non-stop. Don't miss it – here's how to tune into the free 2023 men's Ironman World Championship livestream.