Tri Race Results: Racking Up Wins at Ironman Vitoria, 70.3 Swansea, and WTCS Hamburg
Plus, British tri dominates at World Triathlon Para Series Swansea.
Photo: Nigel Roddis/Getty Images
Heading out the door? Read this article on the new Outside+ app available now on iOS devices for members! Download the app.
It was a triathlon weekend for everyone, with action across all distances, all around the world. Triathlon fans were treated to great examples of the very best professional athletes pushing themselves – and each other – to the very limits. Is there anything better? (I'll answer that for you: There is not.)
Records fall all over Ironman Vitoria-Gasteiz
Since the men had had their fun (especially Jan Van Berkel) on the majestic Ironman Switzerland course last weekend, it was the women's turn for their own broadcast and some fun in the sun in the Basque country of Spain.
Ironman Vitoria-Gasteiz was a race of many records, begionning with a blistering 52:42 course-record swim from Ironman debutant Helene Alberdi (ESP) to edge out pre-race favorite Els Visser (NED). Not one to be upstaged, Visser decided the bike course record needed to be broken too, so the threw down a 4:41:17 split despite dealing with gearing issues that left her with only large gears for the hills. 
With 10 minutes to spare for Visser starting the run over her fellow pre-race favorites – Germany's Svenja Thoes and Spain's Gurutz Frades Larralde – it seemed it would take a record-breaking run to pull off a win. Remarkably, that's exactly what happened. Home country hero "Guru" Larralde pulled off a course record 2:53 marathon, finishing with an overall time of 8:46:18 – also a course record, because why not?
Meanwhile, Thoes moved into second place, passing a struggling Visser dealing with the consequences of the tough gearing on the bike leg. In a post-race interview, she described her marathon legs as "like rocks"), which makes her three hour marathon and third-place finish all the more impressive.
All about the run for Emma Pallant-Browne at Ironman 70.3 Swansea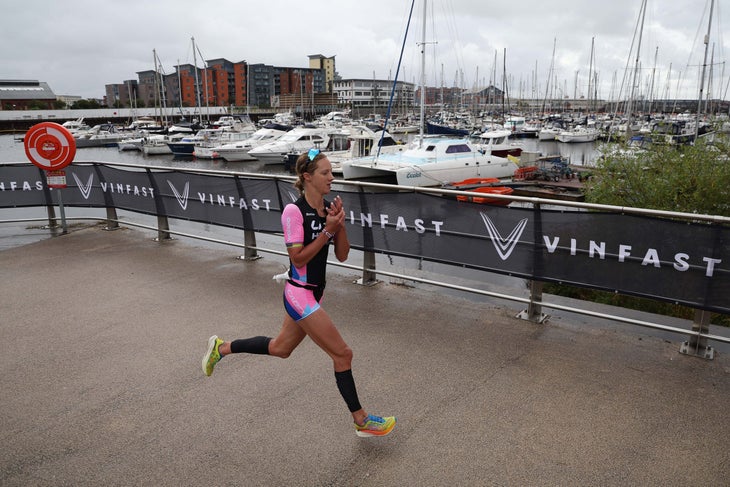 On a typical gloomy day in the south of Wales, Emma Pallant-Browne conquered an all-British field (save for one Danish athlete – Sif Bendix Madsen) in a tuneup race ahead of the 70.3 World Championship coming up in August. The 70.3 specialist won in the same way she always does – by unleashing a blazing-fast run split to work her way to the front – in this case, from fifth place out of the water and third place off the bike to a seven-minute advantage over eventual second-place finisher Nikki Bartlett and eight minutes over third-place Madsen.
In the men's race, there was a victory. But it wasn't from rising middle-distance star (and pre-race favorite) Justus Nieschlag (GER), who experienced Murphy's Law in action with everything and anything that could go wrong in a triathlon: a lost bike computer, a puncture, and GI issues, which ultimately meant he didn't finish.
That left the rest of the field to battle it out, and battle it out they did. After leading the swim with a 22:25 split, Andrew Horsefall Turner used his home country advantage to light up the bike course with a 2:16:37 before being run down by three impressively fast runners. Antonio Benito Lopez (ESP) was the quickest of those three, taking the win with Dieter Comhair (BEL) and Jack Moody (NZL) finishing behind him.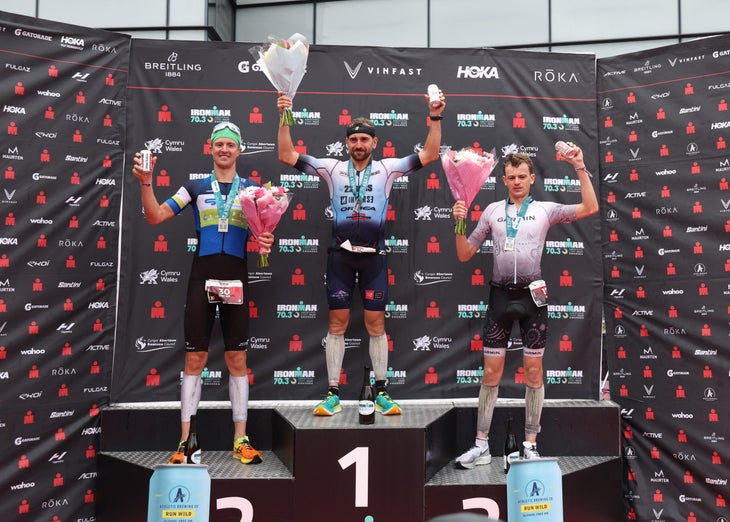 Lopez is on a storm up the PTO rankings as of late after transitioning from short course, and with this result, he might be on the PTO's radar for a wildcard spot coming up for their Singapore race in August. It is always exciting to see how some athletes like Lopez who struggled in short-course racing (which often involves a lot of unique challenges that long-distance triathlon doesn't have) find their way to success on long-course. Marc Dubrick, the 2023 Escape from Alcatraz champion, is another one of these athletes that springs to mind. More and more, we're seeing how professional triathlon can be a dynamic career that offers lots of pathways to success, and that can bring a lot of excitement for triathlon fans as they follow their favorites across different racing formats.
The longest short-distance event in triathlon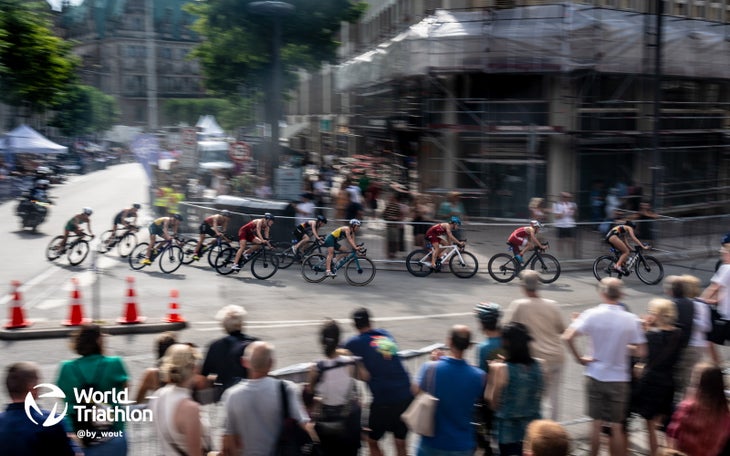 The World Triathlon Sprint & Relay Championships took place in Hamburg, home of triathlon-crazy fans that included (for the weekend, anyway) Anne Haug, who took some time off from being the PTO's #2-ranked pro woman in the world to cheer on her fellow countrymen and women of the short-course variety. Her cheers must've been heard, as the German athletes really shone brightly over the weekend. 
In the first-ever Super Sprint World Championship race, we got to see how short-course racing can be just as brutal as an Ironman. The format is fast, but requires a special kind of endurance as athletes can race as much as five times through qualifying heats and a repechage to make it to the final round of 30 athletes. 
During the final, there are 3 rounds, consisting of a 300-meter Swim, a 7.5-kilometer bike, and a 1.75km run, with the 10 athletes eliminated each round. And then (I hope you're still with me) 10 athletes are left to crowned the new Super Sprint World Champion.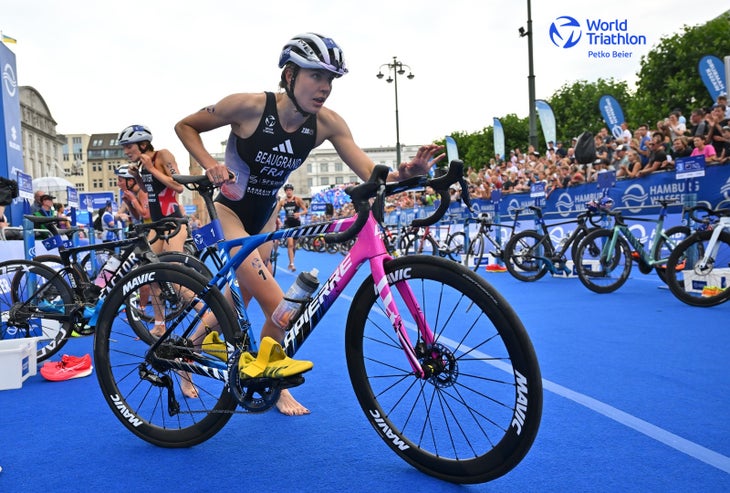 France's Cassandre Beaugrand dominated through the rounds, unleashing an impressive kick in the final round to emerge the clear victor over Beth Potter (GBR). Both of them are phenomenal runners with impressive track backgrounds, but 1500 meters is Beaugrand's specialty and she looked right at home with the 1750-meter run. Following Beaugrand and Potter were three German athletes: Lauran Lindemann, Annika Koch, and Marlene Gomez-Göggel.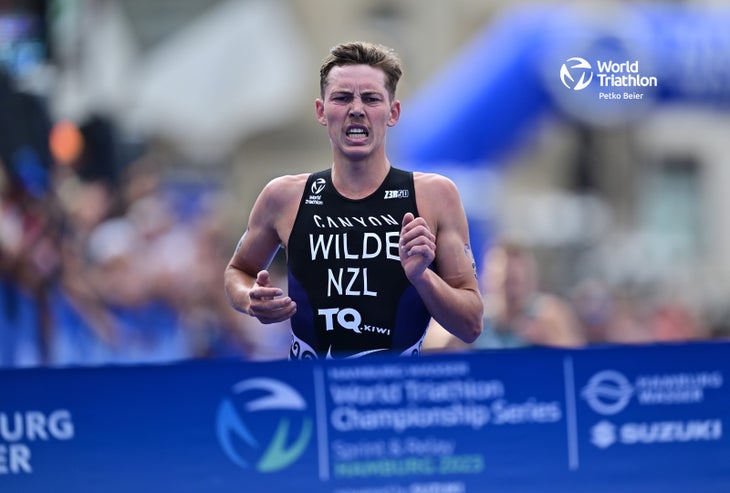 For the men, a stacked start list was whittled down to 30 for the final, headlined by Alex Yee (GBR), Hayden Wilde (NZL), and Kristian Blummenfelt (NOR). Blu looked to be headed for the title after pulling the train through most of the bike leg, but Wilde saved his energy for just the right moment, sprinting to the front as everyone entered T2 and gaining a slight-but-significant advantage (this is short course racing, after all, and seconds matter) with a super-speedy switch from bike to run that should remind you to practice your transitions this week. 
The speed of transition shocked everyone, even Wilde, who said it one of the main reasons he won the race by just two seconds over Vasco Vilaca, who out-sprinted Yee for second place. The win is sure to be a massive boost for Wilde, who seems to always finish just behind Yee. The lead-up to Paris 2024 gets more and more interesting with every race, doesn't it?
Also on the docket in Hamburg: the Mixed Relay World Championship, where Team Germany took the home-country win and secured their spot for Paris 2024. Even more impressive is that they were the first nation to win the world title on home soil since 2013. (Tri trivia time! That 2013 team included none other than Anne Haug, joined by some guy you might have heard of: Jan Frodeno.)
British tri dominates at World Triathlon Para Series Swansea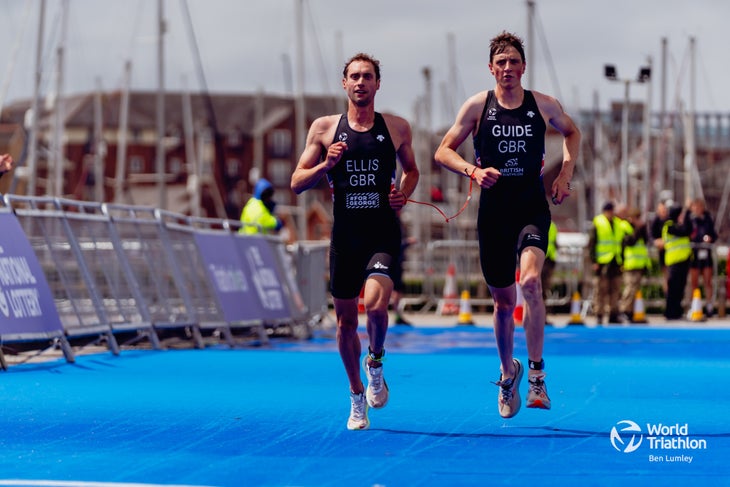 Just a week after their racing across the Atlantic in Montreal, the very best of the men's and women's WTPS circuit saw themselves joining those 70.3 athletes in Swansea to compete again for the last time before the Paris Test event and the Grand final in Pontevedra Spain. Not many of them would've been prepared for the fact that the racing was changed to an aquathlon, following adverse conditions that meant British triathlon had to cancel the bike portion of the races. 
It seemed to work in favor for some more than others, and in fact, it British triathletes seemed to handle the conditions best with six medals secured for the federation. It was one-two for Dave Ellis and Oscar Kelly in the PTVI category, while Claire Cashmore and Lauren Steadman took two-three in the PTS5 category behind American Grace Norman. Other notable results included a victory for defending Olympic champion Martin Schulz in the PTS5 category, and also a shocking defeat for Susana Rodriguez, who saw a four-year undefeated streak end with a loss to Italy's Francesca Tarantello. 
On deck for next weekend
After the trip around the world last weekend, we are back in North America for two important races: Ironman Lake Placid will be the last chance for the male professional athletes to grab a spot at the Ironman World Championships in Nice. Alistair Brownlee, the double Olympic gold medalist, is by far the biggest name currently not qualified yet and will have to take on a strong field to book his spot on the Mediterranean coast. Even those who are qualified, like Joe Skipper, have more than enough reason to compete for the win, with a $100,000 prize purse on offer for the event. On the women's side, Sarah Crowley and Svenja Thoes will be back in action for this race. 
On the same day, 70.3 Oregon will see the top North American athletes looking for a strong result, especially those who might use this as a gauge for the upcoming PTO U.S. Open and the 70.3 World Championship. Paula Findlay and Danielle Lewis top the start list for the women, while Lionel Sanders and Jackson Laundry will look to take a Canadian victory over many strong U.S. athletes.
RELATED: The 2023 (Must-Watch) Pro Triathlon Calendar
Travis Mundell is the founder of YouTube channel TheDailyTri and a self-proclaimed triathlon superfan. He is obsessed with covering professional triathlon in a comprehensive and engaging way.