Tri Race Results: Heart-Pumping Action at 70.3 Maine, WTCS Sunderland, and Alpe d'Huez
How a zipper led to a podium shakeup at 70.3 Maine, plus is there anything the French can't win these days?
Photo: Tommy Zaferes/World Triathlon
Heading out the door? Read this article on the new Outside+ app available now on iOS devices for members! Download the app.
The final weekend of July had a diverse array of professional racing. From a grueling grind in the French Alps to exhilarating sprint-distance races along the scenic English coast and a rapid downriver swim in 70.3 in Maine, the courses couldn't haven't been more different. The past weekend of racing provided a perfect crescendo to what lies ahead: the highly-anticipated championship season, which kicks off next week.
Foley victorious at 70.3 Maine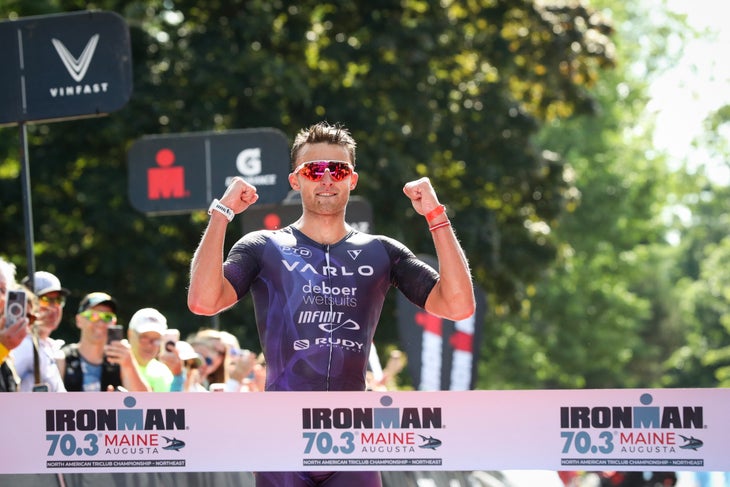 It's no surprise that the strong bike-runners were whistling their way to the start line at 70.3 Maine after hearing that it might only take 15 minutes to complete the 1.2-mile swim, thanks to strong downriver currents.
In the men's race, American Greg Harper proved that that was just the case, kicking the day off with perhaps the quickest unofficial swim time in 70.3 history – just 14 minutes and 14 second – creating a gap of 24 seconds to Canadian Matt Sharpe (whose day would be tragically ruined by a zipper – read on for more). Further back, Trevor Foley (USA) was only two minutes down – half of what he usually hears when exiting the swim at the 70.3 distance. Clearly, that was a good omen.
Foley quickly showed off his bike skills and recent training with Lionel Sanders, closing in on those at the front. He then took it one step further, breaking away and building a five-minute lead on the rest of the field. Gregory Barnaby (ITA) tried his best to minimize the gap, but only came within three-and-a-half minutes – hardly enough to contend with Foley's 24-year-old college-runner legs.
Often, we'll see a strong bike followed by a blowout on the run, but not this time. Foley clearly kept it within his abilities, increasing his lead further to finish with an impressive 3:33:58 – the same time as his mentor Sanders last weekend. The Italian, nicknamed "Lord Barnaby" for his calmness and sportsmanship, took home an impressive second place with Sharpe pulling off third and then being pulled off the podium and replaced with Justin Metzler.
Here's why: Sharpe was looking excellent throughout the race and had done everything needed to secure an impressive podium – except for zipping up his tri suit when crossing the finish line. That's an automatic DQ in Ironman rules, meaning Sharpe left Maine empty-handed due to a brief lapse in memory at the end of a three-and-a-half-hour race.
Priarone gets first pro win at 70.3 Maine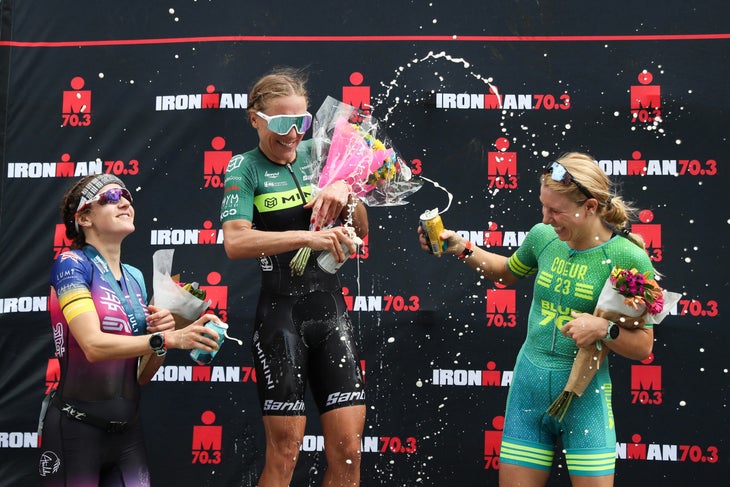 In the women's race at 70.3 Maine, only one woman from the top 50 in the PTO Rankings was on the start list: Italy's Giorgia Priarone. But with an interesting list of newcomers and veterans alike, Priarone was far from guaranteed the win. The unpredictable nature of the race was clear from the very beginning, with almost all of the pro women exiting the swim within a couple minutes of each other. 
However, it quickly became apparent that Priarone had more gears than the rest of the women, taking the lead on the bike by the ten-mile mark and never looking back. (Maybe catching a glimpse of how well her partner, Gregory Barnaby, was doing in the men's race, giving her that extra spark.) Priarone ended up finishing in 4:16.51, over five minutes clear of second-place finisher Amy Cymerman (USA) and almost seven minutes ahead of Nicole Falcaro (USA) who picked up her first career podium.
Do we have a new contender for "Triathlon Supercouple of the Year?" Perhaps. Priarone and Barnaby will be hoping to take that form to their first PTO U.S. Open next weekend, then onto the 70.3 World Championship in Lahti, Finland at the end of August. 
Missed the action at 70.3 Maine? Outside+ Members can replay the action on demand with Outside Watch. Become a member today!
French on fire at WTCS Sunderland
Pierre le Corre wins 🇫🇷 his first Series gold at #WTCSSunderland after a phenomenal finish to edge teammate Leo Bergere at the line, Hayden Wilde with bronze! Next month's Paris Test Event just got even more interesting! pic.twitter.com/H89idDt5TB

— World Triathlon (@worldtriathlon) July 29, 2023
With the Paris test event just three weeks away, a few big names were missing from the start list of WTCS Sunderland. But that didn't mean there weren't plenty of stars looking to hit it out on the northeast coast of England. The biggest surprise was that many of the top British athletes chose not to make the start line in their home race – in fact, only one British woman started the race.
It's not often you see World Triathlon athletes donning a wetsuit and neoprene swim caps, but that's because they don't often have to dive into the frigid North Sea. The extra layers made for some extra fun in T1, with every second counting in a sprint distance race like this one. 
On the men's side, France's Pierre Le Corre, who hadn't seen a podium for five years at this level, managed to team up with countrymen Leo Bergere to beat up on Hayden Wilde (NZL). Wilde couldn't hang on at the end of the run, leaving a French battle for the tape. Unfortunately for Bergere, Le Corre is known for his sprint speed, which saw him just edge out the reigning World Champion on the blue carpet. Will this be a sign of tactics to come in the Paris Olympics for the French?
Cassandre Beaugrand wins again #WTCSSunderland! It was another composed display from the French star, joined by teammate Emma Lombardi on the podium and Annika Koch wins a first Series medal with bronze! pic.twitter.com/DQDqxkoFWx

— World Triathlon (@worldtriathlon) July 29, 2023
Fresh off of a dominant performance at the Super-Sprint championships in Hamburg, Cassandre Beaugrand must've felt ready for this next one. Unsurprisingly, she started the day at the front—her swim has been on another level this year. As often happens though, she wasn't able to get away on the bike and had to settle for a tense run race, that kicked off with 28 other women flooding into transition. However, halfway through the run the French superstar caught her stride and went on to take her second tape this year in quick succession. It was almost a French sweep of the podium, with Emma Lombardi finishing in second and Germany's Annika Koch just edging out Leonie Periault for third.
The French domination continued on the mixed relay event, claiming their third win in as many relay races. Great Britain, despite missing some key athletes, took second, while Norway surprised many by finishing third. Notably, Gwen Jorgensen of Team USA had the fastest relay split of the day by 19 seconds, following her best result at a WTCS (24th place) event since returning to the sport.
French dominance continues at Alpe d'Huez Triathlon
Exactly two weeks after the men of the Tour de France summited the painful Alpe d'Huez climb, professional triathletes got a turn on the "21-Bend Legend" to compete for triathlon's version of the polka-dot jersey. 
The course is breathtaking, to be sure, but I'm not positive anyone was taking in the scenery as they raced at full speed at high altitude over a 2.2K swim, a 118K bike (containing 3200 meters of elevation gain), and 20K run. In the women's race, France's Jeanne Collogne turned in a bike split of 4 hours and 28 minutes – which would have made the women of the Tour de France Femmes nod their heads in respect – en route to an overall finishing time of 6:37:40 and the win. She was followed by Swiss athletes Petra Eggenschwiler and Karen Schultheiss.
France's Leon Chevalier was the favorite coming into the race for the men, but unfortunately picked up an illness that left him unable to give it the total effort needed to win. In the end, his countrymen pulled off a French sweep, with Nathan Guerbeur topping the podium, followed by Arnaud Guilloux and Clement Grandy.
On deck
Championship season has now begun, so buckle up. The rollercoaster sets off next weekend with the PTO U.S. Open in Milwaukee, Wisconsin. Here, the best of the best will battle it out alongside the USA Triathlon Age-Group National Championships. The men race at 4 pm local time on Friday, while the women kick off at the same time on Saturday. 
Not everyone will make the trip to Wisconsin this, however, with London hosting a middle-distance race for the first time this year thanks to Challenge acquiring the London Triathlon. Sam Laidlow, Fenella Langridge, and Emma Pallant Browne are just a few of the high-profile names opting to take on the city's streets. If those two weren't enough, there's also the 70.3 European Championships in Estonia, 70.3 Gdynia in Poland, and the infamous Norseman triathlon (also the XTRI World Championship), coming up on its 20th year.
RELATED: The 2023 Must-Watch Pro Triathlon Calendar
Travis Mundell is the founder of YouTube channel TheDailyTri and a self-proclaimed triathlon superfan. He is obsessed with covering professional triathlon in a comprehensive and engaging way.