Leo Bergere Makes a California Detour on the Road to Paris
WTCS world champion Leo Bergere is plotting a smash-and-grab win at 70.3 Oceanside before returning to the day job of his Olympic quest.
Photo: Wagner Araujo/World Triathlon
Heading out the door? Read this article on the new Outside+ app available now on iOS devices for members! Download the app.
Update: An earlier version of this story referenced Jan Frodeno. On March 29, Frodeno announced his withdrawal from Ironman 70.3 Oceanside due to illness.
All eyes might be on the likes of Jackson Laundry, Ben Kanute, and Jason West at Ironman 70.3 Oceanside on Saturday, but a reigning world champion and Olympic medal favorite has quietly made his way stateside with every intention of scuppering their chances of winning. France's Leo Bergere – who took the short course world title in dramatic fashion in Abu Dhabi in November – will provide the stiffest of tests in SoCal.
For the uninitiated, Bergere is as competent over all three disciplines – swim, bike and run – as any triathlete in the world. In fact, he almost views that description as a stick for a beating.
"I'm still seen as the guy who is a 'good all-rounder', but maybe not the guy who is able to outrun Alex [Yee], Hayden [Wilde] or Kristian [Blummenfelt]," Bergere says. "But it's not about proving to others that I'm good. I don't really care about that. I needed to win the race in front of everyone in Abu Dhabi for my own confidence."
RELATED: Your In-Depth 70.3 Oceanside Pro Race Preview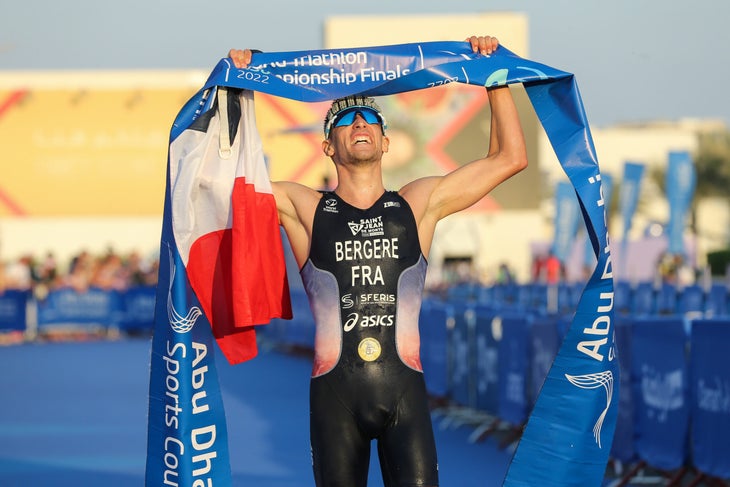 The 26-year-old is more than good. As well as being the current WTCS and European champion, Bergere tops the Olympic qualification rankings (he doesn't have a PTO ranking, as he hasn't raced enough long-course events), and on current form will be a medal contender in the individual race in Paris 2024 and a medal favorite in the team mixed relay, where the French will send out a formidable quartet.
There's little reason to suggest he'll flag. Since a disappointing Olympics in Tokyo, he's had seven podium finishes in 10 WTCS races, with a lowest finish of sixth. Among them was the elusive first WTCS victory in the final race of the series in Abu Dhabi in November, which meant he leapfrogged Yee and Wilde in the overall standings on a dramatic day of racing that was so close he had to wait for confirmation.
Bergere explains: "[World Triathlon head of marketing] Kris Gemmell came up to me after the race and with his Kiwi accent said: 'Mate, I think you won the title as well!' I said: 'Kris, come on, do the math, but be sure about what you are saying.'"
It was confirmed minutes later. Bergere took the tape after a successful breakaway on the bike, Yee placed fourth and Wilde sixth. Just one more position for either would have been enough to take the title. It was that close.
"I was already so happy to finally be able to win a WTCS race," Bergere says. "My plan worked out to perfection. It was really the perfect scenario. Then there were all these people around me and I was lost. I had 10 minutes when it wasn't clear with the fatigue from the race and emotions of winning, I was like, What the f*** is going on?!"
While commitment to the breakaway from a dogged front pack including French team-mates Vincent Luis and Pierre Le Corre was instrumental in that success, Saturday's solo excursion in Oceanside offers a very different challenge.
From short course to 70.3
To win at Oceanside, he'll also have to contend with three past Oceanside champions – Laundry, Kanute (who has won the race twice), and five-time winner Andy Potts – plus a slate of impressive 70.3 competitors, including Sam Long, Jason West, Chris Leiferman, and Trevor Foley.
While inexperienced at the distance, Bergere does have form for stepping up to Ironman 70.3 racing at this time of year – as he showed when running down Kiwi Kyle Smith to beat a stacked field in Lanzarote last March.
Bergere settled on Oceanside 70.3 for this year because he knew it would be a competitive field. Still, he remains understated. "I have a lot of respect for these guys, so if I can beat them I will, but before the race I won't talk too much," he adds. "I will be disappointed with myself if I don't win, so that's the goal. But I also know it won't be an easy thing to do. The other guys are really strong as well. I'll try and make smart decisions and respect my nutrition plan perfectly and we'll see where the others are."
Having flown in to California last week with girlfriend Angelica Olmo, an Italian triathlete who has had to put her own season on hold after contracting Lyme disease, Bergere is finding the conditions might be as tough to master as the opposition.
"It's quite chilly. In the morning it's like 6-7 degrees, [C, or 42-45 F] and I wasn't expecting that," he says. "We start the race at 6:40 a.m., and the water in the ocean will be maybe 14-15 degrees [C, or 57-59 F]. Cold in the water, cold outside. It's something to watch. I'm OK in cold conditions as long as I do everything I can to keep my body warm. I once became hypothermic over a long distance and couldn't push on the bike and had to give up. It was really quite dangerous."
RELATED: Everything You Need to Know About the Ironman 70.3 Oceanside Course
I will be disappointed with myself if I don't win, so that's the goal. But I also know it won't be an easy thing to do.
The late-season success and time taken to recharge mentally and physically has made for a shorter winter training block than usual, but Bergere is confident the time spent dialing in his time trial position on his trusted Cervelo P5 from the previous year will put him in good stead.
He'll need to savor it too, as Oceanside is likely to be another one-off middle distance event with the focus then switching back to the WTCS calendar and the Paris test event as he looks to secure Olympic qualification for next year. Bergere's planned schedule will rule out racing the PTO European Open in Ibiza in May as a wildcard and the Ironman 70.3 World Championship in August, but he might look for more middle distance action after the WTCS grand finale in Pontevedra in September. He says he would also be open to the prospect of a captain's pick for the PTO's Collins Cup if it takes place later in the year, as widely rumored.
---
Ironman 70.3 Oceanside will be streamed live for free on Outside Watch, beginning at 6 a.m. PT/9 a.m. ET Saturday, April 1. The broadcast will be available on-demand after the finish to all Outside+ members. Become an Outside+ member today and get access to the full streaming library of 70.3 racing any time, on any device.