Last Weekend Now: The Best Indoor Exercisers on the Planet
New Esports Triathlon World Champions were crowned, a 15 year-old triathlete took home a nice paycheck, and Gustav Iden got a penalty before the race even started. Brad Culp recaps the Super League Arena Games finale in London.
Photo: Super League Triathlon
Heading out the door? Read this article on the new Outside+ app available now on iOS devices for members! Download the app.
Last Weekend Now is your weekly commentary on what's happening in pro triathlon, brought to you by Brad Culp. (Ed note: So yell at him if you don't like the comments.)
World Triathlon loves world championships. They crown world champions for aquathlon, winter duathlon and every distance and iteration of triathlon you could imagine. Now we have world champions for esports triathlon, as the best indoor exercisers on the planet were crowned at the Super League Arena Games final in London over the weekend.
RELATED: Are The Super League Arena Games The Most Exciting Show In Tri?
Strada wins London, Schoeman takes world title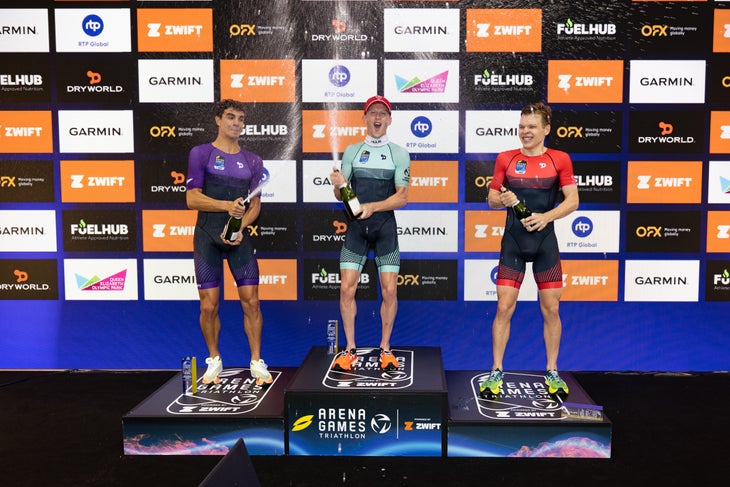 This Super League Arena Games season has been lacking a bit of star power, but perhaps the best storyline coming out of it is the return to racing—and health—of 2016 bronze medalist Henri Schoeman. The South African, who also won the 2018 Commonwealth Games, has spent the past four years unsure if he'd ever get back to this level of competition, so earning any incarnation of a world title has to feel pretty good.
Schoeman finished second in London on Saturday to go with his win at round two of the series in Sursee and a second-place finish at round one in Montreal. That was enough to give him the series title over Italy's Nicolo Strada, who finished 23 seconds ahead of Schoeman on Saturday, but it wasn't nearly enough to catch Schoeman in the world title standings. Strada, just 23, was fourth in Sursee but did not compete in Montreal and settled for second in the series. Switzerland's Simon Westerman took third in the men's final world championship standings.
While the title of "Esports Triathlon World Champion" probably won't gain Schoeman that much clout among his peers, he did earn nearly $25,000 for three races that totaled a little more than 100 minutes of racing (plus qualifying). It's not a bad way to kick off the season, especially since pool swimming, trainer riding, and treadmill running is already how most elites spend the early part of the year. You may as well do it at the highest intensity possible while getting paid.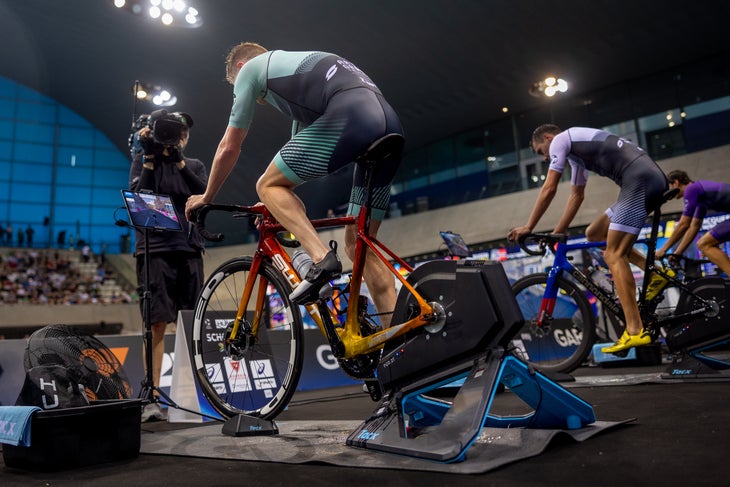 Speaking of getting paid, Gustav Iden is one of the best in the triathlon world at it, and hopefully he received an appearance fee for being the biggest draw to the arena on Saturday. The three-time world champ made it through to the finals and finished fifth, despite a five-second penalty issued before the race. His transgression? Missing the athlete briefing. The only thing more incredible than going from Kona champ to competing at this style of racing in a matter of months is that we're still handing out penalties for athletes missing briefings due to airport delays. It's an athlete briefing for an indoor triathlon – relax.
Kiwi Kyle Smith was the other long-course athlete in the mix, and he finished three seconds better than Iden to claim third at the London race. He's returned to short-course racing this spring to help bring his running speed up to a world-class level, and if he ever does that, he may become almost as successful as training partner Jan Frodeno.
Potter, Linn Leave London Victorious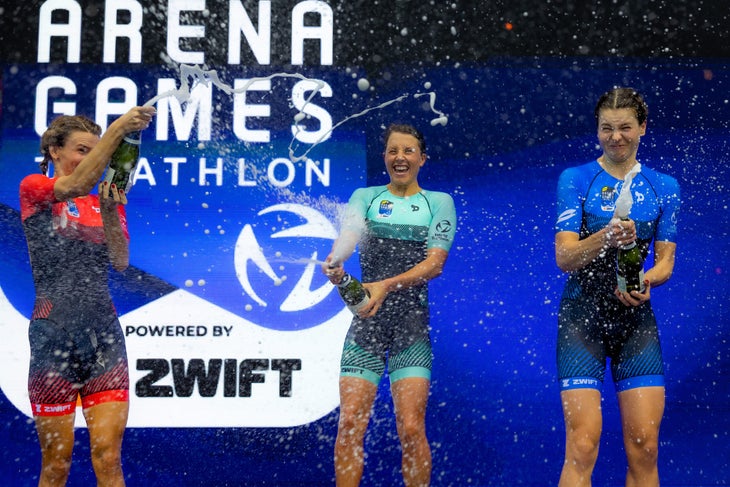 Britain's Beth Potter is almost unbeatable in this style of racing. She finished 22 seconds ahead of France's Cassandre Beaugrand, and in case you don't follow the world of elite indoor cardio closely, you should know that 22 seconds is a ton of time in an indoor triathlon. I think. Not that I'd ever do one, but these races are usually contested by a matter of seconds. Potter has now won four of the six Arena Games races she's competed in over the past three seasons, including last year's Arena Games title.
This was the only race of the 2023 series for Potter, who kicked off her season in March by winning round one of the WTCS series in Abu Dhabi. She is on fire as we head toward Paris, and it's looking like the British relay may be even stronger than the one that won gold three years ago.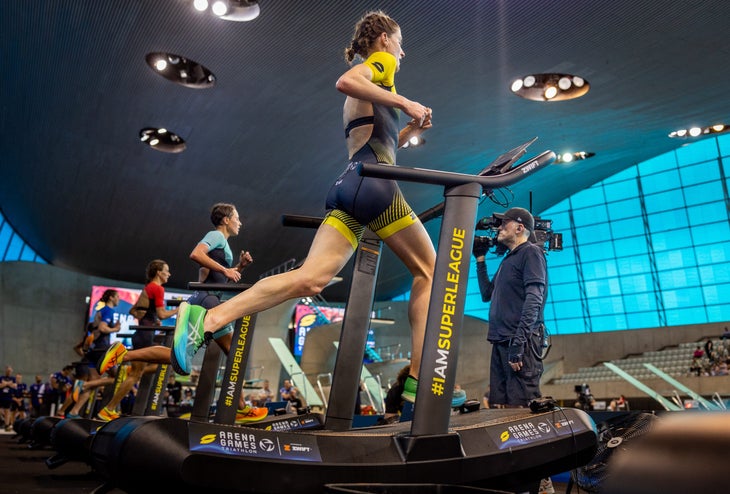 With Potter only competing in one of three races, the world title and $8,000 bonus went to Australia's Sophie Linn. She finished second in Montreal and third in London, which was enough to give her the series title over Gina Sereno. The American newcomer won the opening round of the series in Montreal, but finished sixth in London and settled for second in the final standings (and a $6,000 bonus). Rani Skrabanja of The Netherlands rounded out the series podium in third.
Fifteen year old Fanni Szalai of Hungary finished eighth in her second race at the elite level. She became the youngest Super League competitor when she finished third in Sursee last month. Unfortunately that left her out of the top-three bonus pool, but she did earn a total of $4,300 in her first two professional races. What were you doing at 15? I'm guessing not that.
Norman headlines Arena Games para tri race
Double Paralympic medalist Grace Norman of the United States was one of a handful of paratriathlon pros to take on the unique Arena Games format in London. The two-time world champion had no problem winning the PTS5 category, finishing four minutes ahead of her competition. She hasn't lost in her last seven races, and heads toward Paris as a favorite to win her second gold medal.
British athletes won four of the eight paratriathlon categories contested, led by Colin Wallace, who is competing in only his second year of paratri but is already a national champion and Paralympic favorite.
This event was a good chance to showcase elite paratriathlon in front of a large crowd. The London Aquatic Center has proven to be an ideal venue for the Arena Games, with a sell-out crowd of 2,000 in attendance for the finals. Presumably, a fair number of them actually paid for tickets. Getting people to pay to watch triathlon—especially an indoor one—is no small feat. Going forward, it would be great to see paratriathlon as a regular part of the full Arena Games series.
Stop hating on esports triathlon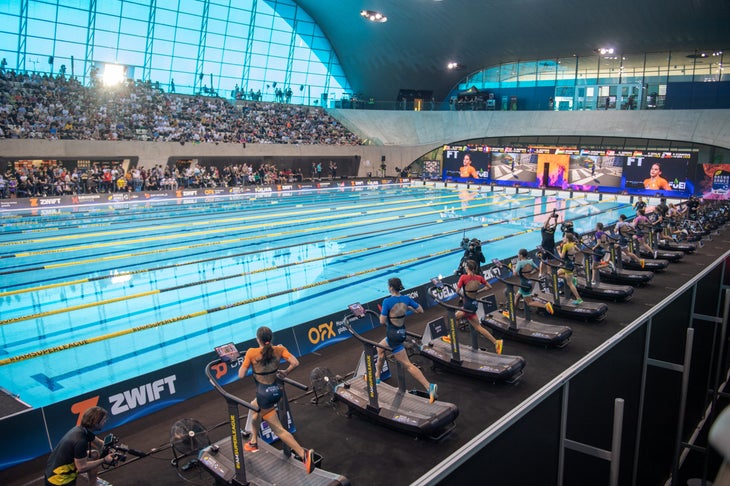 Whether your view of Super League's Arena Games is love, hate or indifference, it's not going anywhere for now, and it can't hurt the sport. It's a new way to get the biggest names in triathlon in front of fans and cameras with way less buy-in from the athletes. It's very hard racing, but they can recover from it in a matter of days, instead of weeks. And the style makes for easier broadcasting, which Super League and World Triathlon continue to do better than anyone in the sport.
For those of you who think Zwift is good but nothing beats the real thing, real-world Super League racing will likely resume in September, but exact dates and locations have yet to be announced. Super League recently purchased the Chicago and New York triathlons, but both events will continue to be operated by Life Time this year, so don't expect to see either location Super League-ified until 2024.
RELATED: Achievement Unlocked: How Esports Could Take Triathlon to the Next Level