Last Weekend Now: Penultimate Edition
From the low desert of California, to the the World Center of [car] Racing and the far-Western reaches of Australia, there was a lot going on last weekend. Columnist Brad Culp recaps.
Heading out the door? Read this article on the new Outside+ app available now on iOS devices for members! Download the app.
Last Weekend Now is your weekly commentary on what's happening in pro triathlon, brought to you by Brad Culp. (Ed note: So yell at him if you don't like the comments.)
The 2022 professional triathlon season has nearly reached its end. While the pro calendar traditionally finished up with more of a whimper than a bang, it now comes with the chance to drastically improve one's PTO World Ranking—and with that, a heftier year-end bonus. There are also slots on the line for Kona (maybe?)—or an event-to-be-named-other-than-Kona. So, for those willing to venture to the low desert of California, the World Center of [car] Racing, or the far-Western reaches of Australia, there was a lot going on last weekend.
Long Takes out the Laundry at Indian Wells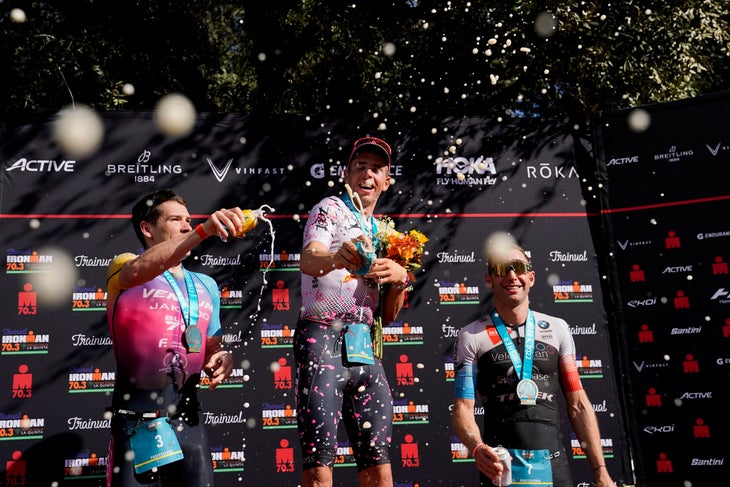 Sam Long put an end to the brief narrative that he was having a bad season. He's raced 12 times in 2022, which is an absurd amount for a guy who only goes long. Sunday was his fourth win of the season, bookending his March win at CLASH Miami with a victory at 70.3 Indian Wells.
The unquestionably American Long won by dropping Canadian Jackson Laundry three miles into the run, going on to win by nearly 50 seconds. Another 46 back was Belgian Bart Aernouts, whom people might forget finished second in Kona way back in 2018.
Unfortunately for Long, it probably won't improve upon his current number-10 spot in the PTO rankings—but he probably won't lose any sleep, as he can now afford a new $30,000 bed if he wanted to, thanks to his position. He'll also finish the season atop the Challenge Family World Bonus rankings thanks to all that racing, earning him an extra $25K. Not a bad haul in pure bonuses.
Lionel Sanders wrapped his season with a fourth-place finish at Indian Wells. He'll still end the season fifth in the world (pulling in a cool $60k for it), thanks to his runner-up finish in St. George in May and by posting the fastest time at the Collins Cup among non-Norwegians. 2024 Olympic hopeful Matt McElroy finished fifth in his 70.3 debut and then later tweeted that he could barely get into his car.
RELATED: Sam Long: "I'm In It For The Long Haul"
Findlay Back on Top in the Desert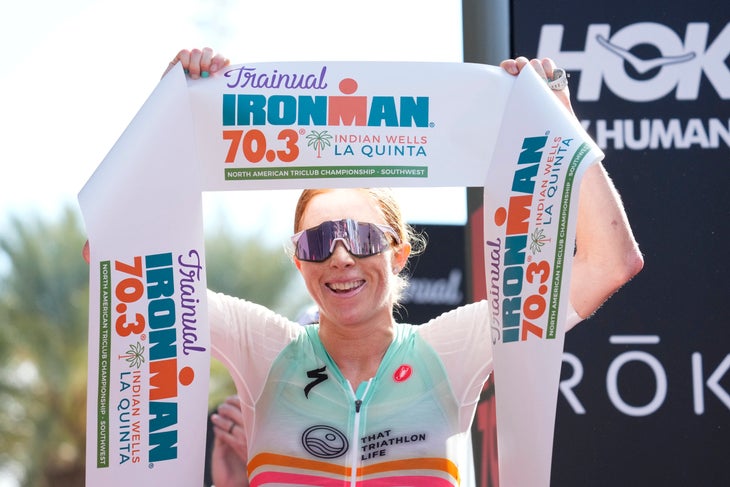 Saving her best for last, Paula Findlay won her first race of 2022, narrowly holding off fellow Canadian Tamara Jewett. Findlay last won this race in 2019, and once again she did what she does best and rode faster than everyone else. When Taylor Knibb isn't racing, she's almost impossible to beat on two wheels.
Findlay arrived at T2 seven minutes ahead of Jewett and needed every bit of it, with the former elite runner erasing all but 47 seconds of that advantage over the next 13.1 miles. Jewett's incredible 1:14:04 run was a full two minutes faster than she ran en route to finishing as the runner-up on the very same course last year. She also swam a minute better and rode four minutes faster. Watch out.
For her efforts, Findlay will conceivably improve upon her eighth-place PTO ranking (which would give her a very sweet $40k bonus) off the back of her second-place finish at the Canadian Open and third-fastest time at the Collins Cup; Jewett's finish should catapult her well clear of her previous 22nd-place spot in the year-end rankings. American Danielle Lewis, who won this race a year ago, finished third in her eleventh race of the season.
RELATED: The Cooldown Podcast: Growing in the Sport with Paula Findlay
---
Missed the live coverage of Ironman 70.3 Indian Wells? Outside+ Members can watch the race on demand on Outside Watch! Not an Outside+ Member? Become one today for only $3.49 per month.
---
Luis and Olmo Speed to Victory Lane in Daytona
CLASH Daytona may have lacked the star-power it had in 2020—when it was the race of the year—but it did see Vincent Luis' much-anticipated return to non-draft racing. The two-time World Triathlon world champ performed much better than at his first race in Daytona, winning by 26 seconds over Portuguese veteran Joao Pereira.
🥇 WINNER 🥇

CONGRATS TO VINCENT LUIS, YOUR 2022 #CLASHDaytona CHAMPION‼️#CLASHEndurance pic.twitter.com/6c2d7mAjdD

— CLASH Endurance (@CLASHENDURANCE) December 2, 2022
Luis will race into 2023 riding high after wins in Daytona and WTCS Bermuda, along with taking part in securing a world title for French teammate Leo Bergere in Abu Dhabi last week. Le French are en fue as we inch closer to their home Olympics. 
As far as I can tell, Pereira was making his professional non-drafting debut after more than a hundred World Triathlon races on six continents over the past 16 years. You may have and probably forgot that he finished fifth at the Rio Olympics in 2016, but of course he had a huge advantage in Brazil because he speaks the language. 
American Jason West was another 46 seconds behind Pereira for third, capping off a year that had five podium finishes in eleven races, including two wins. He's like the male version of Tamara Jewett. His swim and bike keep improving and that's scary because his run is nearly Norwegian-level. 
Tokyo Olympian Angelica Olmo from Italy raced and won the first non-draft race of her career, running down pre-race favorite Sara Perez Sala. The front-running Spaniard appeared to have the race put away, but Olmo's run on the unique, 13.2K course was nearly two minutes better to get her to victory lane 28 seconds ahead. Switzerland's Julie Derron turned in the best run of the day to nab the final bottle of podium champagne. 
CONGRATULATIONS, ANGELICA‼️

Emotional words from our Champion.#CLASHEndurance #CLASHDaytona pic.twitter.com/1U3fQBVFT5

— CLASH Endurance (@CLASHENDURANCE) December 2, 2022
Crowley Crowned Queen of Oz; Neumann Hustles in Busselton
While many Aussies like to live and work abroad, Sarah Crowley does her best work back home in Australia, where she has now won all three full-distance Ironman events this year. The super-biker from Brisbane started the ride nearly three minutes behind the Netherlands' Lotte Wilms (who also lives and trains in Queensland), but she was in the lead shortly after the halfway point of the very flat-and-fast bike course and never looked back, winning by four minutes.
The battle for the runner-up spot turned into a two-Dutchwoman affair, with Els Visser running down Wilms for second. The Dutch are pretty good at triathlon, very good at bicycle infrastructure, and much better than the United States at soccer—as we saw last weekend.
Perhaps the most impressive performance of the day was put in by Aussie Kylie Simpson, who rode four minutes better than Crowley and ran more than three minutes faster than Visser. Unfortunately her 1:15 swim was 23 minutes slower than the leaders, so the fastest bike and run of the day was only good enough for fourth.
RELATED: Get Race Ready with Sarah Crowley's Ironman Simulation Session
Competing for the first time since his fourth-place production in Kona, Aussie Max Neumann exited the water alongside countryman Steve McKenna, but that was the only company he had all day. He took to the front right out of T1 and stayed there for the next seven hours, finishing with more than five minutes to spare on McKenna. Fellow Aussie Matt Burton posted a smoldering 4:05:43 bike split to claim third.
There are just two major pro races left on the calendar for 2022: Ironman 70.3 Bahrain and Ironman New Zealand—both far flung and both coming this weekend. Check back next week to find out what happened with the last weekend of racing.