Dirk Bockel Joins Leopard Trek
Luxembourg's Dirk Bockel will be riding a Trek Speed Concept as a member of the Leapard Trek team in 2012.
Heading out the door? Read this article on the new Outside+ app available now on iOS devices for members! Download the app.
Luxembourg's Dirk Bockel, who had signed with Blue Competition Cycles less than a year ago, will be riding a Trek Speed Concept as a member of the Leapard Trek team in 2012.
See the complete press release from Leapard Trek below:
Leopard Trek is very proud to announce it has reached a two year agreement with Luxembourg's top triathlete Dirk Bockel, who finished 4th at last year's Ironman World Championship in Hawaii. Bockel will join Leopard Trek and compete parallel to the Leopard Trek continental team.
Dirk Bockel: "To join Leopard Trek is a dream come true. As a triathlete you do all the preparation alone and it's amazing to be joining such a strong structure and to have the support of Trek, the best bike manufacturer in the world. I will be able to focus even more on my job and this will definitely translate into better performances."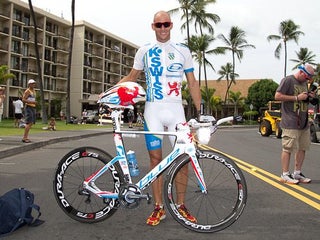 Team Owner Flavio Becca: "Dirk Bockel is one of the finest and most talented triathletes in the world and we're really happy to welcome him aboard the team. His arrival at Leopard Trek is a unique chance to promote Luxembourgish sport. It was an opportunity we could not miss."
Trek Bicycle Vice-President Joe Vadeboncoeur : "Trek is excited to see Leopard Trek develop into supporting triathlon. The sport is already really important for Trek and this expands our support of the sport in Europe. We truly believe in putting the world's greatest athletes on Trek."
"Triathletes are very independent sportsmen and they are used to organizing their logistics and training programs themselves", says team manager Johan Bruyneel. " Although they have grown accustomed to this, I believe it doesn't have to be this way. It's a unique development in triathlon to see an athlete surrounded by a strong structure such as ours. We are going to be able to provide support for Dirk with his travel plans, nutrition, training program, bike fitting, medical support, media planning, etc. This way he will be able to focus even more on training and racing."
Bockel, 35 years old, will start his season at the Abu Dhabi International Triathlon on March 3, where he placed 2nd and 3rd the past two years. After Abu Dhabi comes the Ironman Regensburg in Germany on June 17 and the most important race of the year, the Ford Ironman World Championships in Kona, Hawaii, on Oct. 13.
Bockel said, "After I changed from short to long distance racing, taking the win in Kona became my big dream. It's where the Ironman myth was born and where it all started. Kona is my Tour de France. Having finished fourth last year, I know that it is within my reach to win the race one day."
"Abu Dhabi is the first goal of my season," Bockel continued.  "The race is said to have the second hardest field of the year, with all the big names participating. The bike leg is a bit longer than in an Ironman – 200 km instead of 180 km – and this suits me well. The running is 'only' a half marathon, which will make for a hard and stressful race from the start. It's really a race where you don't hold back."
The signing of one of the best triathletes of the world is a great opportunity for both the team and the athlete. Bruyneel: "The cross-over between cycling and triathlete will be fascinating for all parties: for the two cycling teams we are running, for Dirk as a triathlete and last but certainly not least for our partner Trek Bicycle. The common factor in all this is technology. Triathlon has become the favorite showcase for bike manufacturers. Trek has seen a 70 percent increase in terms of bike count at the Hawaii Ironman World Championships 2011, proof that the Speed Concept is really the bike of choice for a growing number of triathletes."
Dirk Bockel is currently ranked 5th in the world in Ironman triathlon.  He has placed in the top-10 each time he has raced in the Ironman World Championship in Hawaii, beginning with his successful debut at the Bejiing Olympics in 2008, where he raced for his home country of Luxembourg, breaking away on the bike leg and leading the race for over half an hour.