6 Reasons Milwaukee is the Perfect Pick for the U.S. Open
One Wisconsinite makes a (cheese-topped, midwestern-accented) pitch for why Milwaukee is Tri Town USA.
Heading out the door? Read this article on the new Outside+ app available now on iOS devices for members! Download the app.
The PTO has announced the host city for its U.S. Open race on the weekend of August 4, 2023, and as soon as I saw the name of the city, I actually cheered out loud. My husband, who was in the other room, rushed in with a look of concern – when I showed him the words MILWAUKEE, WISCONSIN, all he could do was mutter something under his breath about how "Sconnies are so weird."
He might mean it as an insult, but I don't care. I'm a proud Sconnie, through and through. I grew up in a tiny rural Wisconsin town no one has ever heard of, went to college in Stevens Point, took my first steps as a runner in a Milwaukee snowstorm (it was New Year's Day, and I had a resolution, dammit) and did my first Ironman 18 months later in Madison. I say "ope" without a hint of irony and know where to find the best cheese curds (fresh and fried) and frozen custard. I drank so much Point Amber and Spotted Cow in my 20s, I'm almost certain it would still show up on a blood test today. And though I now live in Arizona, I get back to Wisconsin as often as I can.
For the past few years, USA Triathlon has held their Age-Group National Championship race in Milwaukee, and this year, it'll be the same weekend as the PTO event. It always makes me swell with pride when past USAT Nats competitors from out of state talk about how surprisingly cool the venue is. And it is a cool venue. When it comes to triathlon, Wisconsin knows what it's doing.
I know what you're thinking: Wisconsin? Your mental picture is probably of shirtless farm boys in the end zone of a Green Bay Packers game, wearing little more than body paint and a hat made of foam cheese. That is very much a Sconnie thing. But Wisconsin is also a place where you're almost always within 30 minutes of an open-water swim, stellar bike route, or pristine wooded trail. And to top it all off, there's beer and cheese curds to fuel your recovery.
Still don't believe me? Here are my six completely biased (and also completely correct) reasons why Wisconsin is a great choice for hosting the best triathletes in the U.S. and beyond.
RELATED: Everything You Need to Know about the USA Triathlon Age-Group National Championship Course in Milwaukee
1. The rowdiest fans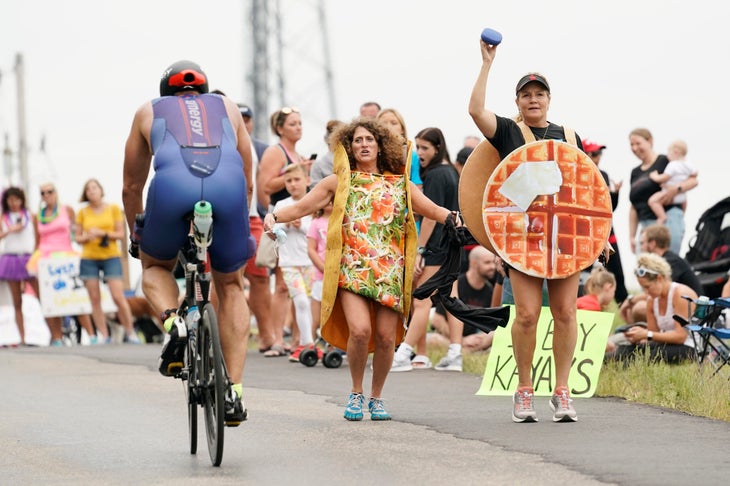 If you've raced Ironman Wisconsin, you know there's nothing better than running up "the helix," a parking ramp that spirals up from the swim exit into T1. It's absolutely packed with fans, and they are loud. Really, that whole course is packed with fans – even the hardest hills have costumed crazies running alongside bikes, yelling encouragement (and maybe a few polite obscenities). Wisconsin fans are genuinely invested in the success of every person racing, and will bend over backwards to make sure you know you're supported.
RELATED: These Are The Best Spectator Cheers, According to Science
2. The prettiest venues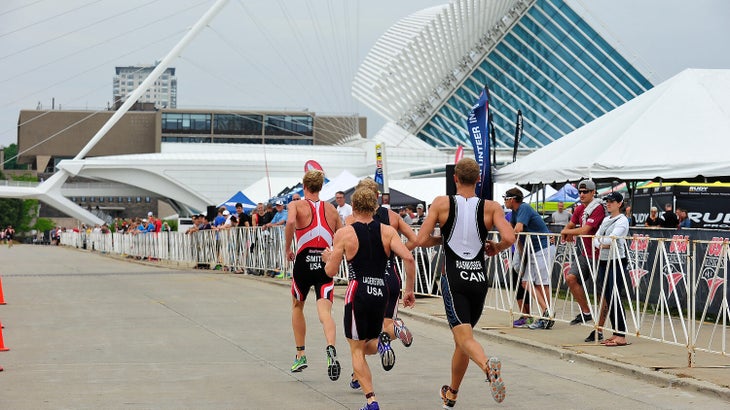 At the PTO race, athletes will swim in Lake Michigan (which feels more like an ocean), bike through neighborhoods with a perfect balance of historic and hip, and run past stunning art and architecture. It's just one of many great triathlon venues in Wisconsin, which include Madison's Ironman Wisconsin (highlights include running on Camp Randall Field, where the Badgers play), the beginner-favorite Wisconsin Women's Triathlon (formerly known as IronGirl Pleasant Prairie), and the super-scenic Door County Triathlon.
RELATED: The 8 Most Scenic Triathlons
3. All the post-race parties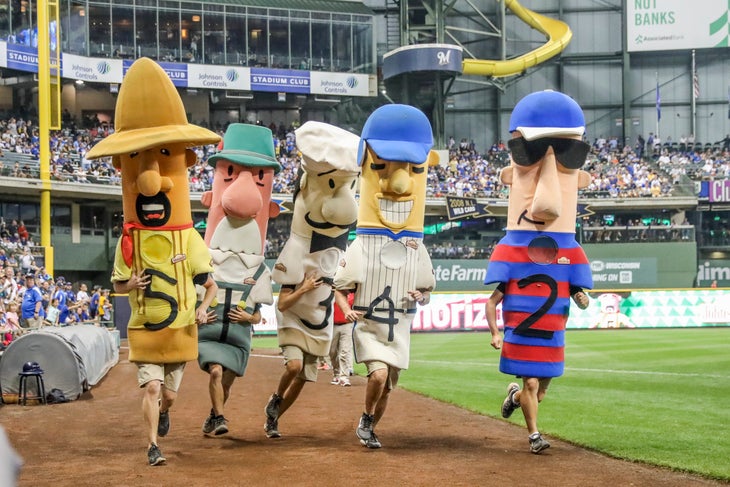 If there's one thing Wisconsin knows how to do, it's throw a party. The kegs have been tapped and the summer sausage has been put out. (It is a documented fact that a summer sausage platter manifests out of the ether whenever Wisconsinites gather.)
In Milwaukee, your post-race party might include a concert on the Summerfest grounds (just behind the finish line) or The Rave. Or perhaps it will involve tailgating at a Brewers game (stick around for the sausage racing at the bottom of the sixth). Maybe you'd rather challenge someone to a bike race at the Harley-Davidson Museum, or see how many free beers you can drink on the 16 brewery tours available in town.
RELATED: Pre-Race Beer Gardens, Must-Draft Events, and More News We'll (Hopefully) Never See
4. The food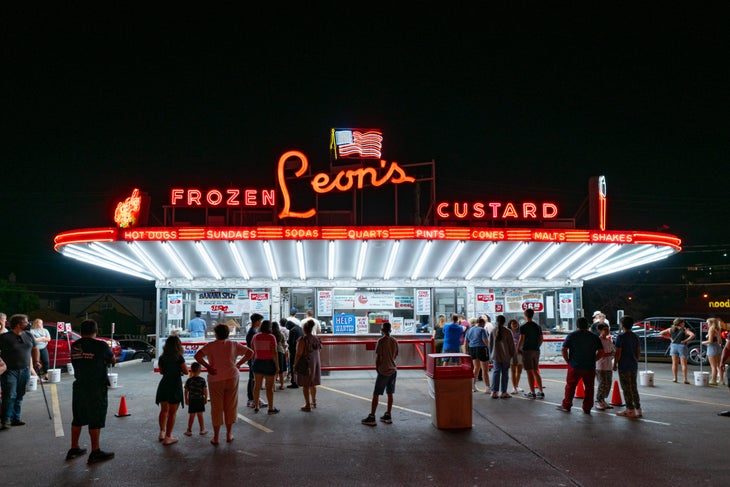 You might think Wisconsin is just about cheese and bratwurst. You would be right, and also very, very wrong. Though Sconnies love our food in tube and curd form, Wisconsin is full of restaurants that bring big-city flavor with small-town hospitality. From farm-to-table gourmet and classic supper clubs to lively public markets and small mom-and-pops, there's no shortage of flavor in Wisconsin. When visiting Milwaukee, I recommend checking out the Third Ward or East Side neighborhoods for the best selection of restaurants. No matter where you eat, however, just make sure your night ends with a double scoop of frozen custard at Kopp's, Leon's, or Gilles. (Pro tip: The flavor of the day is always good. Always.)
5. The post-race chill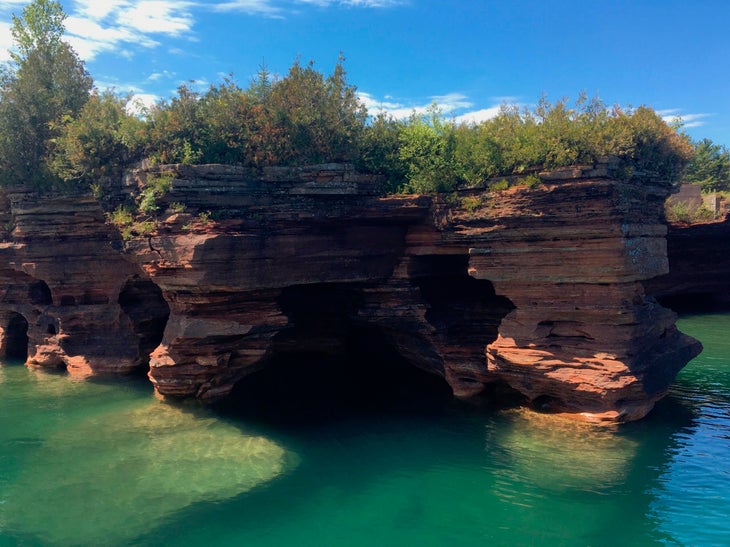 Whether you're traveling solo or with a whole cheering squad, you'll find Wisconsin has something for everyone. After your race in Milwaukee, take a romantic getaway to Door County (also known as the "Cape Cod of the Midwest"), hike and camp with your training buddies along the Ice Age Trail, or take the family "up north" for outdoor adventures. You can also pop across the border to Illinois, though don't tell a Sconnie you're doing that – we have strong feelings about people from Illinois.
6. The thrilling race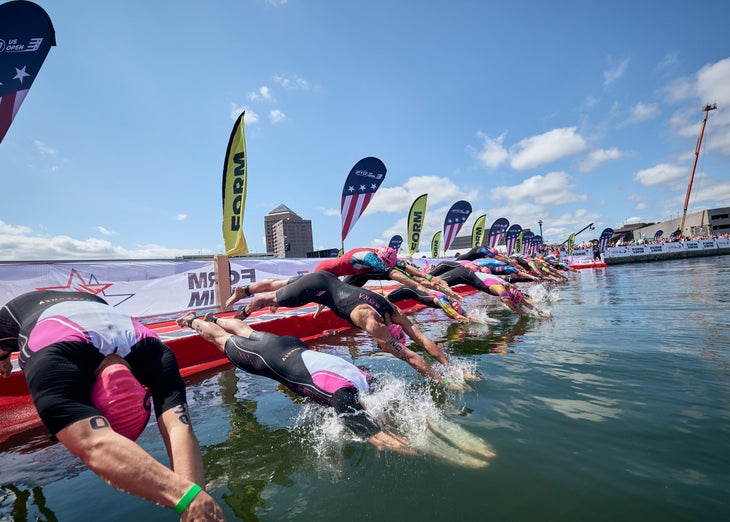 At the last PTO U.S. Open, we saw Ashleigh Gentle take over Taylor Knibb in the final miles of a hot and hard race in Dallas, and Collin Chartier shocked, then blew everyone away by running his way through a stacked field to take the W. If there's one thing we're learning from adding new venues to the pro racing calendar, it's that shaking things up makes for really, really exciting racing. Instead of the same-old, same-old pro racing calendar, new courses mean new race dynamics – and though there will be someone breaking the tape and collecting a prize, the real winners are the ones who get to experience Wisconsin firsthand.
RELATED: The Fastest Triathletes in the U.S. Met in Milwaukee. Awesomeness Ensued