HIIT Workout for Triathletes: A Unique Way to Boost Your Fitness
Boost your fitness with this quick high intensity interval training session.
Heading out the door? Read this article on the new Outside+ app available now on iOS devices for members! Download the app.
Triathletes who just swim, bike, and run are missing out. According to HIIT IT! founder Daphnie Yang, athletes who focus on strength (and specifically HIIT workouts) throughout their training feel better on race day. "People notice the benefits of cross training immediately. They can feel their muscles being activated and recruited, instead of just impacted," Yang says.
As a certified marathon coach, Yang recommends triathletes cross-train at least twice weekly—with one session pre-run and the other scheduled on a strength-focused day to avoid fatigue.
"While strengthening your muscles, HIIT also strengthens your heart and lungs. It teaches your body to use oxygen efficiently by sending it to the muscles that need it. It also elevates metabolism, builds lean muscle mass, provides cardiovascular conditioning, and activates fast-twitch muscle fibers."
Yang's 30-minute Tabata-style HIIT workout below is designed to be tough. Perform two exercises back-to-back in a 20-seconds-on, 10-seconds-off pattern. She advises downloading a free mobile Tabata timer to help you keep track of time.
HIIT Workout Tabata Set One: Glutes and Thighs
Reverse Lunges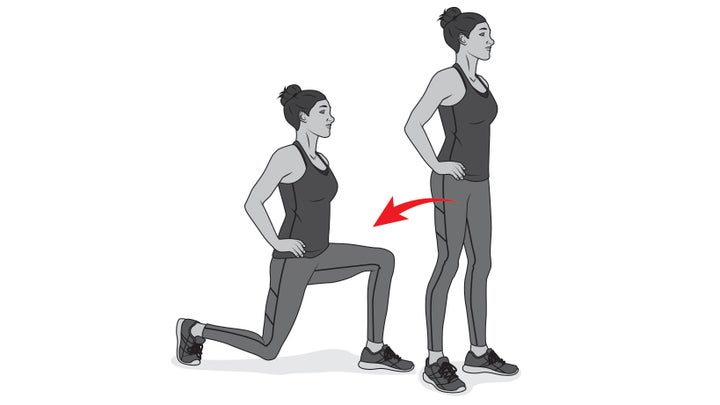 Focus on one leg at a time. Stand up straight, bracing core muscles. Take one large step backward, and lower your knee to the floor at a 90-degree angle. Return to start position.
Sumo Jump Squat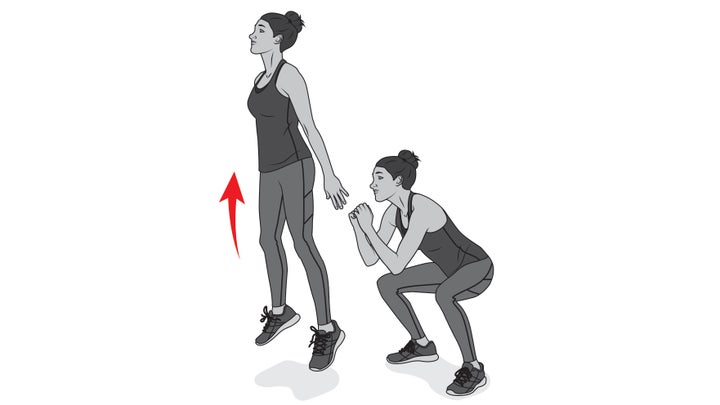 Stand with feet shoulder width apart, slightly turned out. Bend your knees to jump up explosively. Land with control in a sumo squat and repeat.
Repeat set x 4
HIIT Workout Tabata Set Two: A Descending HIIT Interval Challenge to Train Hips and Thighs
One Burpee, Five Push-Ups (60 Seconds)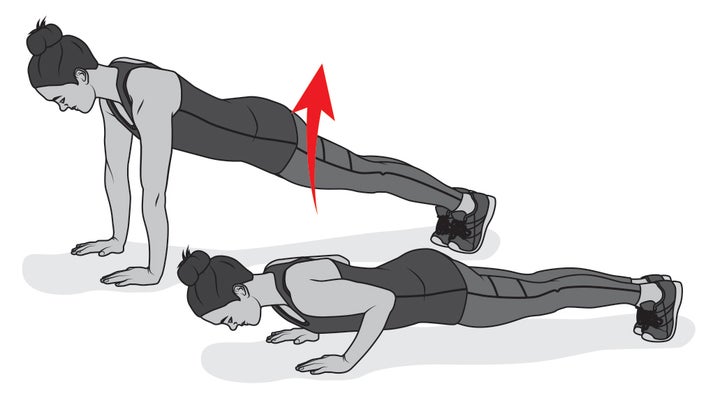 Start with feet shoulder width apart. Lower hands to floor, push hips and feet back to a plank position. With elbows close to ribs, lower your body so your chest is between your hands. Repeat this push-up five times. Jump feet back in close to hands and return to standing.
Skater Jumps (45 Seconds)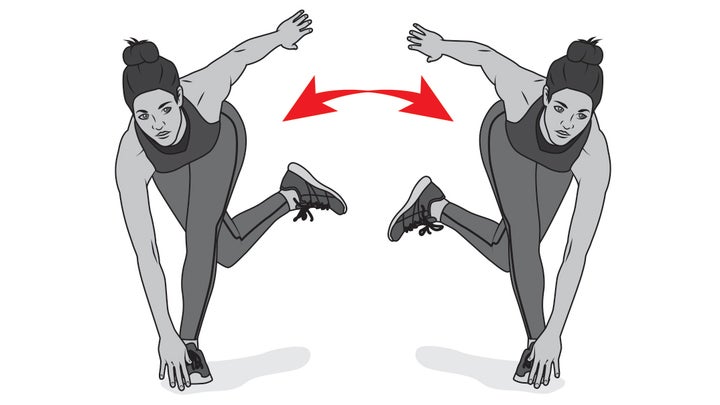 From standing, raise one foot, transfer weight on to the standing leg and angle your raised foot behind you. As you lower the foot towards the floor, keep your balance by engaging the standing leg and reach for the ground with the opposite arm. As you bring your raised foot back to the start, transfer your weight on to it as you jump laterally.
Rainbow Plank (30 Seconds)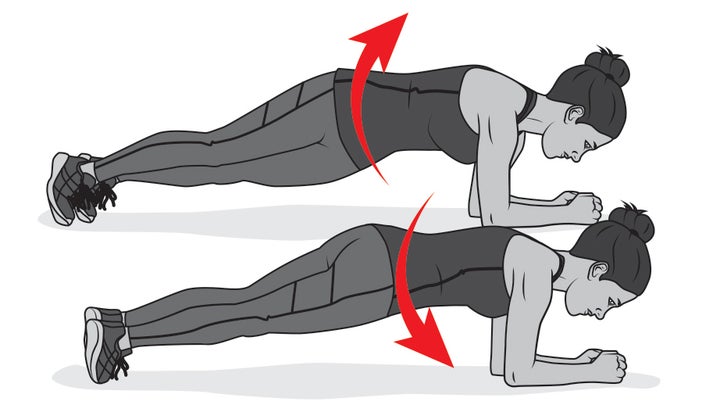 Start in a forearm plank position. Without moving the upper half of your body, move your hips in a downward arc, 'dipping' your torso from side to side. Ensure feet remain planted and your lower half is stable. Take 10 seconds break between moves.
Repeat set x 4
HIIT Workout Tabata Finisher: Core Activation
Single-Leg Glute Bridges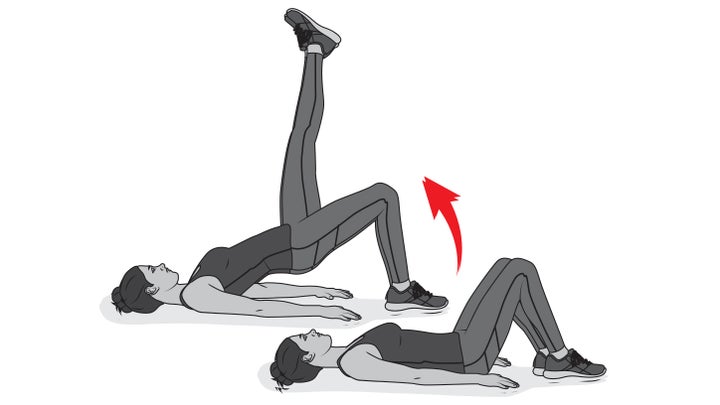 Lie on your back, knees bent, with your upper body planted firmly on the floor. Raise at the waist, sending your glutes and torso toward the ceiling at a diagonal angle. Extend one leg straight towards the ceiling while keeping your hips and lower back stable by engaging your glutes. Lower your leg back to bent knee position, and repeat movement on other leg.
Scissor-Kick Bicycle Crunches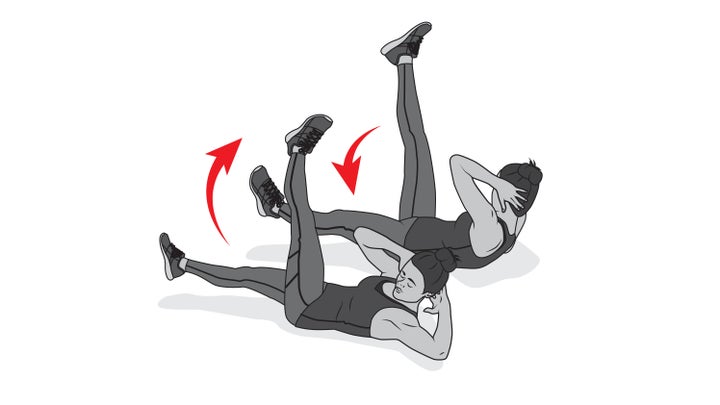 Lie on your back with your head and chest curled off the floor. Place your interlinked palms behind your head for support. Raise one leg straight to ceiling and twist at the obliques to allow your opposite elbow to meet your thigh. Lower your head slightly to come through the center to allow the other elbow to reach the opposite leg.