How I Train: 5 Top Age-Groupers Share Their Favorite Workouts
The killer swim, bike and run workouts that get these five top age-groupers envy-inducing results.
Heading out the door? Read this article on the new Outside+ app available now on iOS devices for members! Download the app.
The killer swim, bike and run workouts that get these five top age-groupers envy-inducing results.
J.P. Giblin
Location: Boulder, Colo.
Results: First 18–24 age group at 2016 Ironman Boulder, competes for the University of Colorado Boulder triathlon team
Run tip: Do a progression brick run.
To build mental toughness, do a 56-mile bike ride at approximately your 70.3 pace. Right off the bike, run a half-marathon as a progression run, pacing it so your last miles are faster than your first. You can do this by running the first three miles at a comfortable pace, then get faster every mile. Make it hurt and push yourself. To prepare for a sprint or Olympic, do a 24-mile bike at approximately your race pace then run a progression 10K.
Emily Lanter
Location: Scottsdale, Ariz.
Results: First overall amateur woman at 2016 Ironman 70.3 Vineman, 70.3 Boulder, and 70.3 Santa Cruz
Bike tip: Do the double bike day.
90-minute ride on the trainer in the morning:
10 minutes easy
10 minutes build cadence to Zone 2
4×12 minutes, build every 2 minutes to Zone 5, with 5 minutes easy in between each effort
Cool-down
Then in the afternoon, do a three-hour hilly endurance ride at Zone 3–4 effort. The mental strength it takes to suffer in the morning then get back on your bike in the evening mimics the pain and fatigue on race day.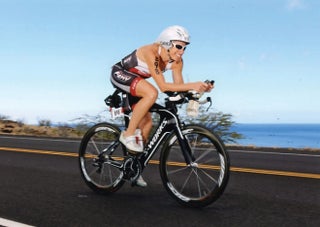 Leslie Knibb
Location: Washington, D.C.
Results: Sixth in 50–54 age group at 2015 Ironman World Championship; seven-time USAT All-American
Swim tip: Do a race-pace negative split.
About two weeks before my key event, this is a favorite to get ready mentally and physically for the Ironman swim. To adapt for shorter races, make the two main intervals slightly shorter: 500 to 1,000 meters.
Warm-up:
500 choice
5×100 descend on an interval that allows no more than 10 seconds rest
Main set:
2×1650 long-course meters (if you have access). Target race pace on the first one and negative split, so the second is faster than the first.
Cool-down:
200 backstroke, while mentally rehearsing your T1.
Jesse Moore
Location: Sacramento, Calif.
Results: First overall amateur at 2016 Ironman 70.3 Coeur d'Alene, 10th 40–44 age group at 2015 Ironman World Championship
Swim tip: Do open-water simulation in the pool.
Most time-crunched age-groupers have trouble getting to open water to practice wetsuit swims. Instead, do all of your final race-specific sets in the pool wearing buoyancy shorts, like those from Zone3, ROKA and XTERRA. They let you adjust to the changes in body alignment and rotation while keeping the rhythm of your kick normal. Adding in sighting practice in the shorts also gets you past the initial low-back pain that comes with using the wetsuit only on race day.
Tom Shinners
Location: Alexandria, Va.
Results: 16-time Kona finisher
Bike tip: If you don't have time to train, then commute on your bike.
There's no such thing as garbage miles—any time you can get in the saddle, the better off you are. I'm retired now, after 20 years in the Navy and then working was a bike messenger in D.C. Being a bike messenger gave me a chance to get paid for training. I can't recommend commute biking enough.