Everything You Need To Know About the New York City Triathlon Course
Three-time New York City Triathlon winner (and proud New Yorker) Rebeccah Wassner shares her course recon for the big event in the Big Apple.
Photo: Triathlete, Mike Stobe/Getty Images
Heading out the door? Read this article on the new Outside+ app available now on iOS devices for members! Download the app.
Rebeccah Wassner hasn't missed the New York City Triathlon since 2002, save for a few years when she was pregnant and supporting on the sidelines. And, in a city of 8.4 million, she's the only New Yorker to win the event multiple times. Three times, to be exact: 2009, 2010, and 2011. While the mom of three and endurance coach has scaled back her racing schedule as of late, she still competes as a pro. And she'll toe the line of the New York City Triathlon on October 1 for a shot at snagging the finishing banner in Central Park once more. Here, Wassner offers insight on this unique International-distance (1500-meter swim, 40K bike, 10K run) event, now in its 22nd year.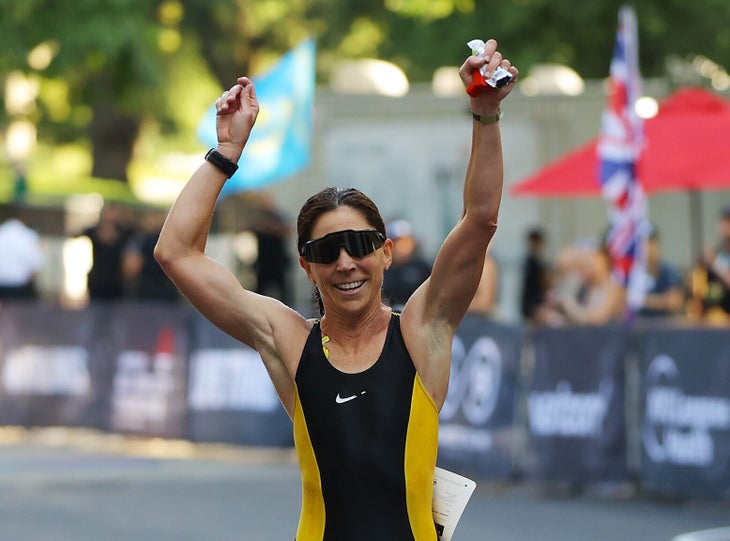 Section divider
New York City Triathlon Weather
After being plagued by extreme heat for several years—the race had not been run in its entirety since 2017—organizers decided to move the event from July to October, starting this year. And, after 20-plus years of the race in the heat of the summer, the possibility of cooler weather (NYC's average October temperatures range from a 50 degrees F low to a 64 degrees high) brings a new challenge and mixes it up. I've never raced a triathlon in New York in October, but I'm preparing for a chilly morning and a cooler bike ride. Plus, running through Central Park in the fall is ideal, since it's full of runners training for the New York City Marathon. That means extra cheers!
Section divider
New York City Triathlon Swim Course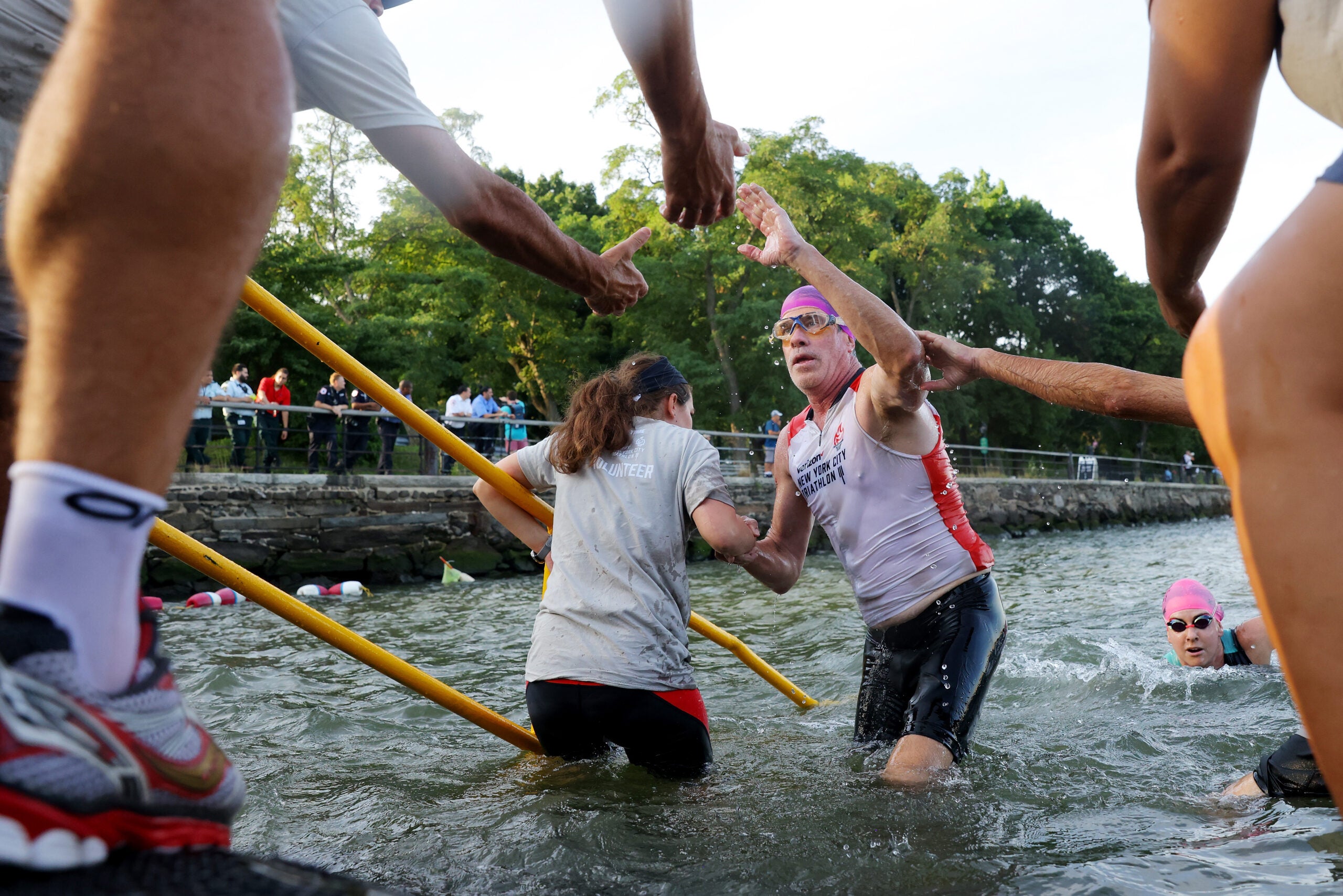 Anyone who has ever competed in this race likely has a mega swim PR after the point-to-point 1500-meter leg, courtesy of a swift-moving current in the Hudson River. The sit-to-start swim begins at 81st Street on Manhattan's west side and goes with the current north to 99th Street. With the new date, the current may not be as swift, so it may take about as long as your average 1500-meter swim (in years' past, it's taken me half that time). But with no turns and a straight shot to the exit barge, it should be a quicker swim—no matter the current.
Once you're out of the water, there's a two-block (about 210 meters) run to the transition area in Riverside Park on 101st street. Yes, it's a barefoot run, but it's short. If you can push the pace here, you'll pick up a few seconds on your competition.
Swim Gear
On October 1 of last year, the Hudson's temperature was 65.8 degrees F, so prepare for a colder, wetsuit swim (per USA Triathlon rules, water temps must be 78°F or under to be wetsuit legal). I also recommend wearing clear goggles, as the water tends to be dark.
Section divider
New York City Triathlon Bike Course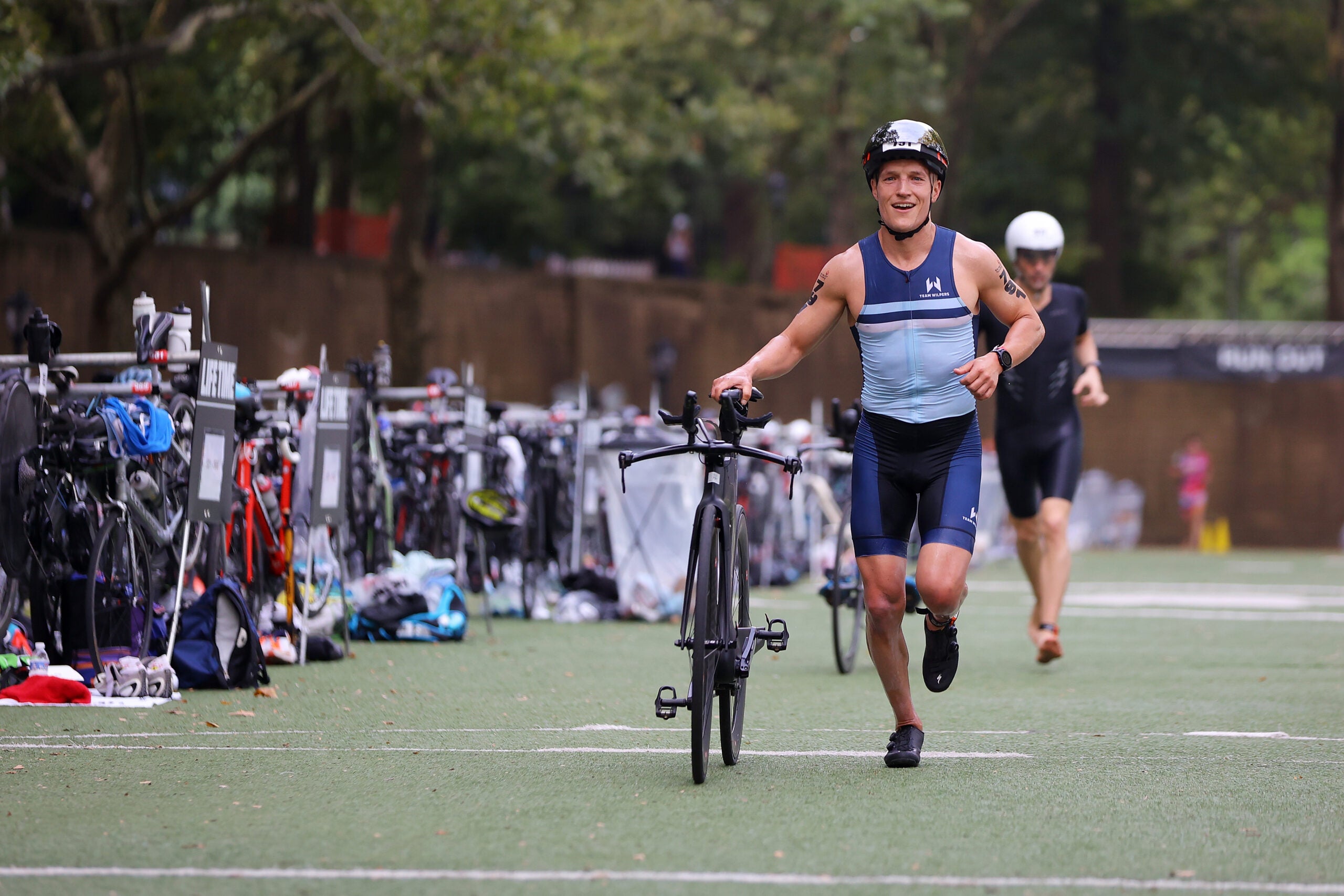 The bike course is this event's claim to fame, as it offers exclusive, traffic-free access to Manhattan's West Side Highway. But that's not to say it's easy! It's hilly, with the most daunting climbs are after the turnaround in the Bronx. These tend to come as a surprise, because you zoom down them on the way out. To prepare for the bike course, I train in an area with rolling terrain to practice powering up and over hills and using momentum to get up the next one. One thing you won't need to worry about? Getting lost: There are just two U-turns on the entire 40K course, and no other turns.
Bike Gear
Consider race-day weather when deciding what to wear on the bike. It may be chilly enough to wear toe covers, a cycling jacket, or a long-sleeved cycling jersey. It's worth finding something you feel comfortable riding fast in and is easy to put on. You may not need anything beyond your standard tri kit, but packing extra layers in your transition bag is always a good move.
Also a good move: Make sure you have enough fuel and water on your bike, since there are no aid stations or bottle exchanges on the course. And have a gel waiting for you in T2 so that you take in calories before the run – trust me, you'll need them!
Section divider
New York City Triathlon Run Course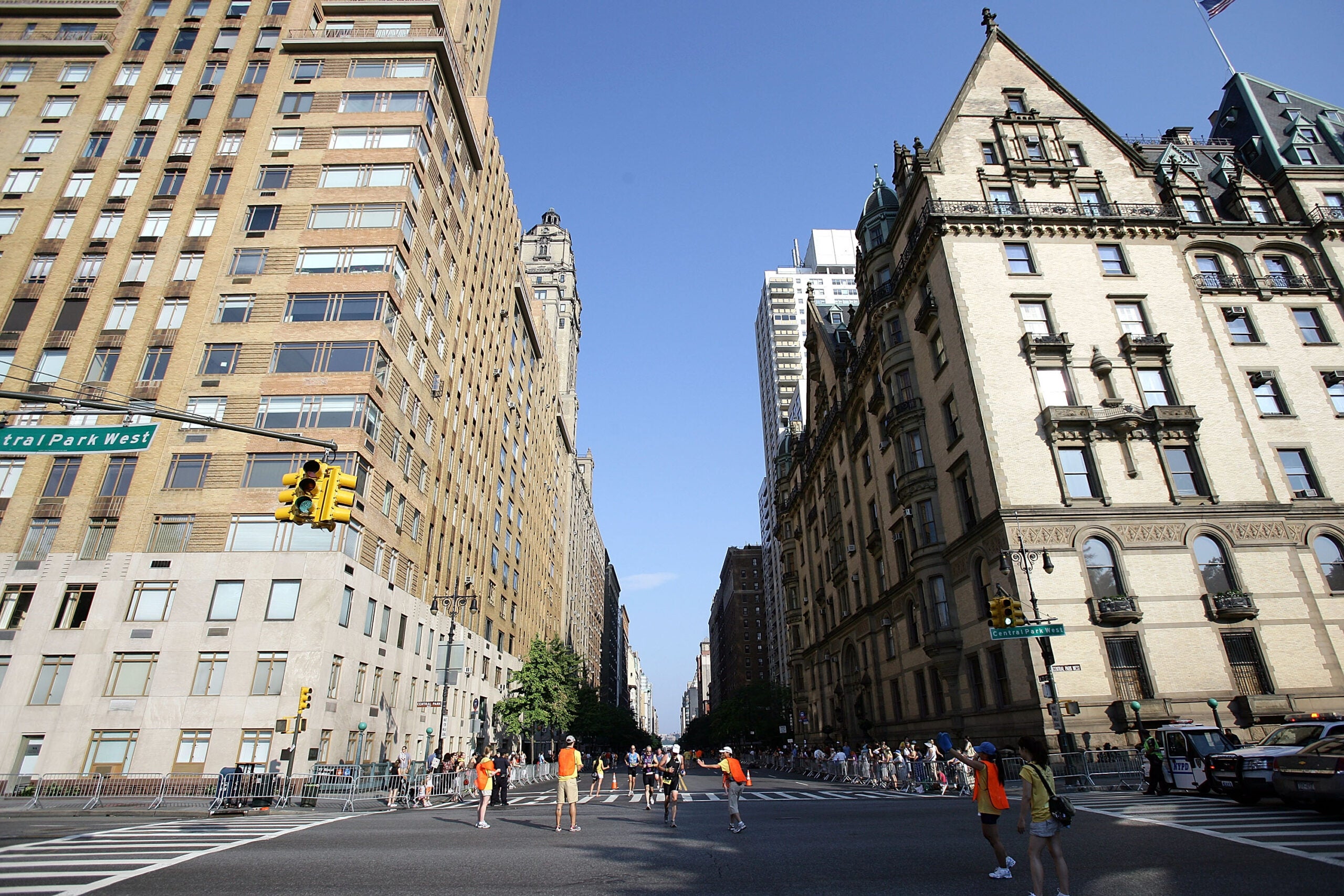 In my opinion, there's no better run course in the world, but, like the bike, it's hilly. There's a climb straight out of T2, which can be brutal on the legs. Stick with it and don't worry about your speed—it gets much better at the top. The bulk of the course rolls through Central Park, and there's so much support from early-morning joggers, triathlon fans, and just random strolling tourists who have no idea a triathlon is going on. There's no better place to race because of the energy of the city.
Run Gear
Along with your usual run basics, be sure to grab the HydraPak SpeedCup given to you in your athlete bag at check-in. (There will be no disposable cups along the run course, and all aid stations will have touchless spigots dispensing water and Gatorade Endurance Formula.) Other than that, all you need are your run basics and all the mental toughness you've got.
Section divider
New York City Triathlon Logistics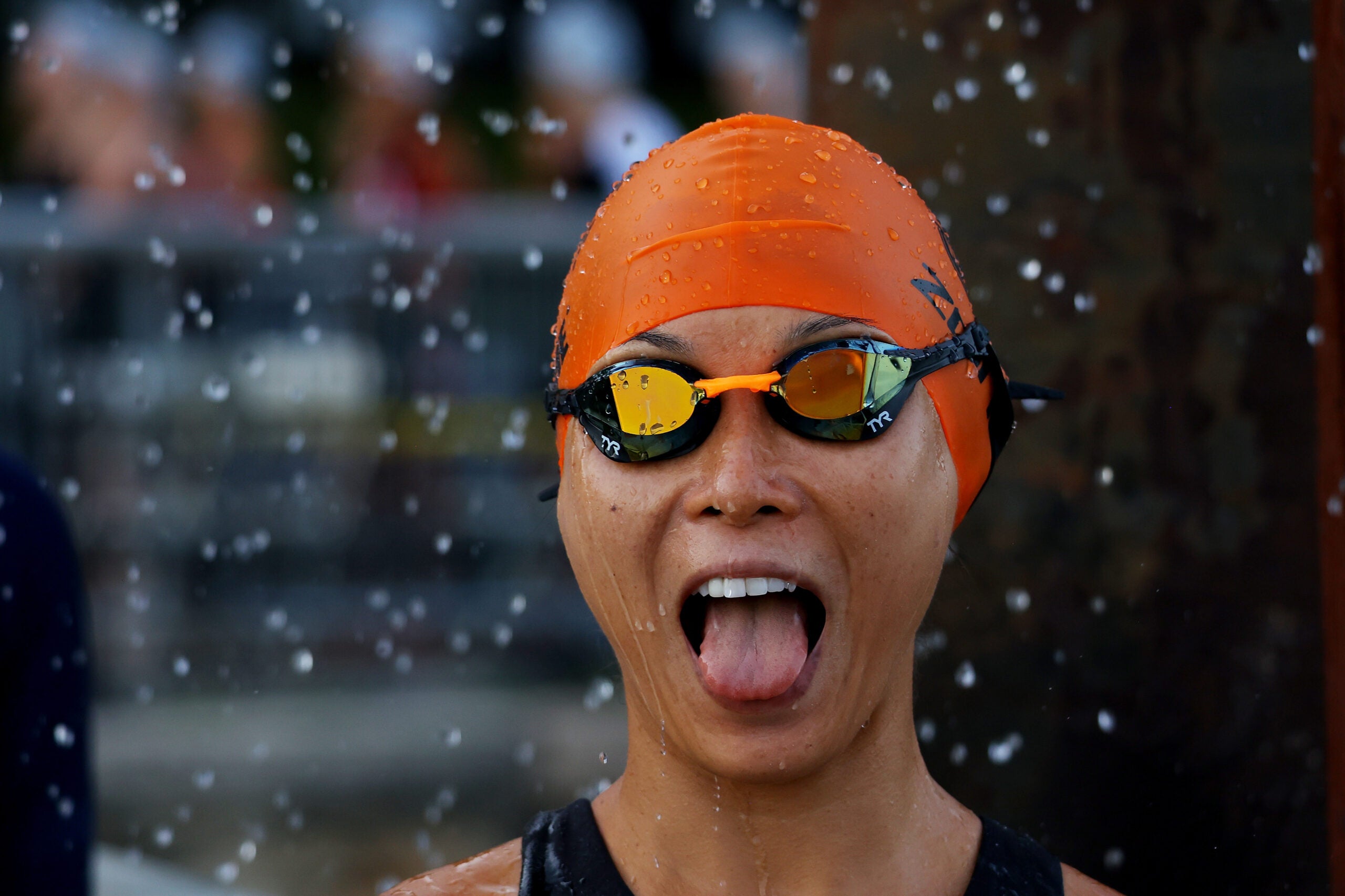 Race Morning
Historically, the NYC Tri has a notoriously early morning start (every year, I leave my apartment and people are still out for the night or making their way home from the clubs!). But this year, the first wave goes off at a relatively sane 7:30 am, with transition opening at 5:30 a.m. Still, make a plan for getting to the race in the morning and build in extra time, especially since there's a mile walk to the swim start from transition. In the past, I've done this walk in my tri kit, but this year, I'll most likely bring a jacket or warmer clothes. When you're ready to peel off the layers, bring your stuff to the swim start baggage drop (you can pick it all up at the finish line area).
Pre-Race
It's New York City, so finding something to do to wile away the pre-race hours is never a problem. The real challenge is staying off your feet as much as you can, despite all of the buzz of the city swirling around you. Your number one priority on Saturday is the visiting the race expo for  mandatory packet pickup and bike check-in, which is open from 10 a.m. to 5 p.m. in Riverside Park. Give yourself a lot of time to tick everything off your pre-race checklist, then get to bed early.
Best Spots for Spectators
Since this is my home course, I always look forward to seeing friends and family while I'm racing. If your support crew doesn't mind doing a lot of walking, they can first spot you at the swim exit on West 99th street or catch you as you leave T1 in Riverside Park. (There isn't any place to safely spectate on the bike course). From there, they can hang out along West 96th Street to see you as you run your way into Central Park or head straight to the finish line in the Park by the Naumburg Bandshell near West 72nd.
Post-Race
Here's where things get tricky: You're super-tired from racing, and then you have to make your way back to transition a mile away to pick up your bike and gear. There are complimentary post-race shuttles from the finish to transition between 12:00-4:00 p.m., or you can always opt to walk, grab an Uber, an electric scooter, Citibike, or hail a pedicab to get you back. If you're not in a hurry, stick around the finish line festival and celebrate your triumph with friends and family (just be sure to pick up your bike by 4 p.m.!).