Open-Water Swim Groups: 5 Options Around the Country
Fun open-water swim groups around the country. Jump in, with friends.
Heading out the door? Read this article on the new Outside+ app available now on iOS devices for members! Download the app.
Ready to become a better open-water swimmer? Want to make some new friends? Joining an open-water swim group can accomplish both of these things!
Open-Water Swim Group: Lucky's Lake Swim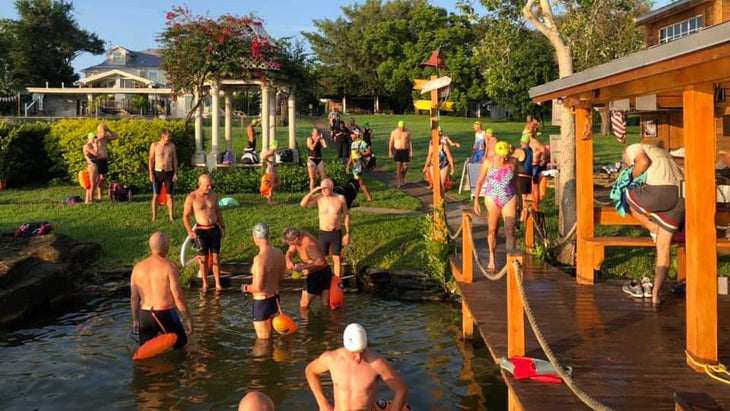 The Spot:
Lake Cane, Orlando, Florida
The Details:
This eclectic group has been meeting on a near-daily basis for decades, swimming one (or multiple) 1,000-meter roundtrip crossings of Lake Cane. Named for Lucky Meisenheimer, who owns the property from which this free swim starts and ends, as many as 120 people hit the water in the warmer months, when lake temps hover in the mid-70s.
Join This Open-Water Swim Group:
All are invited to jump right into any of the workouts, which go o at 6:30 a.m. Monday through Friday and 7:45 a.m. on Saturdays. (Visit Luckyslakeswim.com or Lucky's Lake Swim on Facebook for updates). New to the group? You must swim with some sort of flotation device, like a pull buoy or a wetsuit, regardless of your experience—there are no lifeguards or rescue boats on duty.
Open-Water Swim Group: Kailua Master Swim Club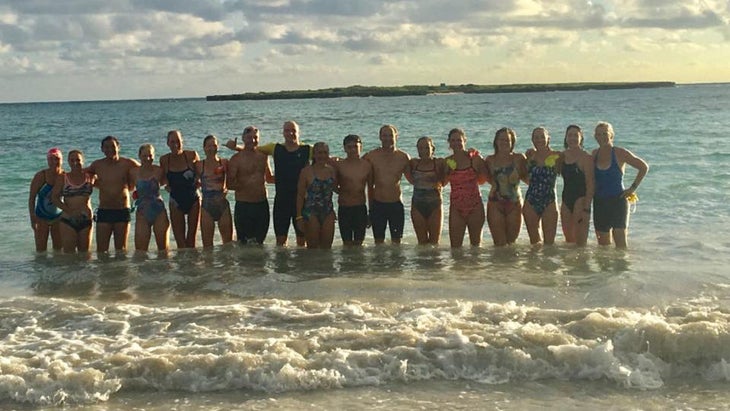 The Spot:
Kailua Beach Park, Kailua, Hawaii
The Details:
Just after sunrise every Friday morning, a group of swimmers meet on the powdery white shores of this stretch of the Paci c Ocean, routinely rated one of Oahu's most beautiful beaches. Recent workouts have featured a swim around Flat Island, about a quarter-mile away from the shore–and a few stingray spottings.
Join This Open-Water Swim Group:
Open-water swims are held year-round every Friday from 6:30-7:30 a.m. Anyone who can swim non-stop for at least 30 minutes is welcome to join; see more at Kailuamasters.org or on Facebook (@KailuaMasters).
Open-Water Swim Group: Waveone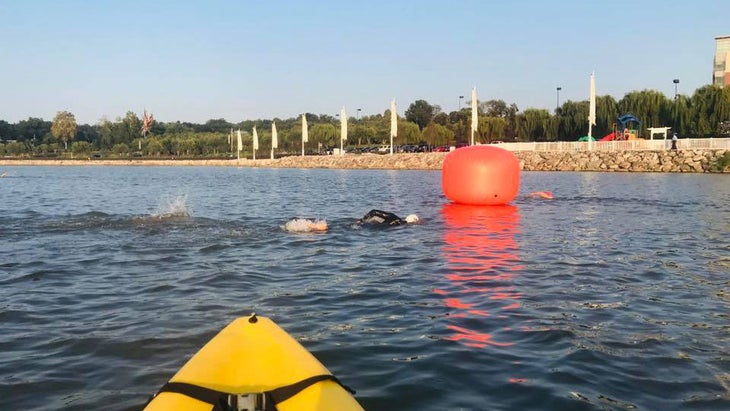 The Spot:
National Harbor, Maryland
The Details:
Just minutes away from Washington, D.C., this Potomac River swim is offered weekly at both sunrise and sunset from late spring to fall. While there is no set workout, participants are able to follow a 250- to 400-meter marked, lifeguarded course for an hour's worth of open-water swimming. Sweetening the deal? Most swimmers head to brunch or happy hour (depending on time of day) at a nearby National Harbor restaurant.
Join This Open-Water Swim Group:
From mid-May to early October, sunrise swims are every Sunday at 8:30 a.m., while sunset swims take off every Wednesday, 90 minutes prior to sunset. Register online at Waveoneopenwater.com. Passes can be purchased in advance for $25 and up until Wednesday before the workout; onsite waterside registration is available for $30.
Open-Water Swim Group: Triple Threat Tough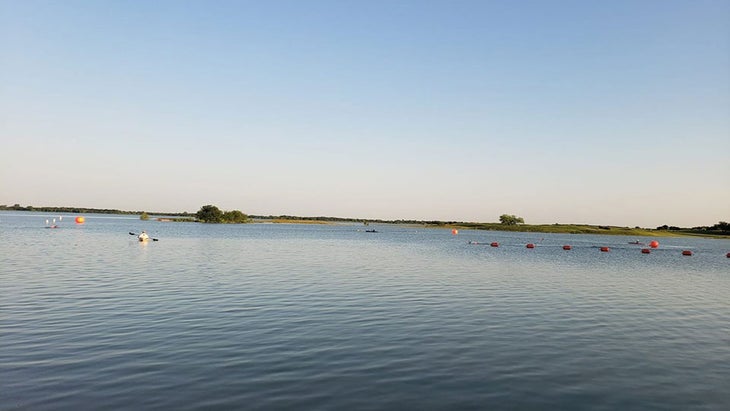 The Spot:
Lake Lewisville in The Colony, Texas
The Details:
Helmed by experienced triathlon coaches, this workout in one of North Texas's largest lakes keeps the focus on key racing elements, like on-beach and in-water starts, pacing, sighting, and rounding buoys. Anywhere between 15 and 25 athletes of all abilities join the weekly workout, which navigates a 300-meter marked course and is fully supported by sta in kayaks as well as on shore.
Join This Open-Water Swim Group:
The group hosts an OWS every Sunday at 7 a.m. from April through September; the meeting spot is Stewart Creek Park. For more info and fees, check out Triplethreattough.com.
Open-Water Swim Group: The Swim Mechanic (SMOG)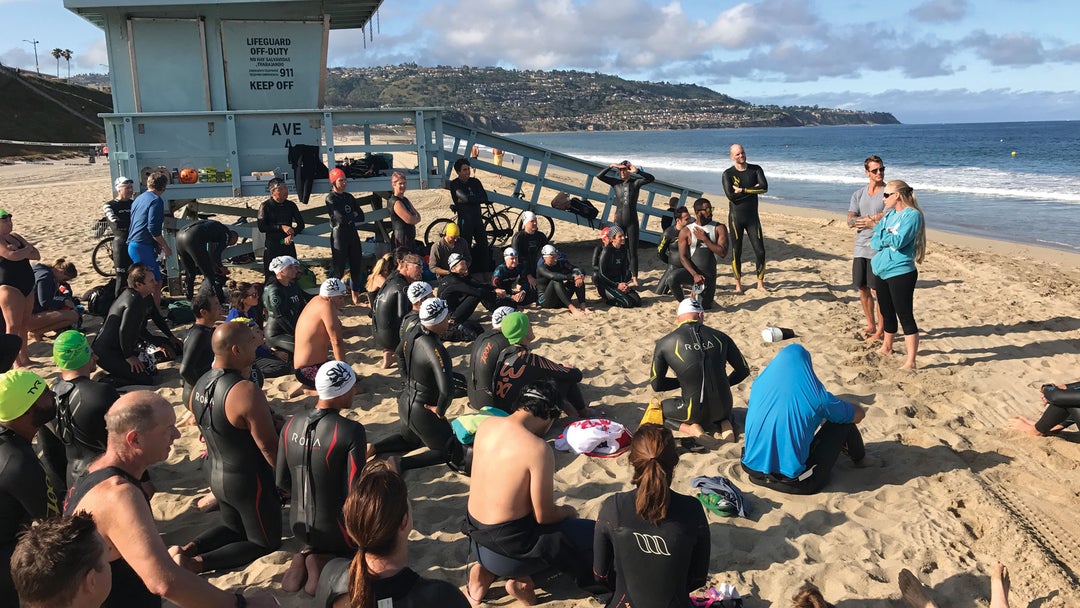 The Spot:
Redondo Beach, California
The Details:
Lead by coach Brian Mineo—AKA the "swim mechanic"—this popular meetup is said to be the largest year-round open-water swimming group. Everyone from pros to newbie triathletes take off every Saturday at 8 a.m. from Avenue A lifeguard tower in Redondo Beach, with buoyed courses set up for circuits and distance sessions.
Join This Open-Water Swim Group:
Mineo encourages all swimmers to join a workout free of charge; simply reach out beforehand via Theswimmechanic.com. In San Diego or San Francisco? SMOG offers Sunday morning swims from Moonlight Beach in Encinitas (7:30 a.m.) and Aquatic Park in San Francisco (8 a.m.) as well.