Lights Out: Tips For Running In The Dark
Use these tips from running coach Christine Hinton to run safely at dawn, dusk or after dark.
Heading out the door? Read this article on the new Outside+ app available now on iOS devices for members! Download the app.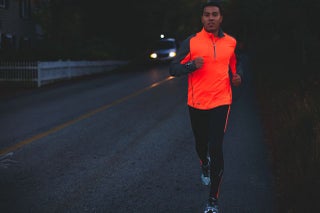 With the shorter days during winter months, the alfresco-inclined are forced to face the prospect—and dangers—of running when it's dark outside. Use these tips from running coach Christine Hinton—who has paced ultra-runners through the night for races including the Rocky Raccoon 100 and Western States 100—to run safely at dawn, dusk or after dark.

Get reflective. "Being seen (especially on roads) is the biggest danger runners face," says Hinton. In fact, a recent report by the National Highway Traffic Safety Administration found that the hours of 6 p.m. to 9 p.m. are the most dangerous time of day for pedestrians, which is also when most runners hit the roads. To be as visible as possible, wear highly reflective clothing and also consider wearing reflective bands on your arms and legs, as light in motion is easier for drivers to see.
Nathan Sports specializes in reflective vests and accessories for runners. Its compression running sleeves come in new ultra-bright pink and yellow colors and feature a large strip of reflective detailing ($25, Nathansports.com). For shirts and jackets, try Saucony's ViZi Pro line of highly reflective performance apparel. With reflective mesh panels, luminescent colors and an included LED light for a sleeve pocket, the new Men's Epic Run Jacket ($90, Saucony.com) and Women's Ethereal Run Jacket ($90) guarantee you'll light up the night.

Watch your step. "Things look different at night," says Hinton, "and your footing can easily be compromised." Leave the iPod at home and pay careful attention to your surroundings. Run facing traffic and with a buddy. To see obstacles ahead, particularly on trails, Hinton recommends wearing a headlamp (Petzl makes a wide range of options; petzl.com) or carrying a flashlight.

Be prepared. Wear a Road ID tag (roadid.com) with emergency contacts, carry a cell phone and dress in layers. You may also want to consider carrying Mace, depending on where you run.

Go slow. Leave the speed work for daylight hours and slow your pace to avoid hard-to-see obstacles. Hinton also recommends doing a short easy run with new gear before attempting more serious long runs at night.


Relax and enjoy the run. "Night running can be quite special and gives the landscape a completely different look and feel," says Hinton. "You do have to pay more attention, but there's nothing quite as beautiful as watching the moon come up."
Compiled by Kristin Harrison.