Is A Triathlon Training Camp For You?
Thinking about a tri camp? Now is the time. Spring camps are filling up fast. But for those who don't know exactly what a triathlon camp is, Inside Triathlon senior editor Jennifer Purdie chats with triathlon coach Jim Vance.
Heading out the door? Read this article on the new Outside+ app available now on iOS devices for members! Download the app.
Thinking about a tri camp? Now is the time. Spring camps are filling up fast. But for those who don't know exactly what a triathlon camp is, Inside Triathlon senior editor Jennifer Purdie chats with triathlon coach Jim Vance. Vance runs several tri camps throughout the world for a wide range of athletes, from beginner to pro.
Triathlete.com: Who is best served by participating in a triathlon camp? Should you have an advanced racing background or can beginners participate?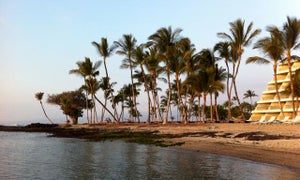 Vance: Anyone who wants to improve their performance should consider a camp, no matter what their current level. If you're an advanced athlete, you will likely need to get away and escape your daily life demands to just focus on training and recovering from sessions, as well as re-energizing your motivation.
If you're a beginner, you will likely need the same thing, but with a bit more learning and technical skills focus—tri camps are an opportunity to spend quality time on the skills you need to improve on. There's so much to the sport of triathlon that it really does require a commitment of time to master it. A camp is a devotion of time for improvement and mastery of the sport. Everyone needs to devote time, from elites to beginners; it's just how they use the time that separates them.
Triathlete.com: Can you walk us through a typical day at a triathlon camp? What takes place?
Vance: At a typical training camp I run, there will likely be three workouts in the day, all three disciplines, with meals catered so athletes don't have to deal with anything besides training and recovering. We will also include one classroom-like session, where we break down underwater or running video footage to better assess technical flaws and focus. We may also have private meetings with athletes—just to break down their goals for the upcoming season, other questions they might have, strategies, or even discussing mental barriers and figuring out what is holding an athlete back.
I really try to focus on getting our athletes to be better racers. So much of racing is attitude, and once an athlete understands and embraces that, they make big strides. At any camp, I'm looking to make athletes better racers because that is the entire point of what we do.
Triathlete.com: How long do they typically last?
Vance: I've done camps as short as three days, but as long as eight days. It really depends on the athletes and their commitments outside of the sport. You can find a wide range of camp lengths. But again, devotion of time is key to mastering the sport, so generally the more time you can devote to a camp, the more you will get out of it as an athlete.
Triathlete.com: Are they budget friendly?
Camps have a wide range of prices, and really depend on what an athlete is looking for. Training venues, facilities, services, locations, travel to/from the camp, they all play a role in costs.
Athletes don't need an official camp, they can do it cheap if they just want to go and train by themselves or with a few friends. They can just go to a place and escape, just to focus on training. Peter Reid used to rent a cabin on the volcano in Kona, and it was just himself, isolated, as he prepared for the Ironman World Championships there.
Brett Sutton trains his group in the Philippines part of the year, because it's cheap and there are few distractions. It's not the fanciest of facilities, but it doesn't need to be in order to be effective. It's like his athletes are at a training camp most of the season.
One of the things about a coordinated camp by a coach is that the coach's job is take care of everything for you, to let you better focus on what you want and need, which is your training and preparation. We've done camps in Mallorca, Costa Rica, Tucson, Ariz., San Luis Obispo, Calif., and Tenerife in the Canary Islands, and we always try to make it as easy as possible for the athletes, so the devotion of time is maximized.
Triathlete.com: There are so many different options out there. How do you decide which camp would be best?
Athletes considering a camp should first look to the coach who is leading it and see if it is someone they are interested in learning from. Other considerations are budget, time demands for the camp, proximity or location of the camp, unique opportunity, race-specific preparation, timing of the camp with season goals, ability level of the athletes attending and the services offered.
A camp we just finished in Costa Rica was a week long where the 14 athletes shared a large villa, complete with maids and private chefs, and had great venues for training. It also included two days of racing at Rev3 Costa Rica. This was a great chance for athletes to train and learn, and directly apply that knowledge, while the coaches observed their races and gave feedback. This was a unique opportunity, which made it a great success.
Vance is an Elite Coach for Training Bible Coaching, Level 2 USAT certified and former elite triathlete. He also started a junior tri program, Tri Juniors, focused on draft-legal racing. He is based in San Diego, Calif. You can follow his coaching blog at CoachVance.blogspot.com.
[sig:JenniferPurdie]