Easy Drill for Bilateral Breathing
A bilateral-breathing athlete is better prepared for many open-water situations; Wind, waves, chop and spray
Heading out the door? Read this article on the new Outside+ app available now on iOS devices for members! Download the app.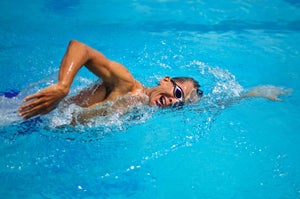 In the May issue of Triathlete, Sara McLarty reminded us why we need to breathe on both sides: Swimmers who only breathe to one side have a tendency to drift off course toward their dominant side and can suffer from musculature imbalances, shoulder pain and injuries.
A bilateral-breathing athlete is better prepared for many open-water situations. Wind, waves, chop and spray usually come from one direction during a race, and it's sometimes easier to breathe to the other side. The same applies to a bright morning sun or a splashing competitor nearby.  Get comfortable breathing on your opposite side with the following drill.
Drill: 3/6/3 Breathing
Start by taking three freestyle strokes. Pause with your right arm extended overhead and continue to kick. Rotate your head and breathe one or two times to the left side. Take three more strokes and repeat on the other side. Use fins to make this drill easier.