Breaking Down The Wildflower Festival Weekend
Heading out the door? Read this article on the new Outside+ app available now on iOS devices for members! Download the app.
For many triathletes, the Wildflower Triathlon festival weekend has served as the exciting and competitive start of the summer triathlon season for over 25 years. This year marks the 28th annual offering of the popular Central California race brought to life by Tri California.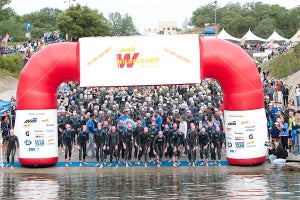 On the weekend of April 30 through May 2, over 7,000 athletes will flock to Lake San Antonio, just east of King City, to participate in one of the weekend's many challenging races. Known for its challenging terrain and competitive field of racers, Wildflower is an event that every triathlete should experience in his or her lifetime because of several unique factors. Wildflower's festival atmosphere sets it apart from other races throughout the world. A tent city of vendors, musicians and athletes is created overnight at the campgrounds surrounding Lake San Antonio. The vast majority of racers elect to stay at campsites adjacent to the transition area. Thousands of peers enjoy the atmosphere of the weekend together. Many friendships have been forged around a campfire or while waiting in line at one of the restrooms throughout the campground.
Logistics And Accommodations
Another unique aspect of Wildflower is the need to plan accommodations well before race day and how to get to transition on time on race morning. As is typical in a triathlon of this magnitude, racers need to arrive at least a day in advance to check in. In addition, campsites fill quickly and can be hard to find for a large group. One of the advantages of camping at Lake San Antonio is that on race morning, triathletes can bike easily down to transition. Staying in hotels in surrounding areas can lead to long commutes in and out of the park on registration and race days. It is much easier to avoid the car and bike directly to transition from campsites. Hitting the hotels also may lead to missing what so many people love about this race—the camping and camaraderie. There is nothing better than carbo-loading at a campfire with friends old and new.
Click the page numbers below to continue reading.
Nutrition And Tips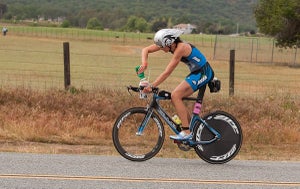 Another issue unique to Wildflower is preparing pre-race meals sans fridge, microwave or an assortment of local restaurants. Try to plan pre-race meals that can be grilled or prepared on a camping stove. With some careful planning, preparing the right meals should not be a huge issue. On the contrary, restroom availability on race morning can be. Restrooms can get busy on race morning and waiting in line should be the least of a racer's challenges. Leave plenty of time and look for restrooms off to the side, and less crowded.
Pre-Race Transition
Tri California is a highly regarded, professional and organized race production company with everything running like clockwork including transition. One of the best things about Tri California events is that each triathlete's transition spot is pre-designated by race number. There is no need to scramble looking for the best spot race morning or any spot at all. You will have an amply spaced, designated spot to rack your bike and set-up your transition. With 7,000-plus athletes competing, this feat is impressive and makes for a super-sized transition area! It is crucial in Wildflower for racers to memorize their race numbers to find their spot quickly during the race. There are rows and rows of bikes to sort through. Typically, this transition offers nothing in terms of landmarks to help you find your spot as it's in a huge, flat, concrete parking lot, so get to memorizing! Take note of the steep hill when entering transition from the main campground and gate. All racecourses at Wildflower include this hill at some point during the race. This infamous hill gets the most talk but there are plenty of other challenges on this course. Just take a mental note of this one, since all athletes will either be going up or down it shortly.      Before the swim start, racers should avoid putting on their wetsuit as long as possible. The event directors will call each wave down to the boat ramp well before it's time to go. Don't feel rushed but don't sit around in a wetsuit for 20-30 minutes while you can continue to loosen up those limbs for the work to come.
Click the page numbers below to continue reading.
The Swim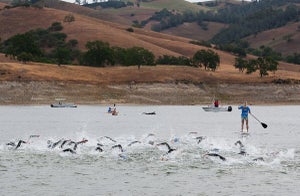 Wildflower's swim is the easiest part of the day, and it's the only segment that is totally flat (hee, hee). There are a few things to take note of for this particular swim. Unless you are in one of the first few waves, it can be challenging to get into the water before wave starts to warm up. Most likely age groupers will get five minutes or so just before each wave horn sounds to get in the water but this isn't enough for most people. This pre-race limitation makes land warm-ups even more important including arm swings, shoulder rolls, breathing exercises and anything else to prepare the body for the swim ahead. The first part of this swim is the most challenging. Leaving the boat ramp out into the lake, there is a very narrow channel to maneuver through and this creates a bit of a wrestling match amongst the swimmers. Either get out in front or sit back and wait so you can settle into your rhythm early. There is nothing like lost goggles or a good ole' kick to the face to start the day. The swim course bears right out of the boat ramp and into the open lake for a clockwise swim around the buoys and back into the ramp. Upon exiting the water, prepare to hustle up the steep ramp and into transition. The ramp's rough concrete isn't the best on bare feet but the crowd cheering and adrenaline help get racers up and over to transition quickly.
Click the page numbers below to continue reading.
The Bike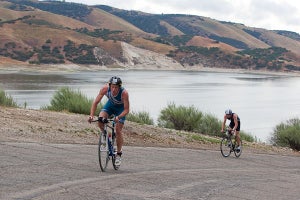 Racers need to remember their transition spot and get ready for a great bike ride. It is very important to plan gearing out of transition ahead of time. For both the long and Olympic courses racers have a minute to shift but are climbing up some super steep hills quickly. This is especially the case in the Olympic where you are climbing the main hill out of transition within a minute of being on your bike. Make sure you are in the correct gearing–for most people that will be in the smallest ring in the front. Don't let your day be ruined by being in the wrong gear and trying to shift, only to have your chain not cooperate. Be smart and possibly consider putting your bike shoes on in transition for this race if you are used you having them attached you your pedals before mounting your bike. It will certainly save some possible frustration and only cost a few seconds.
After the swim, folks are excited to get on the bike course. This makes for a crazy exit area at times so have your head on a swivel. When you do eventually reach the initial climb out away from the lake, settle into a rhythm and focus on steady, deep breathing to lower heart rate. These hills are long and steep, so it's not a sprint to the top. There is plenty of road ahead to hustle on, which will be hard to do if your heart is jumping out of your throat in the first few minutes of the bike. Conserve your energy stores for later in the race, as you will surely need them.
After exiting the main gate of the park, you are still climbing a ways to the main road. From there it's a right hand turn and the next 30 miles are mostly rolling hills or flat for the Long Course. Enjoy this section and find a steady-state effort you can sustain for the bulk of the ride. One key to this race is how to handle your nutrition. This bike has the real hard work near the end, which adds to the challenge. For the Long Course bike, this makes eating early and often key. Each athlete should have a calorie target for the bike, which is easy to pace within the first three-fourths of the ride. Once at the uphills and the eventual downhills, racers don't have a lot of time to focus on nutrition. Emphasize taking in plenty of calories between the 20 to 40 mile marks. This will fuel your body for the hard work to come.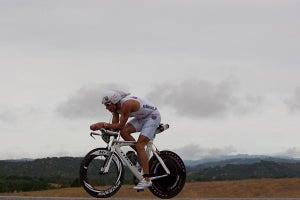 The Olympic course is easier to take nutrition on as the hills are not quite as step heading home and there is much less technical descending. On the Long Course, "Nasty Grade", (a five-mile long climb that raises you up over 1,000 feet) will come around Mile 40. That's a serious climb on legs that have been enjoying ripping speeds for the last hour plus. Slowing down and finding a new rhythm can be hard psychologically and many people do not train specifically for this type of hill. One thing to consider with this climb is when you think you've seen the top, you haven't. At the top of the first peak, turn right and continue climbing for another few minutes. This knowledge will guard you against the shock that so many have had turning the corner seeing MORE hill! Once you peak the next summit, you are there for the most part. Having read this paragraph is enough to give you an advantage if you've never ridden the course.
What goes up must come down. This is one fast downhill on the Long Course that will really benefit the technical cyclist. Lots of people sit up after this climb to take in nutrition, but there isn't a lot of time. Get a drink and get ready to focus on the downhill descent. Make sure to practice hills late in training rides and incorporate plenty of technical descending. The winds can be strong up on top of the ridge but know that you are almost home at this point. There are still some miles to log but they scream by while racers focus on spinning out to prepare legs for the run to come. Careful coming back into transition as the descent is steep back down the main hill. This applies to both the Long Course and Olympic as both use the main gate for re-entry into the park. Watch out for slower racers and runners finishing the run course as it's a busy area.
Click the page numbers below to continue reading.
The Run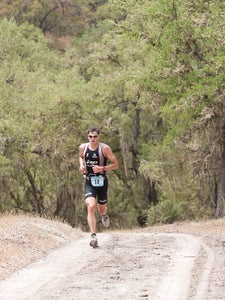 Throw on your run gear and get ready for a doozy! The first few miles for both courses are rolling along the lake, mostly asphalt, but it turns to dirt and single track pretty quick. This is a tough run course, so runners need to stay fueled the entire day. Get some liquids early and stay on top of it. Calories should be 150-200 calories per hour but limit calorie amounts, to avoid gastric distress. The hills start around Mile 3 and 4, as runners need to make it from the lake to above the main campground, which is virtually the same height as the hill you just rode down into transition. Once you start climbing, don't stop. Keep on trucking! Around Mile 4 you will come across the famous "nude aid station" were several college-student volunteers are ready to cheer you on in the buff. I mention this only because it took me by surprise the first time I witnessed it and runners need to remember they are just starting a significant single-track climb. Make sure to have some hills in pre-race training. A workout like 5×1 minute hill repeats built into an hour run will increase hill-climbing strength. Once at the campground, continue through the grounds for several miles. Around Mile 9 of the Long Course, feet will hit asphalt for the first time in a while and runners will be tempted to pick up the pace. Remember there are still four miles to go. By reaching the run turnaround at Mile 10, runners are finally racing to the finish line as opposed to away from it. The last section of both courses can still provide some challenges back into the finish line. According to long time race announcer Eric Gilsenan, the final downhill can be the most overlooked portion of the race. According to Gilsenan, several pro races have been won and lost within the last mile of the run due to pacing down the hill. A hard day's work can be erased by the steep downhill grade if you are looking to podium in your age group. Pepper some downhill running into pre-race training in a controlled effort to strengthen the supporting muscles of the legs. Quick turnover is key on downhills. Strides are a great way to focus on leg speed and aim for 90 to 95 foot strikes per minute per foot. This will allow you to change leg support quickly while flying down this hill. Both Long and Olympic courses run down this main hill into the finish.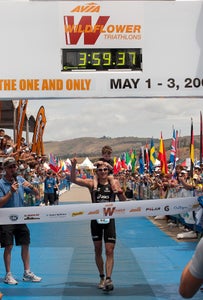 Take the time to look around and enjoy the experience as the road flattens into the finishing chute. Listen for your name being called by the great Tri-California race announcers and cross that finish line in style. You just completed one of the most difficult Long Course or Olympic distance triathlons in the world. If you conquer this course, there isn't much that can stand in your way. Most likely you will push yourself past your comfort zone on race day so take some time to pat yourself on the back for completing one of these challenging races!
Eat, Drink And Be Merry
Enjoy the post race festivities; cheer others finishers on and even stick around to watch the next day's race. Soak in everything that has made Wildflower a destination weekend for so many around the world. Happy racing!