8 Triathlon Training Tips From The Great Peter Reid
Peter Reid breaks down his top eight triathlon training tips.
Heading out the door? Read this article on the new Outside+ app available now on iOS devices for members! Download the app.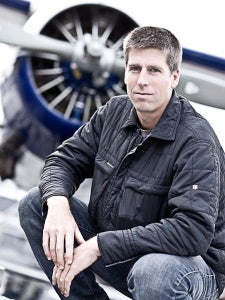 After an extraordinary career as an Ironman triathlete, Peter Reid abruptly left the sport. Nowadays he calls himself an "unemployed triathlete" and lives in Vancouver, Canada. He is employed in an entirely different industry and works as a pilot, flying small seaplanes for a living. Reid now enjoys mountain biking and trail running and calls a two-hour bike ride an "epic workout," a far cry from his once nine-hour workout sessions.
While at the Specialized Triathlon Training camp in Morgan Hill, Calif. Reid chatted with Inside Triathlon senior editor Jennifer Purdie to offer some fatherly advice to triathletes. He breaks it down into the top eight points of what he knows now that he wished he knew back then.

1. Train alone
When I first started my career in triathlon, I got to a certain level by training with my buddies, in groups and non-structured environments. I then left for a while and came back with a whole new attitude. I found a coach I liked and really appreciated his ideas. So I committed myself to the training. I rarely trained with people. Eighty-five to 90 percent of the training I did alone, which worked for me. So if I were climbing a hill and my heart rate spiked, I'd walk up the hill. This created self-confidence. I came out and won my first race by training alone, which was Wildflower, a tough course.
I think athletes now have this notion to show off their fitness. They always want to be out in front when it should just be a training session.
2. Do drills
People neglect cycling and running drills. I did them. So on race day I would lose as little fitness as possible. I could be more efficient, not really falling apart halfway through the marathon because of the training drills. The reality is you should be doing drills all the time, year in and year out. I was different than a lot of pros by doing that.
3. Train for a race
Don't train for general fitness. I think I was one of the first to train on the Big Island. I trained in the heat and learned the currents of the water. When I did Wildflower, I'd incorporate rides and runs similar to that course. I found out the course had lots of trails and hills, so I thought, okay, I need to run hills and train specific to that course.
4. Put yourself in pain
This one is kind of sadistic. I always had this problem of my stomach shutting down during the marathon of an Ironman. So I thought if I could run with my stomach shutting down, I could do it in a race. So once a week I would sit down and eat nachos with really spicy hot sauce. Then I'd get my running gear on, go for a run and of course, my stomach would shut down, but I'd just keep going. They were brutal training runs. But then on race day, when my stomach would shut down I'd think, "I can deal with this." I'd be able to keep going. Doing this paid off so many times over. I'd do this 10 weeks out from Ironman until two weeks before race day. It'd be a horrible run, but it had a huge impact on my overall race performance.

5. Spend the dough
I see this with a lot of age-groupers. They spend so much time and effort training for an Ironman and they don't bother to get new tires or get a tune-up. Get new tires. Get a new chain if you need it. You've invested so much time, just pay the couple of extra bucks. Don't cheap out. It's worth the extra expense.
6. Get out of shape
I got this piece of advice from Paula Newby-Fraser and it was one of the best things I have heard. She told me, "Peter, you can have a great short career or you can have a great long career. But you need to take time to leave the sport behind you." Basically, you need to get out of shape to get back into shape. You need to physically and mentally recharge. You need to become a non-athlete. Don't eat healthy. It hurts your fitness, sure, but it makes for a better long-term career. Mark Allen did this and it worked for him. Doing this prepares your body for another season. It was so easy for me to do this because two legends told me they did it. It felt like a part of the puzzle of being pro.

7. Don't workout when sick
I see so many athletes tinker with their workouts when they are sick. Don't. Take the day off.
8. Know your body

If you head out the door and your knee hurts, don't push through it because then all of a sudden you're injured and you are out. Stop exercising and take a couple of days off rather than be out a couple of weeks.