Juice Fast Overdrive: Juice Fast Preview, Part Two
Heading out the door? Read this article on the new Outside+ app available now on iOS devices for members! Download the app.
Advocates of short duration juice fasts suggest that the discipline of restricting dietary intake to freshly juiced fruits and vegetables for a specific period of time offers a number of exceptional health benefits, including enhanced fitness, extra energy and loss of excess body fat. Does it work? T.J. Murphy, Editorial Director for Triathlete Magazine and Inside Triathlon, fires up a juicer and gives it a try.
Written by: T.J. Murphy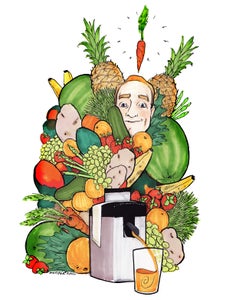 Juice Fast Preview, continued.
As mentioned yesterday, April will be the month that I experiment with juice fasting, doing it in a way that allows me to train and hopefully gather some of the promised benefits of living off of raw juice for a few days.
One defining element of juice fasting is defining what is meant by juice. It's not, say, a quart of OJ from the corner market. Nor do you use the high-end juices like Odwalla. Rather—from the juice fast reading I've done—a proper juice fast is accomplished by using fresh concoctions produced with a juicer (not a blender) whereby you cram an assortment of fruits and vegetables into a machine and out trickles 8 ounces or so of very zesty juice frothy with enzymes.
A sample recipe from the "The Juice Fasting Bible" (Dr. Cabot includes about 60 different juice recipes) follows:
1 orange
1 lemon
1 pomegranate
2-inch slice of pineapple
2 apricots
1-cup blueberries