Triathlon Gear Bag: Tunes To Go
Take your tunes on the road with one of these three earphone sets.
Heading out the door? Read this article on the new Outside+ app available now on iOS devices for members! Download the app.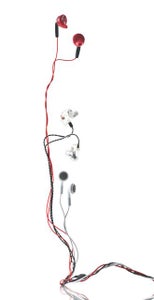 Take your tunes on the road with one of these three earphone sets.
Yurbuds Ironman Series Earphones
$49.99, Yurbuds.com
Basic earbuds with a soft plastic earpiece
Sound quality: Yurbuds wrap around the earbuds and block some external noise. This small degree of noise isolation lifts their sound quality above Apple's, but the sound is still a bit flat.
Road awareness: The noise isolation reduces road awareness slightly, but you can still hear an approaching car.
Ear grip: The Yurbuds firmly lock the earphones into place. They never dislodged or wiggled during our test.
Bonus feature: The Yurbuds help protect earbuds from the elements.

JH Audio JH5 Pro
$399, Jhaudio.com
Custom-molded plastic body locks the inner-ear monitors (don't call them earbuds) into place while blocking outside noise.
Sound quality: As you'd expect at this price, the sound quality is transcendent. The clarity and wide range of frequencies adds a new dimension to your music.
Road awareness: Very poor. The custom-molded piece eliminates almost every outside sound and leaves you unaware of anything happening in your blind spots.
Ear grip: The molded body locks into the ear—they never wiggled once. The over-the-ear cord design helps keep the bouncing to a minimum, but feeling the inner-ear monitor deep inside the ear while running may be slightly irritating to some.
Bonus feature: For around $40, an audiologist will take a mold of your ear to create precise custom headphones.

Apple earphones
$29, Apple.com
The same ones that came with your iPhone, iPod or iPad
Sound quality: Chances are you've spent hours listening to music through these little white headphones, so you probably know the sound quality is decent but nothing special.
Road awareness: These allow you to stay aware of things around you because they don't block your ears from the elements. This is a major safety upside.
Ear grip: They tend to squirm but can make a decent seal if placed correctly. Expect to adjust them during a run.
Bonus feature: The control buttons on the cord let you adjust volume and skip through songs without fussing with your iPod.
Written by Aaron Hersh. Follow him on Twitter @Triathletetech.