Tour Tech On Show In France
Heading out the door? Read this article on the new Outside+ app available now on iOS devices for members! Download the app.
Everyone in the industry seems to think I am in France for the Tour. Sadly, I am not. As they say in France, C'est la vie. But this technical editor is, however, on vacation in Switzerland, visiting my wife Donna Phelan, just as I did last year at TeamTBB camp in Leysin. It's great seeing old friends (coach Brett Sutton and athletes Rebekah Keat, Lizbeth Kristensen and Erika Csomor), and all the new faces on the team. I brought my road bike and am excited to head out today after a day of jet lag sorting. I have some new stuff to test in a beautifully appropriate locale, the Swiss Alps.
And among the things we'll see during the month-long saga? There's a ton…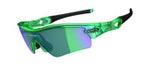 Oakley Antifreeze Radar
This one debuts with Oakley's sprinters, who will wear an appropriately wicked liquid green frame that looks like frozen Prestone (which is in effect an impossibility what with it being call, you know, antifreeze… but Oakley makes the impossible possible), with a Jade Iridium lens.
They're limited edition, available in the standard Path lens or the new XL, with a longer 7mm nose bridge (which is functionally great for when down in the aerobars, so you're looking through the lenses and not over the frame) and available soon in that limited run at Oakley.com. Get'em while you can.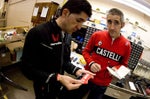 Castelli Apparel
While on invite at the request of Cervelo to see Carlos Sastre and Thor Hushovd do some aero testing at San Diego Low Speed Wind Tunnel this February, I had a chance to meet the folks from Castelli, and saw some prototype apparel they said would be debuted this July.
While you've now seen the new reverse jerseys (white instead of black), my interest lay in their tunnel-tested gear.
Like the Aero Race Team Jersey; the wind tunnel tested skin suit, shoe covers and aero gloves will give the riders a technical edge to cut through the wind as well. Here's a shot of defending Tour champ Carlos Sastre checking out some of the fabric that Castelli's Steve Smith is showing him.
Further, and more of an aside: keep an eye out for a totally new TT helmet from Catlike with the Cervelo TestTeam; they had something at the wind tunnel that they were vehemently preventing me from taking photos of. Pretty cool stuff.
The body of the skin suit is made using Castelli's Body Paint technology: a single piece of fabric to eliminate seams and cover your body as if it was painted on. It's cut short in the front so that when the rider is bent over in the riding position, it lays perfectly flat on the front. A flat elastic leg opening means for smooth air flow. It's finished with an aerodynamic flap to cover the riders race number. Maybe we'll see this in triathlon?
Castelli's Aero Race Shoecovers also have a "golf ball dimple" fabric.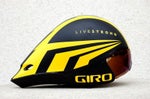 Giro TT helmet
We'll see this one today; a two-year project, with aero testing taking place at the University of Washington Aerodynamics Laboratory Kirsten Wind Tunnel, as well as at UW's liquid tanks doing fluid flow. It's pretty impressive testing, which they captured on video and you can watch here. It' follows testing the team did with Lance Armstrong at the San Diego Wind Wind tunnel last Spring as well, in an effort to find yet another optimized helmet shape that will fit Lance's highly curved back. And there's the thing: not every aero helmet will fit every head.. but this one may be best for you.
We've asked if Normann Stadler will be wearing this at the Roth Challenge next weekend in Germany, and.. afraid not, Franks said… but probably in Kona.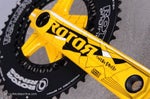 Rotor's 3D Carlos Sastre Crankset
The new 3D crankset is of keen interest; designed in concert with Cervelo TestTeam, it has three longitudinally CNC-machined holes through the length of the crankarms to cut weight, while maintaining structural integrity. For the Tour, the crank goes yellow for one man: defending race champ Carlos Sastre. It will be available to the public, however.
Just six of these cranks have been made (good luck getting one), hand-painted by a design studio that does up custom MotoGP helmets.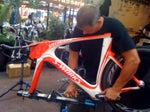 Specialized Shiv
Sure, we've seen this at the Triathlete Magazine website. But we haven't seen the new paint job. Here's Fabian Cancellara's rig being built up in Monaco for today's TT.
Cervelo S3 Tour Limited Edition
To commemorate Cervelo TestTeam's first Tour entry (and of course Sastre's title defense), a super-limited run of a black and yellow S3 frameset will be made available. Check Cervelo.com for more info.