The Hottest New Gear In Kona
We've scoured Ali'i Drive to bring you the latest and greatest tri trappings from the Hawaii Ironman World Championship.
Heading out the door? Read this article on the new Outside+ app available now on iOS devices for members! Download the app.
No matter how hard you're hankering for bananas and granola – or how badly you need a CO2 cartridge – you won't find any of these tri-critical supplies in Kona as Wednesday comes to a close on the eve of the 2022 women's race. Like a plague of locusts, 5,000 athletes and their entourages have scoured the shelves at Safeway, Costco, and every supermarket on the west coast of the Big Island, leaving only a single sad serving of pumpkin spice yogurt for this hungry author's breakfast.
But what the island lacks in staples, it's making up with high-end technology, product development, and shiny multisport things. With the money you saved on groceries, you can make a down payment on a revolutionary new carbon wheel, full-frame prescription sunglasses, and possibly the softest après-workout sandals your feet will ever experience.
At restaurants along Ali'i Drive and tents in the Ironman gear expo, brands are showing off gels, training apps, shoes, racesuits, and all manner of new gadgets designed to distance triathletes from their hard-earned income. We bring you five interesting finds that we're calling in for deeper gear testing.
HED Jet 180
$1900 (rear wheel only), available for pre-order now; hedcycling.com
Seven-time Kona finisher Anne Hed might have reinvented the wheel – yet again. Inspired to create something special for Ironman's return to Hawaii, she has soft-launched the Jet 180 after receiving clearance from Ironman attorneys that the radically deep rim didn't break the event's traditional ban on solid disc wheels.
Dreamt up only two months ago, the Jet 180 (named in reverence of the 180K iron-distance bike) is almost – but not quite – a complete aero disc, and certainly the deepest production wheel we've seen. It walks right up to the legal line without crossing it, and the dramatically narrower-than-usual gap will be a true test of the age-old belief that disc wheels are too dangerous for the Queen K's notorious cross-winds, even for pros with expert-level handling skills.
HED road-tested the first batch of prototypes internally, finding an average savings of 5-8 watts compared to its Jet 90 wheel. While it's slower than the company's VOLO disc wheel, but roughly 100g lighter at 1258g for a rear wheel for rim brakes. Anne Hed says the secret to engineering the Jet 180 was figuring out more complex dynamics for the spoke threading, a process that's yielded several patent applications for her team's innovations.
Once confident in the Jet 180's structural integrity, the company sent a sample to Lionel Sanders, who provided enthusiastic feedback on its initial performance in wind. Nine additional athletes (eight pros and one age grouper) will be racing on it this week, and the wheel is now available for online ordering.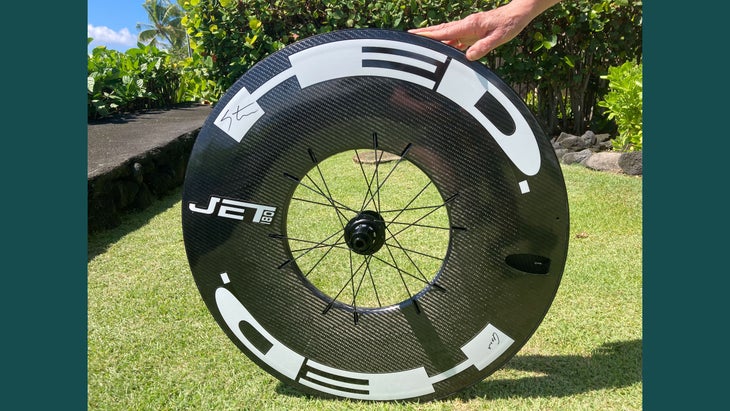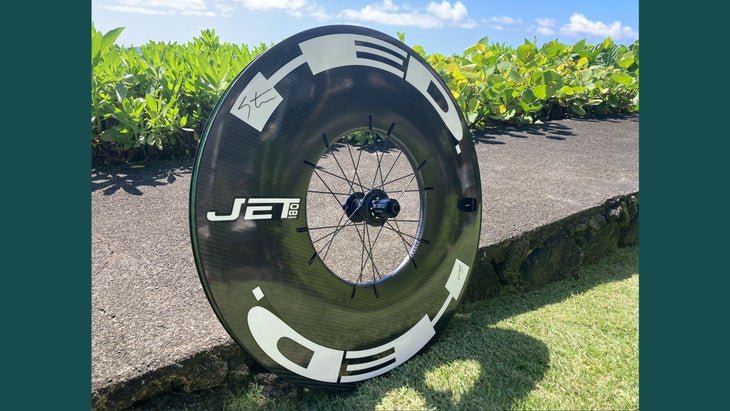 Zoot ULTRA Podium One
$350, available now; zootsports.com
How often do you hear about a racesuit designed in collaboration with top pros that emphasizes comfort rather than speed, aerodynamics, and weight savings? That's the refreshing pitch from Zoot about the new ULTRA P1, which was designed with input from Ben Hoffman, Sam Long, and Ellie Salthouse.
We're told that the sizing was dialed to permit full freedom of motion, especially on the run,  where other bike-oriented racesuits often cramp your style. Zoot also integrates more stretch (15% Spandex) and a handful of strategically placed pockets so you can stow ice behind your neck and kidneys for core cooling—something that is quickly becoming Zoot's calling card.
The cut is long, in the current style, with elbow-length sleeves, a nine-inch inseam, and a full range of men's and women's sizes. And of course, the comfort features aren't going to make this suit slow. The Aeromax stretch mesh upper is a high-end material with superior wicking properties and a UPF 35 rating.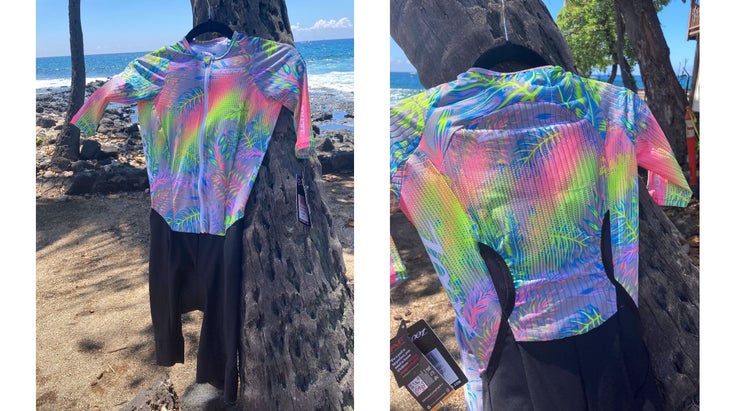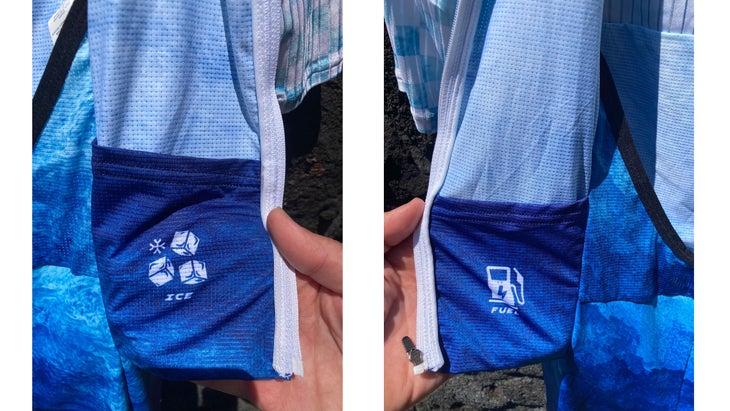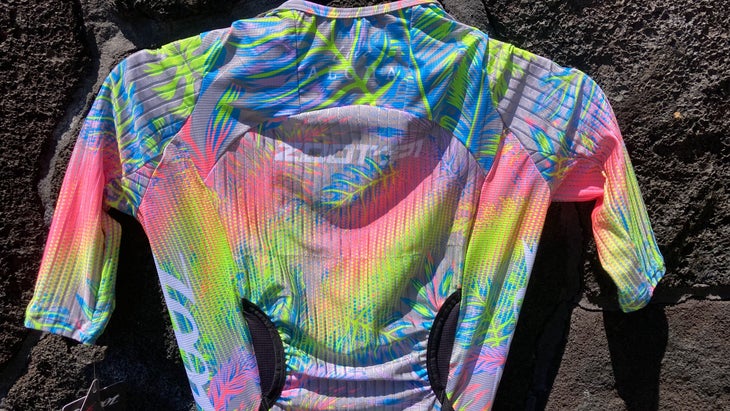 Hoka Ora Luxe
$80, available now; hoka.com
How bad do your feet ache after a race? If yours feel anything like mine, "pulverized" might be the most appropriate adjective. At 56 years of age, with more than a dozen long-course finishes behind me, I experience more soreness in my dogs than anywhere else.
Which is why I'm looking forward to slipping on a pair of Ora Luxe test samples after competing in the men's race on Saturday. These new slides are the thickest in Hoka's already-plush line of sandals, with a pillowy feel that promises to take the sting out of 140.6 miles. (I'm also thinking they'll also be perfect for padding around camp on backpacking trips at only 5.1 ounces for a men's size 9.)
Key features include an adjustable, padded strap – critical for slippery walks to the hot tub after skiing – and an innovative sugarcane midsole that's more sustainable than the usual EVA.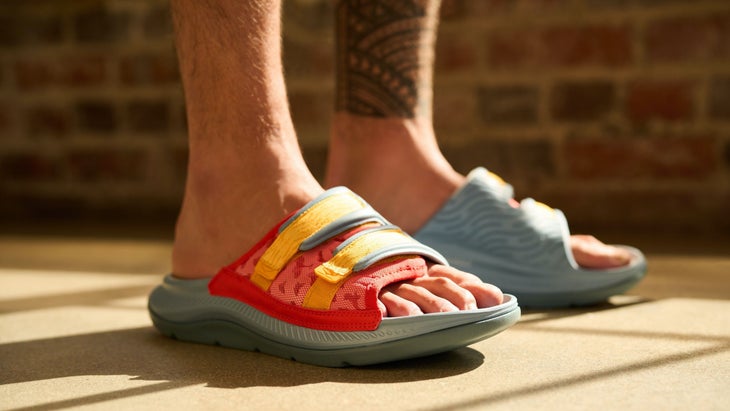 BOCO Gear x Omius Cooling Caps
Well-known as the official headwear partner of Ironman, BOCO Gear works closely with triathlon clubs and athletes in our shared hometown of Boulder, Colorado, to innovate features, comfort, and cooling technology. The last experiment from Kay Martin's crew is a Kona-specific collaboration with Omius, the company that burst onto the triathlon scene several years ago with those funny-looking-yet-shockingly-effective headbands.
For Kona, BOCO manufactured a limited run of hats and visors with open grids into which you can plug Omius's strips of cooling crystals. When wet, the crystals provide evaporative cooling—absorbing and moving heat away from your forehead.
Martin's idea for the collab was to integrate the crystals – previously available only in a headband – into proper headwear so users could get the additional benefit of sun protection and a place to store ice. The result was several dozen hats that were quickly snapped up by pros and club partners. Martin says that BOCO will ramp up production if the test goes well.  (This lucky author also nabbed a sample and will report post-race on its performance.)
Price and availability TBD; bocogear.com, omius.io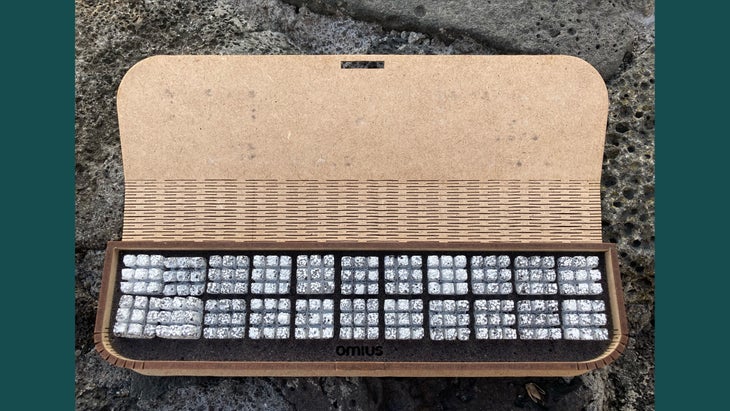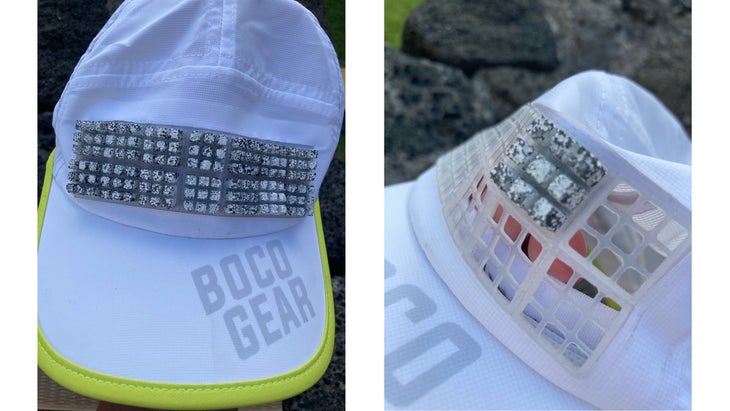 Roka SL-1X Sunglasses
$300, available now; roka.com
Prescription sunglasses are nothing new, but they've mostly come in traditional street styles – and a proper triathlete needs full-shield shades, am I right? Unfortunately for those of us with real taste, there's more manufacturing complexity in this challenge, so it's been a long wait.
But good news: Roka now has a robust line of prescription full-frame sunglasses to complement its other sporty options. I tried a few on during the expo and immediately gravitated to the SL-1X, a frameless model with a streamlined profile, cushy no-slip nosepad, forgiving temple grips, and unimpeded peripheral vision. Plus all the usual stuff you expect from a high-end maker: anti-fog and anti-fingerprint coating, and lots of frame colors and lens options.