Finding Your Perfect Wetsuit Fit
Get advice on finding the right wetsuit for your body and budget.
Heading out the door? Read this article on the new Outside+ app available now on iOS devices for members! Download the app.
Get advice on finding the right wetsuit for your body and budget.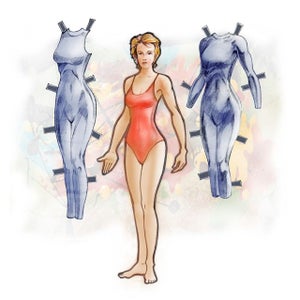 Written by: Sara McLarty & Julia Polloreno
After the bike, a wetsuit is the biggest financial investment you make in triathlon. There is a wide range of prices so almost everyone can afford a good-fitting suit. And a good fit is the most important aspect of a wetsuit! Don't even consider saving a couple of bucks by using Uncle Bob's hand-me-down unless you share a lot of genetic similarities.
The purpose of a wetsuit is to keep you warm in cold water, and it can only do a good job of that if it fits like a second skin. Critical fit points are around the neck to keep water out and around the core to keep body heat in. The fit should not interfere with your ability to swim. I always sacrifice a couple of inches of bare skin on my forearms to give my shoulders extra material to move freely.
Think about your upcoming race schedule when choosing a new wetsuit. If a large percentage of races will be in cold water, opt for a wetsuit that offers full coverage. If you live in a warm climate and might get one or two races with water below 78 degrees, go for a sleeveless or shorty suit to avoid overheating on a warm race day.
Xterra Wetsuits' resident expert Liz Barlow says you should consider the following questions when selecting for the right wetsuit for you:
What size am I?
To determine your size, be sure to reference the sizing chart provided by the wetsuit brand. Xterra Wetsuits offers a sizing chart based upon gender, height and weight. Purchasing the correct size is essential—swimming in a poorly fitting wetsuit is not only uncomfortable, but will slow you down. If you have questions about the proper size, don't hesitate to contact the wetsuit provider. Xterra Wetsuits provides customers with a 30-day return/exchange period so they can swim in a wetsuit before making a final purchase decision.
Do I want a fullsleeve or sleeveless model?
Most triathletes wear wetsuits with sleeves because they add buoyancy and reduce drag, which allow for a faster swim. Also, cold water can warrant sleeves for warmth alone. On the other hand, some triathletes prefer sleeveless wetsuits because they can be less tiring on the shoulders, they maintain the natural feel of the water, and they're the quickest to remove if you're concerned about a fast T1 time. This is really a question of personal preference and will depend on the unique needs of the athlete.
Is the wetsuit race legal?
Last fall, World Triathlon Corporation (WTC) announced new regulations in regards to wetsuits and speedsuits. It's important to be familiar with the regulations of each sanctioning body (USAT, WTC, ITU). Every Xterra Wetsuit is legal under the new WTC and USAT regulations. Before investing in a new wetsuits and/or speedsuit, check the guidelines to ensure that it is legal and will remain legal with the changing guidelines.
How much should I spend?
You don't have to spend an arm and a leg for a decent wetsuit, and the decision of how much to spend should be informed by how often you plan to race and your specific needs in a wetsuit (the more technically tricked out the suit is, the more expensive it will run). An Xterra Wetsuit can cost anywhere between $99-$750, depending on the wetsuit model and style you ultimately select.
Watch the video below for more tips on finding the right wetsuit for your body.