6 Things I Hate About The New Tracksmith Eliot Running Shoe
Our gear guy sounds off on the Tracksmith Eliot, the first running shoe from one of the sport's most fancypants running brands.
Heading out the door? Read this article on the new Outside+ app available now on iOS devices for members! Download the app.
My relationship status with expensive running gear is…complicated. I was someone who—like many young runners—sported Umbro soccer shorts over boxers for their chafe-filled freshman high school cross-country season. Heavy cotton t-shirts, non-technical sweatshirts, and gardening gloves were de rigueur during those halcyon fall days.
Later, in college, I was privileged enough to get Team Gear. Team Gear, back in those days, meant lots and lots of really really cheap stuff. Sure, you got cotton joggers for wet, snowy Pennsylvania days where the wind would split you (and your loosely woven pants) in two, but you got all the cotton joggers you could fit into your dorm room. It's tough to complain about free stuff, but the free stuff was also priced accordingly, if you catch my drift.
Flash forward to today: For half a decade, I've been the gear editor at one of the biggest outdoor media companies, in decidedly one of the most gear-heavy sports. As such, I've enjoyed the full scope of those advantages, and now when I go back to Pennsylvania to visit family and friends, I laugh in the face of chilly, windy, rainy days out on the road: I'll just throw on this $200 long sleeve tee, these $200 tights, and these $70 gloves, and I'll be fine. And I usually am.
It makes sense, then, that I've often crossed paths with the pinnacle of Northeastern running clothing royalty, Tracksmith. Every time a piece arrives for a review, I save the sticker and tear through the wrap with an almost perverse glee. As the list price of the item goes up, my expectations respond in kind, and my desire for the Ivy-League inspired brand to make an expensive misstep actually grows. Yes, that's right: I get Tracksmith gear, and I deeply, deeply hope it sucks.
Call it a case of Tracksmithschadenfreude, but I went to a state school, and the Ivy guys were always a little too…what's the word now, twee? We took more pleasure in outrunning the Abercrombie models at Princeton than we did outrunning the Regular Joes from Michigan State. And though I'd like to think I've grown up a bit since then, as I pen this, it's very clear I haven't.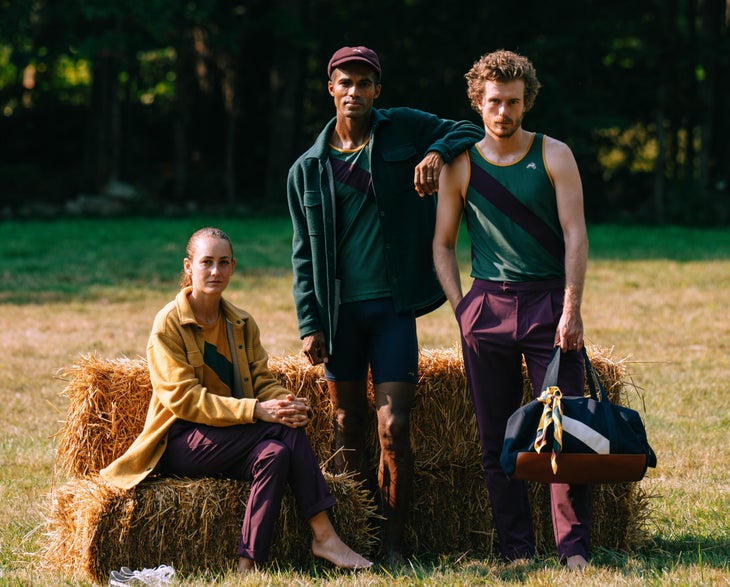 With that in mind, I've watched with green eyes and a jealous heart as almost every piece of Tracksmith gear I've received has not only justified its price, but at times exceeded its value. With the exception of one shirt that I like to tell everyone is one of the worst, most overpriced shirts I've ever worn, it's all been good (sadly).
And so, when I read the impossible—that Tracksmith was releasing a running shoe—I was so very excited. Not because a brand I actually really like was dipping its toe into a crowded market. Not because I thought it would be awesome, either. No, I got excited because running gear history has sometimes been very unkind to brands who suddenly swerve far outside of their well-established lane. I imagined Tracksmith, the brand, finally overstepping their bounds, trying to hang out with the proverbial kids on the wrong side of the tracks, and catching a beating in the process.
The shoe – named the Eliot (we'll dig into that in a second) is expensive at $200, and yes, it took way longer than it was supposed to to get into the hands of reviewers/customers. But there's more to hate about them than that. So with the stage set and about a hundred miles under them, here are the top six things I hate about the new Tracksmith Eliot: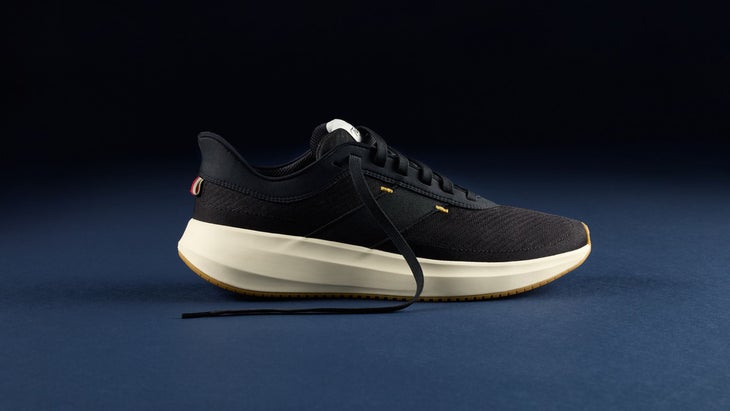 #1 – The Name
If this isn't a result of my state school bias, I don't know what is. And even though I know they're named after some heritage Boston drinking lounge something something, I still imagine a fictional "Eliot" putting pledges through living hell during initiation week at a Harvard or Princeton eating club. (See? I'm sure I didn't even use the terms right.) I picture him growing up to be super successful, marrying the daughter of a senior partner at his firm, and having 2.5 kids. He probably snipes 80-pound sharks from the crow's nest of a 42-foot Bayliner off the coast of Montauk with The Office's fictional Andy Bernard. Fictional Eliot is also probably a really nice guy.
#2 – The Styling
Let's put it this way: "Fictional Person Eliot" would wear "Shoe Eliots" without a hint of irony. They, as a grittier fellow editor surprisingly put it, "look cute with jeans." The design is subtle, classic, clean and expensive looking—I could see them in a Ralph Lauren ad in GQ. Hell, GQ, will probably feature them in "GQ Recommends" if they haven't already. They'd write: "Enter: Suede details so luxuriously smooth that you won't sacrifice style for substance on your next midmorning jog." And they're right: I do wear them with jeans; and yes, I do feel cute when I do.
#3 – The Marketing Copy
I'll just set this snippet from the Tracksmith website here: "The Eliot started with a feeling many runners share – the delight in finding a natural surface while out for a run. Who hasn't run the tightrope of a six-inch "trail" beside a wide asphalt bike path? Logging thousands of miles across New England, we found those moments on pine needle trails, wood chip paths, and old indoor tracks. In France, they'd call it 'terroir.'"
Terroir. Yes: terroir. The worst part about this thousand-dollar paragraph? Well, we'll get to that on number five.
#4 – The Midsole
This is where my unrequited Tracksmithschadenfreude really hits the fan. The Eliot's midsole is made of "supercritical Pebax." Not some proprietary nonsense covering up the fact that it's just basic EVA foam formed into an aesthetically pleasing shape. You'd find Pebax in well-riding shoes like Saucony's Endorphin Pro and Pro 2. In fact, there are a lot of similarities between the two shoes. To stick with the character sketch metaphor, Fictional Eliot owns a Beemer, but it's actually a really comfortable Beemer, and it's actually begrudgingly fast.
#5 – The Ride
Ok, if you made it this far, it's real review time: I hate to say it, but this ride is kind of tuned like a "New England pine needle trail." The Eliot is active and lively without being so springy that you feel catapulted forward like some current supershoes – and not so forgiving that you feel like you're wearing marshmallows on top of a bag of month-old grapes. I do honestly think the midsole (Pebax and all) both look and feel like a slightly less explosive pair of Endorphin Pros—a widely-loved shoe—minus the carbon plate, of course. I really do love the way these shoes feel on runs of all speeds. Damn you, Tracksmith.
#6 – The Fact They're Actually A Really Good Shoe
If you have an Ivy League degree you probably saw this coming. The Eliots are the guy who played lacrosse all year, then won the state meet in the 800m off no training and hooked up with your girlfriend after prom. They're the gal who won her age group on daddy's vintage Confente bike in her first tri, then hosted a tastefully spontaneous "Veuve and Bites" brunch for the whole podium. They're the shoe I hate to love, because I really (really) wanted these prep-school kicks to go down in a ball of tartan-patterned flames. I've worn these on fast runs, on slow runs, on long runs, and even a little bit on well-groomed "terroir." In each condition, I've struggled to find even a kernel of failure that I had been looking for. Sure, they're expensive, but sometimes good things just cost more money. And with excellent details from the well-fitting upper to the multisurface footbed to the retro, non-marking, grippy gum outsole, the sum of Eliot's parts add up to the decidedly Ivy League price tag.
RELATED: Tracksmith Eliot Runner Review