Face Off: Two Top-of-the-Line Treadmills
Arm yourself with this info when you shop for your next gym membership—or dream paincave.
Heading out the door? Read this article on the new Outside+ app available now on iOS devices for members! Download the app.
We pitted two very different, top-of-the-line machines against each other to find out which design should top a triathlete's wishlist. Arm yourself with this info when you shop for your next gym membership—or dream paincave.
Trueform Runner Enduro
$5,695, Trueformrunner.com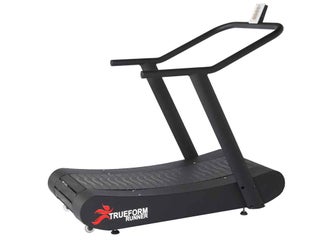 What: The Trueform Runner has a motorless design with a curved running board on either end that uses the athlete's own power to move the belt: Move forward and higher on the slope, it speeds up; move back towards the middle, it slows down.
Pros: No motor means a super quiet ride—even at high speeds. Also, since you're in control of the speed, there's technically no maximum on these. We took our tester at Brick Crossfit in L.A. to an all-out sprint, and it remained quiet, in control, and solid—no rocking or worrisome movement, even over 25 mph.
Cons: Our test model had speed, pace, distance, and time displayed on a very simple computer—no bells and whistles here. Some may struggle with the extra level of concentration and specific form required to run on a self-powered, curved surface, though we had no issues. Also, a lack of elevation adjustability slightly limited the workout options.
This is for: Triathletes who want a treadmill with barebones utility that requires a little more skill, strength, and better form (it teaches you great habits); those who like to go fast.
Not for: Triathletes who need entertainment, motivation, and workouts bred into their machine.
RELATED: Mind Blown: Tacx's New Smart Trainer is Also a Treadmill
Precor TRM 885
$11,755 ($5,299 for the TRM 445 home model with a smaller touchscreen), Precor.com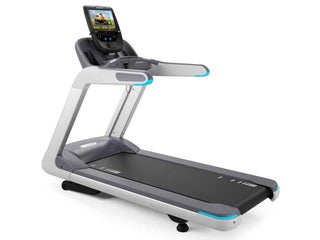 What: The Precor TRM 885 is a fully connected, all-the-bells- and-whistles showcase of the most tech that you can fit into a traditional treadmill package. The full touchscreen display gives an endless array of entertainment options (streaming video services, news programs, sports, etc.) and ways to motivate you to rack up the indoor miles with a range of pre-made workouts and progress-monitoring functions.
Pros: The 885's impact control system gave a very "lively" feel to the deck—a softer landing with a still-decent push-off means fewer injuries. Because the console is a complete entertainment system that goes to '11,' there's absolutely no need for a TV or iPad. Inclines ranging from -2- to +15-percent slope kept workouts realistic (and killer!).
Cons: In the end, the 885 had a lot of glitz, but nothing strikingly different than many other treadmills. The max speed of 12 mph (5 min./mile pace) on our tester may limit strides or speed training for some, and at higher speeds the motorized belt makes a bit of noise—though it was still more stable than similar models.
This is for: Triathletes who need extra motivation to get going and stay going; those who like the miles to melt away while they're entertained.
Not for: Purists
The Winner
Trueform. Though low on bling, the feel and simplicity of this unique treadmill won us over.