Bold Colors and Lightweight Summer Run Gear
As temperatures climb, we look at eight of this season's lightest and wildest run gear.
Heading out the door? Read this article on the new Outside+ app available now on iOS devices for members! Download the app.
With summer in full swing, and the race season fully upon us, it's time to refresh your run closet with some lightweight run gear options for the hot months ahead. This year, bold and funky colors are the name of the game—our testers cloaked themselves in an array of strong hues with breathable fabrics to see what worked and what didn't. If you want to be seen this summer (and not die of heat exhaustion), take a look.
Tops
Women
Cotopaxi Cala Active Top
$50, Cotopaxi.com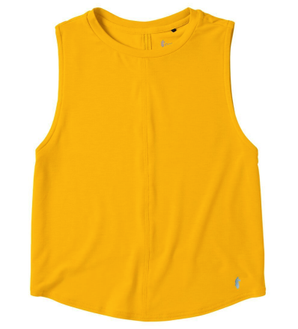 This is a brand that might feel unfamiliar to triathletes, but Cotopaxi has been making a big mark on the outdoor industry for their unique designs and sustainable philosophy. Think: a funkier, more modern Patagonia. Cotopaxi has also been expanding their clothing knowhow into more active lines with pieces like the Cala Active Top.
The Cala top is a super light, quick-drying piece that works best for running when temperatures start to skyrocket and lightweight run gear is a must. The cut of this shirt is definitely unique: Though it runs true to size, the shirt is very very short and can leave the midsection exposed slightly in the front, but more so in the back. The upside to this cut is that the wearer feels a ton of ventilation with more coverage than simply wearing a sports bra (yes, you'll still need a sports bra here); the downside is that not everyone will be comfortable with this look.
Men
Icebreaker Cool-Lite Amplify Tank
$65, Icebreaker.com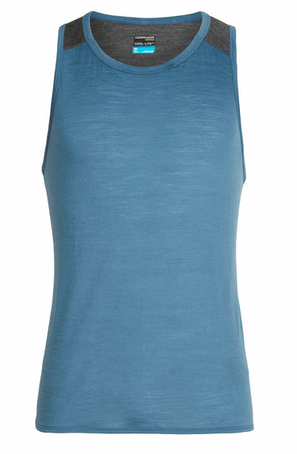 Icebreaker is another company known more for their cold-weather gear, but with their unique blends of Merino wool and tencel, they've been able to create some of our favorite warm-weather pieces. The upside of using 52 percent wool is that the shirt retains some of the odor protection that is super necessary with summer wear that often gets crammed into a ball on the floor for days on end.
With that said, this is definitely a piece that packs down super small and feels nearly paper thin. Expect to use the sleeveless Amplify tank on your hottest, stickiest days when you'd prefer the coverage of something on your back, but lightweight run gear that provides almost no warmth at all.
Bottoms
Women
Title Nine Hollaback Skort
$60, Titlenine.com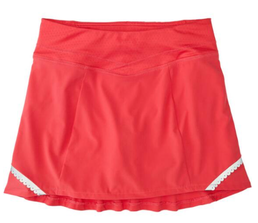 Nothing says fun, funky, and cool like a running "skort." Featuring a tight-fitting liner to give support to the free-flowing skirt style, this piece from women's-only brand Title Nine uses lightweight, breathable materials to provide a well-fitting alternative to shorts.
Testers loved the skort style and longtime skort wearers liked the true-to-size fit and fabric that held up well in high temps and was less "clingy" and wicked away moisture well. The addition of a zippered pocket in the back is a nice touch for storing keys.
Men
Cotopaxi Crux Active Short
$65, Cotopaxi.com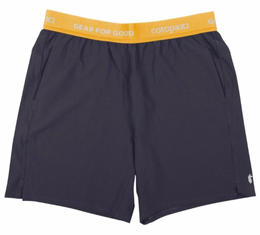 Another unique piece of lightweight run gear from Cotopaxi, the most important thing to know about the Crux Active short is that it does not have a liner, like many running shorts. This can be good or bad depending on your choice of undergarments. The best bet is to pair this short with something like Runderwear—a favorite option for people who like to customize their running underwear with something seamless and made specifically for running.
With that said, this pair of shorts has (non-zippered) side pockets—that you'll almost never find on standard running shorts, but that increase the versatility of this piece. The shell is super lightweight and breathable, and the lack of a liner actually makes for better cooling with the proper underwear (yes, you'll need something under there). A unique waistband and a moderate 7-inch inseam make these something that you'll likely wear running and at the gym.
Shoes
Women
Merrell Antora Rainbow
$110, 8 ounces, 8mm drop, Merrell.com
This limited edition version of Merrell's Antora trail shoe is inspired by the crazy (real!) colors of Rainbow Mountain, located in the northern Andes mountains of Peru. In a collaboration with Peruvian artist Ilustronauta, Merrell has also released a similar color in the men's Nova. Expect lots of attention in either pair.
The women's-specific Antora certainly falls on the minimal, lightweight side of trail shoes, and some testers said they felt more of the trail—for better or for worse. The minimal cushioning makes this best for soft surface and anything under around 10 miles. Expect the fit to be slightly wide, but a grippy Vibram outsole works wonders not only for running, but for anyone looking to do dual duty with a lightweight hiking/walking shoe.
Men
Hoka One One Mach 2
$140, 8 ounces, 5mm drop, Hokaoneone.com
The latest version of Hoka's lightweight run trainer/racer Mach series focuses on one of the lightest (and brightest!) uppers we've seen from Hoka. The thin mesh does a fantastic job of breathing in hot weather or after dumping water over your body—key for triathletes looking to stay cool on a long day of racing.
Unlike many of Hoka's offerings, the Mach 2 doesn't have the handy heel loop that triathletes gravitate to, but it does have a small tab that can be helpful for getting on in T2. Also expect a super grippy and surprisingly propulsive outsole, but a lack of tread means these shoes are not necessarily everyday trainers, unless you expect to get a new pair often. Expect to feel super nimble and springy, even on the hottest day.
Socks
Women
Feetures Ultra Light No Show Tab
$16, Feetures.com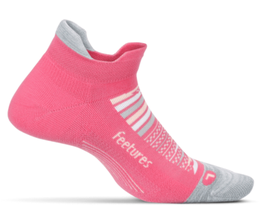 Feetures is one of our favorite brands known first and foremost for its excellent no-questions-asked lifetime guarantee. If you get a hole or tear the sock or it wears out due to regular use, call Feetures, you'll speak to a human being, and they'll get you going on returning your old socks for new ones. It's amazing.
They're also known for some of the most lightweight socks available for those who prefer very little cushion (and excellent wicking/drying). While they do have more cushioned versions of their various models, the Ultra Light is so thin and so stretchy that it can actually help cool your feet on hot runs. With that said, there is enough of a seamless toe to prevent any possible blisters, but be sure you want a nearly paper thin sock before committing to the Ultra Lights.
Men
Darn Tough Coolmax Vertex ¼ Ultralight
$16, Darntough.com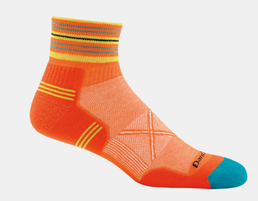 Though better known for their hiking and trail running offerings, Vermont's Darn Tough has been making a big mark on the running world with their rugged wool blend socks. Also boasting an excellent lifetime guarantee (and still made in Vermont), Darn Tough's lighter weight Coolmax Vertex Ultra-Light is an excellent option for those who prefer the breathability and wicking of a non wool-blend.
Much like the Feetures socks above, Darn Tough's super lightweight option truly feels like just the thinnest layer between your shoe and your foot. Best for race day or shorter, faster, hotter runs, the lack of cushioning really forces the wearer to rely on the insole of his or her shoe. With that said, the Vertex Ultra-Light has more of a natural feel than the Feetures version, and isn't quite as stretchy, for better or for worse.
Headwear
Women
Buff CoolNet UV+ Reflective Multifunctional Headwear
$26, Buffusa.com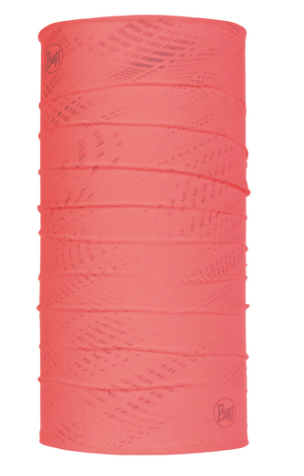 Though generally thought of as more of a cool weather piece of gear, this super light (and UV protecting) "multifunctional headwear" does a great job of keeping your hair back, acting as a headband, neck coverage for super sunny days, and even a wristband to help wipe sweat. Testers loved the bright color options and the reflectivity for night running, as well as the light weight, breathable material when compared to most headbands/wraps.
Men
Boco Trail Hat – Ventilator Mesh
$30, Bocogear.com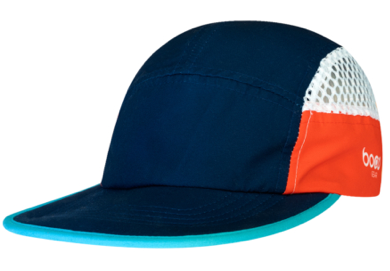 Obviously a nice hat is key to keep the sun off your eyes during hot summer running, and the large moldable bill of the Boco Trail Hat with ventilator mesh does the job. Using lightweight fabric all around with a wicking sweatband in the liner and mesh on the top, this is the deluxe option when it comes to summer hats. The large, flat bill is definitely more of a modern take on the camp hat, so traditionalists beware, but otherwise this is a hat totally built for running. This with bigger heads may want to look elsewhere, however, as the elastic band on this hat is quite tight and not adjustable; medium- and small-headed people will love it though.