Girl Gear Review: Vineman 70.3 Race Outfit
Heading out the door? Read this article on the new Outside+ app available now on iOS devices for members! Download the app.
Inside Triathlon assistant editor Susan Grant reviews gear from her race at the Vineman Ironman 70.3 race on July 19.
The Vineman 70.3 is one of those races where weather can really throw you off.  When you know the temperature on race day will start in the low 50s and climb all the way into the high 90s before you reach the finish, your race attire becomes somewhat of an obsession. You need gear that won't overheat you later on in the day, but will still keep you comfortable enough in the early part of the bike so that you don't let the shivers keep you from hydrating. When I walked down to Johnson's Beach on race morning and saw that the usual dense fog had already given way to glaring sun, I knew it was going to be a hot one—and I knew I was prepared thanks to the following choice items: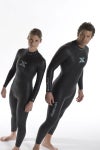 XTERRA Vendetta ($695): Now I'm the first to admit that if it weren't for my sweet gig, I never would be able to afford a $700 wetsuit. It was only after my four-year-old wetsuit got an enormous tear in the armpit during a swim in the La Jolla Cove less than a week before the race that the opportunity to test out a Vendetta was even possible. The day before the race the organizers said the water was warm enough that a wetsuit legal swim would have to be decided shortly before the start, and I almost lost my Vendetta opportunity altogether. The final call came in at 75 degrees F, and I was able to slip it on shortly before heading into the Russian River. The women's Vendetta is truly made for a woman's shape, with a visible hourglass cut that means it's not only comfortable, but also able to mold to your skin the way boxier wetsuits cannot. XTERRA calls the Vendetta "the most technologically advanced wetsuit in the world," and I immediately understood why within my first few strokes. The Vendetta's thin, individually cut panels allow you to get all the benefits of a super-fast wetsuit, without feeling like your wearing a wetsuit at all. You just feel like you are swimming faster and more efficiently through the water. The material is amazingly flexible and buoyant, and the neck is low cut with a non-obtrusive back zipper, allowing me to breathe easier, sight easier and get out of it all that much quicker in transition. If you've got the dough, you won't be disappointed.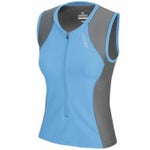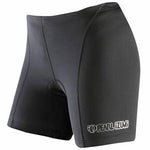 Pearl Izumi Women's Elite SL Tri Jersey ($65) and Women's Elite Tri Shorts ($65): I've found that two-piece race suits just add an extra bit of comfort on a longer course. Why? One word: porta-potties. Have you ever tried to take off a one piece during a race, when you've been in it four hours and all the Gatorade, gels and caffeine you've ingested are starting a military coup? I don't mean to get graphic, but c'mon folks—you need those extra few seconds sometimes. Luckily, my GI tract stayed completely intact during Vineman, despite tenth circle of hell temperatures, and I was comfy and stylish from start to finish to boot. When selecting race attire, I always consider the pocket situation, and fortunately Pearl Izumi is ahead of the game when it comes to storage on the go. I had a sizable back pocket with a flap to keep my gels secure, and another back pocket on the shorts to stuff my trash and therefore avoid a nasty litter penalty. The flat seams on the top and bottom were smooth as silk the whole day, and so I wasn't left with any chafing problems halfway to the La Crema winery despite running through several misters throughout the course. Both the top and shorts provide compression, sun protection and sweat-wicking power, yet were substantial enough to keep me comfortable during the slightly chilly few miles on the bike. The chamois inside the tri shorts didn't feel diaper-ish at all, but kept me comfortable the whole ride. Most of all, my bright blue top with grey panels was cute without being too girly, allowing me to at least trick myself into thinking I was a badass out there.
Zeal Women's Tensai ($130): A few months back at Wildflower my wonderful Zeal sunglasses were swiped in the transition area, and I've been bitching about it ever since. Zeal knows how to fit women's faces, and when you demand eyewear that stays put, offers protection and looks good, you shouldn't stand for anything less than the perfect fit. I have a small face. I have to buy kid-sized goggles sometimes. It's embarrassing. That's why Zeal sunglasses are my favorite. The word Tensai means "genius" in Japanese, and it's easy to see why. Part of the Maestro collection, the Tensai features ZB-13 polarized lenses, which offer state-of-the-art sun protection while also making it possible to see clearly and brightly even in low light conditions. The Vineman racecourse is known for its shaded, twisty turns (with occasional potholes), and the Tensai's were a godsend. I was able to see the terrain easily in all types of light conditions, allowing me to avoid slowing down unnecessarily to make sure I wasn't about to roll over a chip seal that would send me flying out of the saddle. The Tensai frames are also swank-looking enough for everyday wear, and I got several compliments at the pre-race expo on my simple but sleek eyewear. The wood-design on the frame is cute and comes in a variety of colors, while at the same time the thin, wraparound design helped them stay put on even the bumpiest of wine-country roads.