Girl Gear Review: SOLE Women's Sport Flips
Heading out the door? Read this article on the new Outside+ app available now on iOS devices for members! Download the app.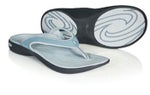 Inside Triathlon Assistant Editor Susan Grant reviews Sole Women's flip flops in this weekend's edition of Girl Gear.

I'll never forget the day my husband (then boyfriend) first saw me slip on a pair of Birkenstocks after a long ride. "What the hell are you wearing?" he scoffed at me, pointing down toward the rust-colored German-hippy fashion I sported on my tired feet. "What? They're comfortable, and wearing regular flip-flops all the time is bad for your arches," I replied, scooting around the house in my molded-to-my-feet monstrosities. Needless to say, I chose love over foot comfort, opting for more "stylish" sandals post workout. Until now that is.
From the first moment I slipped on these puppies after a long ride, my feet (and my strangely post-workout fashion police husband) have been in footsie bliss. I have a slightly high arch and some on and off nagging heel pain, and these sandals offered the right amount of support while at the same time allowing me to wear cute sandals that didn't scream Grateful Dead Head (not that there's anything wrong with that).
The SOLE Sport Flips ($69.95) are the custom-made Gucci suit of the performance sandal world. They are sleek, fashionable and made to support you in all the right places. Much like my heralded Birkenstocks, the SOLE sandals mold to the bottom of your feet, meaning your tired arches are cradled by the firm foot bed (without ever leaving behind that slightly gross foot imprint that you often see in the B-stocks). The heel cup is aligned to the forefoot, offering extra support in that often injury-prone area and effectively creating a continuous contact point across your entire foot.
While other sandals offer a flat, unforgiving surface that your toes and arches have to constantly grip in order to get even a sliver of support, SOLE sport flips are the perfect post-race attire. Once you've worn them a few times and they have molded to your feet, slipping them on feels like a post-workout reward. And you're significant other will feel rewarded each time he takes you out in public after a workout and doesn't feel like he's walking around arm-in-arm with Janis Joplin.