Girl Gear Review: Rocket Science Sports Real Joe & Jane Bag
Heading out the door? Read this article on the new Outside+ app available now on iOS devices for members! Download the app.
Online editor Liz Hichens reviews the Real Joe & Jane Bag from Rocket Science Sports.
Prior to giving the Rocket Science Sports Real Joe & Jane Bag a shot, I never had a high opinion of transition bags in general. Yes, they keep things nicely organized, but to me they seemed like an unnecessary purchase in a sport that already requires dozens of pieces of gear just to get to the start line. In all of my previous races, I had no problems stuffing everything into my everyday gym bag. Luckily, I got a hold of the Real Joe & Jane Bag a couple weeks before my race at the Vineman Ironman 70.3, and it kept me in check despite the chaos of my first point-to-point triathlon. And at a cost of $59.99, I didn't have to break the bank to stay organized.
Before I explain what I did and did not like about the bag, I have to be honest; the bag never actually made it to any form of a transition area, as I had hoped. After reading the athlete's guide for the race, I realized it would not be that simple.
The trip up to Sonoma County, Calif., brought along the somewhat impossible challenge of two over-prepared girls jam-packing a Jeep with suitcases, bikes, laptops and everything we needed for the race. By the time we finished the 10-hour trek and went to unload everything into our hotel, every item was in a different place than when we started.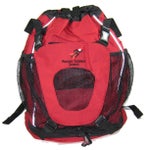 Prior to the trip, I had placed everything into my Real Joe & Jane Bag. The bag had a specific place for everything including my helmet, running shoes, nutrition, sunglasses, water bottles and wetsuit. Knowing how organized I was for my race kept me from worrying about what I could have forgotten. So although my bag ended up being tossed around in the car, each item was still nicely tucked away.
Once the race was over, the two different transitions left my stuff in the state of unorganized chaos that I had hoped to avoid. After a crazy two hours, which included a bus ride and a drive back and forth between transition areas, I had regained control of all of my items and had placed everything back in its place in the bag. The absolute best feature of this bag is the removable wet-dry compartment in the bottom of the bag. The 90-degree heat had done a number on everything I had stuffed into a plastic bag after finishing the swim in T1.  After opening the steamy bag and confirming that nothing was growing on my wetsuit, goggles or towel, I placed everything from the plastic bag into the removable compartment, keeping everything else from being contaminated by the hot mess.
In the end, I was very happy that I had this bag onboard for the adventure. It is functional, comfortable and everything you could need from a transition bag without the bells and whistles that make some of the other transitions bags on the market so expensive.