Girl Gear: My Tempe International Race Outfit
Heading out the door? Read this article on the new Outside+ app available now on iOS devices for members! Download the app.
Online editor Liz Hichens reviews a variety of pieces of gear from her race at the Tempe International Triathlon in Tempe, Ariz.
I've been participating in triathlons for a little over two years now, and have been sticking to my basic gear in races. Prior to the Tempe International Triathlon on May 17, I had stuck to the same wetsuit, helmet, race suit, tri shoes, sunglasses and model of run shoes. My participation in this Girl Gear series has introduced me to a whole new world of tri gear, and this race provided me the perfect opportunity to try out some of that gear. While completely switching up my gear made me a little nervous, I gave it a go. In the end, my perception of each piece of gear came down to one thing: how could it handle the nearly 100-degree temperatures that plagued race day?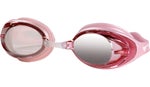 TYR Femme T-72 Ellipse Metallized Goggles ($17): There's not a whole lot I look forward to on the swim leg of a race, so any piece of equipment that can ease that feeling is great for me. As far as I'm concerned, when it comes to goggles no news is good news and that's exactly what I have to report: nothing. The goggles were extremely comfortable. I didn't experience any leakage or fog, and they didn't feel like they were too tightly suctioned to my face. The metallized lenses saved me, as the first half of the swim was directly into the rising sun. I've used other metallized goggles on the same swim course, and these definitely provided the least amount of glare. Tyr.com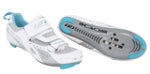 Louis Garneau Tri Shoe ($120): I decided to wear these shoes only a few days before the race because I thought they would deal with the heat better. I know, I know you're only supposed to race with what you train in. But I took a gamble and it paid off. These shoes came with specific insoles for the heat and they did their job. The shoes were easy to get on, comfortable, and provided great ventilation that kept me cool through the entire 40 km. Louisgarneau.com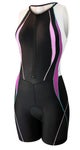 TYR Splice Female Trisuit ($106): I've never raced in a one piece suit before, but in the spirit of trying new things I was excited to try the Splice. I am so grateful that I did. While I wasn't anticipating the swim being a part of a tri suit review, it turned out to be important factor. The water temperature on racing morning read just above 78 degrees and the race was not wetsuit legal. Given the fact that I don't own a swim skin and the swim may have been a few hundred meters long (I'll leave that one up for debate), the Splice became an important part of my comfort on the swim. I was very thankful to have a comfortable one-piece suit that required no fussing with during the swim. Onto the bike and run, the white cooling 50 SPF mesh fabric on the back of the suit was an absolute lifesaver. I cannot emphasize how grateful I was for this suit in the heat. Tyr.com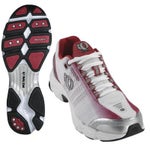 Pearl Izumi Cruise Women's Running Shoes ($110): While these shoes weren't specifically made for racing, I chose to wear them for their claim of cushioning and breathability. I wore these shoes on some of my longer runs in the weeks leading up to the race and was pleased with their performance allowing me to wear them on the big day. The lightweight, seamless mesh that makes up the upper part of the shoe kept my feet cool and comfortable throughout the hottest 10k run of my life. Pearlizumi.com