Winter Wear: Pearl Izumi P.R.O. Softshell Lite Gloves
Gloves are one of those items that you want to buy right and buy once.
Heading out the door? Read this article on the new Outside+ app available now on iOS devices for members! Download the app.
Gloves are one of those items that you want to buy right and buy once. A sub-par pair can leave your hands freezing, compromising your ability to handle your bike and grab your bottle. Personally, I am continually on the quest to find the perfect glove and may have a slight hoarding problem when it comes to gloves. Beyond the safety aspects, having cold hands is just not fun and can ruin a ride. So I have high expectations for any glove I pull on. On paper, the P.R.O. Softshell Lite Gloves from Pearl Izumi promise a lot- warmth, dexterity, touchscreen compatibility and safety. With the temperatures starting to drop and bikes still needing to be tested, it made for the perfect time to give these gloves their shot at winning me over.
First, and most important is their ability to keep your hands warm. The outer has a Durable Water Repellent (DWR) treatment to help keep wind and water at bay. This is a major bonus that you don't see but will certainly appreciate. Your hands are out front, breaking through the wind even on a calm day. Keeping the wind out is the first line of defense against cold hands.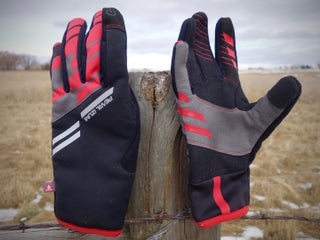 Inside is a light layer of Primaloft insulation to add the warmth. By keeping the insulation to a minimum, dexterity is improved so you can feel the bars and grab what you need from your jersey. In conditions down to around the mid thirties my hands stayed happy while I was able to easily grab bottles and maneuver zippers. If you plan on doing some true winter biking, you'll want something with more insulation.
With the absolute basics well covered, Pearl Izumi added other features that make these gloves shine. First, the long cuff easily slid over a jersey or base layer but under a jacket easily. The length also made it easier to pull them on.
And once on you won't have to pull them off if you need to use a touch screen. The synthetic leather used on the index finger and thumbs meant I could still operate my phone or cycling computer. So now you have no excuse for not taking great photos of yourself battling the elements.
The gloves are even good for your nose. The constant nose drip that accompanies cold weather rides can be wiped away with the soft fleece on the thumb of both gloves. Reflective stripes on the back of the hand lets drivers see you when you signal your turn.
Retailing for $55, these gloves come in at a strong value. I will never stop my search for the perfect glove, but the P.R.O Softshell Lite certainly comes close. They are well thought out, excel in their intended conditions and have extra features that make them a top performer.