One Frame, Two Fits: 2012 Parlee TT
Heading out the door? Read this article on the new Outside+ app available now on iOS devices for members! Download the app.
Parlee is renowned for their custom geometry bikes, but they also produce a stock version of their tri bike, the TT, with one innovative twist. Parlee offers this frame with two different geometries. They call this option Flex-Fit. The TT is available with Parlee's standard geometry and it also comes in a "tall" version with an additional 20mm of stack height and 6mm less reach. The idea behind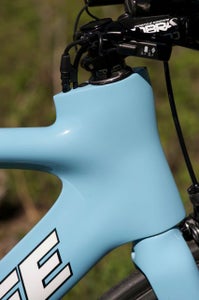 this unusual geometric option is to accommodate a wide range of riders on a single frame. Lengthening the headtube rather than using a tall stack of spacers to fit riders requiring less drop to the aerobars allows the frame's stiffness and other ride characteristics to translate into the completely built bike. Flex-Fit also opens this specific frame to a wider range of riders. Many bike brands build their lower priced models with conservative fit attributes while designing the high-end models to fit professional road cyclists that typically ride incredibly aggressive positions. Many triathletes struggle to fit bikes with extreme geometry. Many riders, especially those look at the highest level bikes, are forced to choose between a frame that fits them and the frame they lust after. Flex-Fit allows riders of many body types and riding styles to fit the TT.
In addition to the geometry, Parlee says they designed the TT to "feel like a road bike underneath you." Instead of maximizing aerodynamic performance at theexpense of usability, Parlee decided to design aspects of the bike such as seatpost, saddle clamp, front brake, and tube shape to maximize usability, ride quality and functionality. The saddle clamp, for example, allows the saddle to rotate to any position and move fore-aft five centimeters. The seatpost clamp is moderately bulky and uses two bolts but ensures a firm grip on the seatpost.
The TT's housing enters behind the stem and routes all the way from the shifters to the derailleurs inside the frame. Parlee will also offer a Di2-compatible frame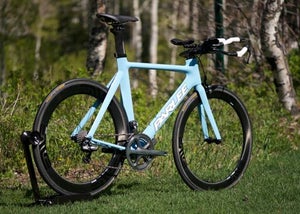 in 2012 called the TTi, which will not be compatible with cabled drivetrains. Other than cable routing, paint scheme is the only difference between the two models.
The TT frameset will sell for $3,700 in 2012 and complete bikes with Ultegra or Force will start at $4,700. Despite the substantial price tag, the TT is in fact Parlee's cheapest tri bike. Custom paint is available on the stock geometry bikes and the fully customizable TT Custom will cost a cool $9,900 for the frame.
Check back tomorrow for a first impression for the TT's ride quality.
Aaron Hersh is the senior tech editor of Triathlete magazine and contributing editor of Inside Triathlon magazine.