The Raelert Brothers' New Ride?
Is this new BMC the bike Andreas and Michael Raelert will ride in Kona?
Heading out the door? Read this article on the new Outside+ app available now on iOS devices for members! Download the app.
Is this new BMC the bike they will ride in Kona?
When the Raelert brothers announced that they will be racing on BMC bikes, it immediately signaled that the Swiss bikemaker must have a new time-trial/triathlon bike in the works. The company hasn't released a triathlon bike in years and doesn't have a full-carbon tri frame that sells for less than $12,000. Not exactly affordable.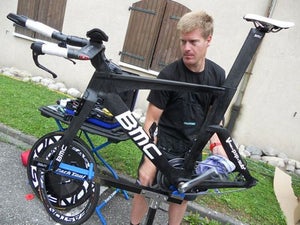 A new BMC time-trial bike appeared under BMC's professional cyclists racing in Europe last weekend. This could be the machine that Michael and Andreas race in Kona later this year.
Like most of the new high-end time trial bikes released in the last couple of years, this unnamed BMC is built around an integrated front end. The bikes under BMC's cyclists use two different aerobar attachment configurations. One system uses a metal extension that attaches to the carbon fork extension barely above the head tube. This positions the bars at a low stack height. The second system seems to use a longer carbon stem extension from the fork that positions the bars much higher. Fit flexibility is limited by several of the integrated-front-end bikes, but it seems like BMC might offer a wide range of fit flexibility. The range adjustability after selecting an initial position is not clear, however.
The front brake hides in front of the fork blades and appears to be actuated by a cable that passes directly through the bike without any exposure to the air. The rear brake hides behind the crank underneath the chainstays.
The frame and fork crown create a front wheel cutout that eliminates the gap between the wheel and the downtube. The rear triangle is very compact. The seatstays attach to the seat tube about halfway from the bottom bracket to the seat post clamp. It has the familiar T-shaped top tube that has become BMC's aesthetic calling card.
The mystery bike's geometry is the big question. Does it have a steep seat tube angle? How much fit adjustability does the aerobar attachment system provide? How much can the fit be adjusted after the bike is purchased? And how much will it cost? Basically, these questions all come down to one: Was this bike designed for BMC's professional cycling team or for triathletes, the people that actually spend money on timed race bikes?
Hopefully we will have more answers soon, and maybe even some feedback from the Raelerts.
See also:
Raelert Brothers Ride BMC In 2011
Photo Gallery: Raelerts Aboard BMC In The Canary Islands
Video: Raelert Brothers First Ride On BMC
See more photos of the bike below: