Sea Otter Debut: Vision's Race Wheel Set
Heading out the door? Read this article on the new Outside+ app available now on iOS devices for members! Download the app.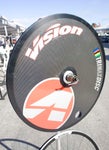 A little pre-Otter website alluded to the fact that Vision would have something that would "Close the Loop." What did that mean? We thought they would complete their road component groupset, which has been hinted at for the last year.
No, but it was close: a whole new tri/time trial race wheelset compliment: a super-deep 88mm TriMax Ultimate wheelset, the a 50mm TriMax Carbon wheelset and a 30mm alloy offering, as well as a first-ever carbon disc. Shots of the new Ultimate and disc were spied on a replacement bike Hungarian Jozsef Major was slated to ride at Ironman China this past weekend, so without a doubt we'll certainly see these wheels under several pro triathletes as the year unfolds.
Vision and Full Speed Ahead president Matt VanEnkevort presented the debut to the press, explaining that in a hotly-contested category, they have reportedly done their homework, putting the wheels to aero testing in Italy. Of course, we wanted some drag numbers, and Vision marketing folks have requested them of their Italy-based counterparts—we will let you know as soon as we find out.
The super-deep Ultimate features a carbon fiber hub and Sapim bladed spokes. 20 front spokes and 24 rear, as well as a machined brake surface. The rim itself has the "angelhair pasta" marble stone aesthetics. Vision has it at a claimed 1,730 grams. Retail price on the wheelset is slated at $2,000 per set.
Stepping down to a less aggressive depth is the 50mm TriMax Carbon. It has the same spoke count and same hub internals, but the hubs on this one are alloy and painted a gloss white. Weight cited by Vision is 1,420 grams, and will retail at $1,600.
And for either the athlete who has a limited budget and wants a set of aero racer/trainers, of the guy who simply wants a set of aero training wheels, Vision offers a $650 wheelset. It has the same hubset as the carbon models, but in a polished alloy version. A 20/24 bladed Sapim spoke setup is strapped to a 30mm deep alloy rimset. It's deep enough for the tri newcomer to enjoy the effects of an aero wheel without necessarily needing to break the bank to get a race wheelset right out of the gate.
And the there's Vision's first disc. The TriMax disc is a flat profile with a foam core. For those triathletes who spend the other half of their lives at the track, the disc is reversible, allowing threading of a track fixie. It weighs 1,280 grams and retail at $1,700.
Cartridge bearings make the freehub bodies on each of the wheelsets easily serviceable
Carbon brake shoes (co-branded by Vision in conjunction with SwissStop) as well as skewers and valve extenders, will include with the wheelsets. Wheelbags will come with the TriMax Ultimate and TriMax Carbon wheelsets. The carbon wheels will come with the Mercury carbon quick-release (one of the sexiest QRs we've seen in a long time), while the TriMax Pro will come with the Mercury alloy QR.